Yes, we already have an awesome Chicago STEM Summer Camp Guide, but we're aware that some parents prefer an all-girls environment for their daughters. As Chicago's leading STEM and STEAM resource for families, we want to make it easy to find the right girls-only option. So here's our 2020 updated guide to STEM Camps for Girls. Although several of the locations are Chicago-specific, some of the camps, like Girls Who Code Campus, are offered nationally.
Why Choose an All-Girls STEM Camp?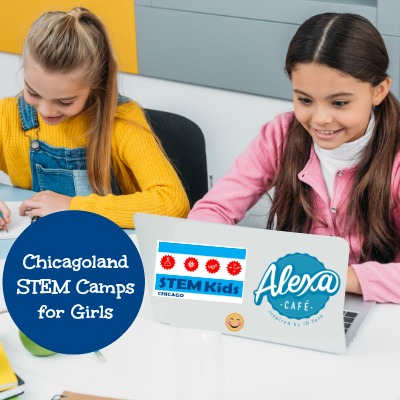 If your girl is enthused about STEM, there's no doubt summer camp is a great place to build her skills and knowledge alongside like-minded peers in a fun setting. But just as women are under-represented in technology and other areas of STEM, so too, girls tend to be under-represented at STEM camps. Being one of only a handful of girls in a larger program might not be a concern for you or your daughter, but some girls will speak up, participate and take the lead more in a single-sex environment. This not only has to do with a given girl's comfort level but also how skilled a counselor is at giving all campers a chance to share their voice and excel.
2020 Guide to STEM Camps for Girls
Alexa Café  This summer, encourage the awesome in your daughter. At Alexa Café, girls ages 10-15 discover technology in a unique environment that celebrates creativity, philanthropy, and entrepreneurship. Girls learn engineering principles, code games, design websites, model and print 3D objects, and more. These week-long summer programs are held at prestigious campuses nationwide, including Lake Forest.
Black Girls Code (Chicago) This two-week camp provides hands-on, project-based instruction, where young ladies ages 13-17 engage in tech instruction. The camp meets from 9AM-4PM with lunch, breaks, community building, field trips, and of course coding.
Digital Youth Divas They haven't announced a 2020 camp. Bookmark them for fun, informal STEM ed during the school year.
GADgET Girls – Girls Adventuring in Design, Engineering, and Technology This two-week camp introduces girls ages 11-13 to design and manufacturing processes. Students complete their own projects through guided instruction, explore career paths in manufacturing and engage with women currently working in the field. This program includes at least one field trip. College of DuPage – Glen Ellyn, Triton College
GAMES: Girls' Adventures in Mathematics, Engineering, and Science Check out the EAGER  –  Engineers Aiming for Gender Equity & Representation and IDEA – Increase Diversity, Equity, & Access- camps held at the University of Illinois in Urbana-Champaign,
Girl Scouts of Greater Chicago and Northwest Indiana Click and then scroll to the bottom of the page to review or download their summer camp guide. Explore nature, science, and more.
Girls Who Code Campus  Campus offers beginner to advanced courses for middle and high school girls in a condensed 2-week timeline for busy summer schedules. In our Campus programs, girls will connect coding to their interests, learn more about careers and women in tech, and join a supportive sisterhood of girls who code all across the US!
Northern Illinois University STEM Summer Camps The four-day STEM Divas program for girls in grades 2-5 will only be offered once. The program seeks to develop confidence and "who embrace femininity while using hands-on activities to explore science, technology, engineering, art, and math (STEAM)." Projects include woodworking with hand tools and soldering an electronics project.
Pollen Power This is down in Champaign-Urbana, but worth the trip for this day camp for girls in grades 6 – 8 who are interested in an up close look at biological sciences.
Triton College Summer camps for tweens and teens GADgET Girls introduces girls 10-14 to the world of high-tech manufacturing with field trips, CAD skills, and hands-on projects.
We hope you found our guide to STEM Camps for Girls in Chicago helpful! If none of these camps meets your needs, check out the co-ed camps in our general Chicago STEM Camp Guide.