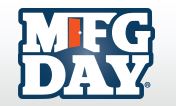 It's no secret that I love behind-the-scenes tours. I think it's fascinating to see how things get made. And as we discussed during the recent #STEMchat on STEM at Work in Manufacturing, many people don't have a sense of what a modern manufacturing facility looks like. That's one of the reasons we now have a National Manufacturing Day. It's also one of the reasons I worked with Alcoa Foundation and SkillsUSA earlier this year to clear up misconceptions about manufacturing careers.
National Manufacturing Day
National Manufacturing Day, now in its fourth year, will be celebrated on Friday, October 4, 2019. The day provides manufacturers an opportunity to open their doors and invite the public to get a first-hand look and modern factories. It's also a way to interest students in technical manufacturing careers and address our country's skills labor shortage.
With more than 1,500 events throughout North America, there's a good chance you can find an event near you. But even if you can't find one or attend IRL, there are virtual events like this one from Alcoa Power and Propulsion via my previous client Alcoa Foundation in partnership with Discovery Education. And even if you can't make the virtual presentation, the AP&P field trip comes with comprehensive lesson plans that are great for homeschoolers and classroom teachers alike.
If you're passionate about STEM and its role in building our country's skilled workforce, be sure to bookmark these manufacturing engineering camps for next summer and don't miss this interview with a STEM girl in manufacturing.