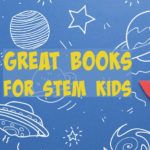 This post contains affiliate links. We're excited to share this great list of STEM books that feature female scientists, engineers, and protagonists and/or were written by women. After all, Rosie Revere isn't the only engineer to inspire a generation of girls–and boys. These books are appropriate for all kids! And if you want to move beyond books, you can find some of our favorite toys, kits, and robots here.
Whether you're looking to add to your home collection or want to make sure that your local library offers STEM books that represent women, especially women from diverse backgrounds, we've got suggestions for you.
The Best STEM Books for Kids
Code Like a Girl: Rad Tech Projects + Practical Tips by Miriam Peskowitz, author of The Daring Book for Girls. Written with girls ages 10-14 in mind, the book includes lessons in Scratch, Python, how to build a computer with a Raspberry Pi, and more, like empowering stories about female tech pioneers.
Kitchen Science Lab for Kids: EDIBLE EDITION: 52 Mouth-Watering Recipes and the Everyday Science That Makes Them Taste Amazing. One of our favorite authors is back with her tastiest book yet! Liz Heinecke spotlights the science behind crepes, fruit leather, and how to make the perfect layer cake. The colorful photos and simple directions make this book a hit.
Secret Engineer: How Emily Roebling Built the Brooklyn Bridge. is an informative picture book that highlights the engineering principles behind one of America's most iconic bridges while telling the story of the woman who was instrumental in bringing it to life. Let's hear it for bringing more STEM women out of the shadows.
The Computer Science Activity Book: 24 Pen and Paper Projects to Explore the Wonderful World of Coding (No Computer Required!) introduces elementary school kids to coding vocabulary and concepts through a variety word games, puzzles, and coloring activities.
Rox's Secret Code is a fun, thoughtful picture book that comes with a free downloadable app and built-in augmented reality surprise. Read our full review and discussion with the author.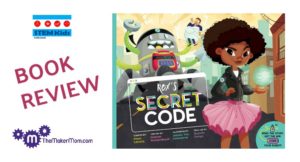 Ara the Star Engineer was written by a female program manager at Google after her daughter made a comment that "engineers are boys," the book features a diverse cast of real-life women who are software engineers at a Google-like organization. The encouraging women help little Ara find her way to use math and code to solve problems.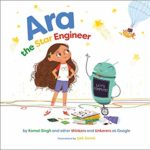 The folks at SourceBooks recently sent me a goodie bag containing several books from their Baby University line:  Quantum Computing for Babies, Goodnight Lab: A Scientific Parody, and Scientist, Scientist, Who Do You See? These are the perfect gifts for little nerdlings and their families. The brainchild of Australian physicist, mathematician, quantum computing lecturer, and dad, Chris Ferrie, these books are kid-pleasers.
Goodnight and Scientist are colorful scientific parodies of popular children's books. With familiar cadences, rhymes, and storylines, even little ones will be in on the joke. We like that they introduce young kids to a diverse group of scientists.
Who Says Women Can't be Computer Programmers? The Story of Ada Lovelace, appears to be part of a series. Additionally, it's just one of a number of child-friendly books that author Tanya Lee Stone has penned about daring, notable women. The book tells of Ada's troubled family background and her mother's attempt to keep Ada from pursuing artistic whimsies by schooling her heavily in math and science. In the end Ada partnered with
More Great STEM Books for Kids
Charles Babbage to create what is now considered the world's first computer program for his Analytical Machine.
Girls Think of Everything This book for tweens includes "stories of ingenious inventions by women." The book highlights 15 inventions, including (oddly) chocolate chip cookies. Each invention is covered in roughly four pages plus a vague illustration or two.
The books below were reviewed in November 2017
Ada Lace on the Case
Emily Calendrelli, host and producer of Xploration Outer Space, MIT grad and STEMchat panelist, debuted a new book series at the end of August. Ada Lace on the Case. These chapter books are written for elementary school readers. The largish-print text is broken up with illustrations that drive home the fact that Ada lives in a culturally diverse neighborhood.
Third-grader Ada not only has a knack for science and math, but she uses technology to solve neighborhood mysteries such as the disappearance of a dog on her block. Each book features a section that explains the science behind the technology that appears in the story, like drones and gecko gloves. Book two was also released in late August, with book three planned for May 2018. The hardcover books retail for $16.99.
Women in Science
Talented illustrator Rachel Ignotofsky profiles 50 diverse women in science who made lasting marks.
Good Night Stories for Rebel Girls
Good Night Stories for Rebel Girls features real-life stories of fearless women from a wide range of backgrounds. It's not limited to STEM role models, but it does include many. This record-breaking crowdfunded book was released in 2016. Grab a copy now to get ready for the second edition in 2018.
Two New Picture Books
Grace Hopper: Queen of Code and Margaret and the Moon teaches young children about two women who worked hard and played important roles in developing today's technology.
Girls Who Code
You've heard of the organization, now check out their books. This series for grades 3-7 features an ethnically diverse group of girls who participate in a coding club at school. The books (one released and two in the works) introduce coding concepts, but the plots hinge on teenage relationship drama. Some have called this new series a Babysitter's Club for digital natives. The hardcover books retail for around $13.00
Click'd
Another book for tweens, Click'd, is the start of a new series by Tamara Ireland Stone, a best-selling author with deep roots in technology.  The drama-drive series focuses on friendship, technology, and ethics. With a list price of $16.99, it's currently on Amazon for under $12.
Hidden Figures
Did you know that there's a young readers' edition of the best-selling Hidden Figures? You do now!
For Teens and Their Parents
Geek Girl Rising: Inside the Sisterhood Shaking up Tech by Heather Cabot and Samantha Parent Walravens shine the spotlight on "fearless female entrepreneurs and technologists fighting at the grassroots level for an ownership stake." Meet a new generation of women who are crushing it in Silicon Valley. This book is sure to inspire STEM girls and their parents.
Smore is an indie magazine written for girls ages 7-12. Because the only child in my house is a 17- year-old young man, I brought my review copy to a recent event for STEM girls at mHUB (see the video below) and passed it around for feedback. It received a thumbs-up all around, with a cautionary note that some of the content might be a bit challenging for girls on the young end.
The brainchild of scientist Dr. Sarita Menon, the colorful magazine seeks to reshape perceptions about science and inspire tomorrow's innovators and changemakers. It's full of graphics and chunks of information that make it easy to read in snippets, as well as cover-to-cover. A typical issue includes science news, a feature on a woman in science, simple experiments, a profile of a teen in science, and expected kid-friendly features, like jokes and reader-submitted drawings. The ad-free magazine comes out six times a year and is available in print and digital issues. The price for a single issue is $10, while a six-issue annual subscription provides savings at only $50. Click for details.
A Giant Reference Book
At nearly 15 inches high, A World of Information is full of "fascinating facts for curious minds." It might not fit on your bookshelf, but it's so chock full of information that your kids might spend a lot of time looking over its pages rather than shelving it. Monotone graphics give the book a clean, calm, retro feel, as opposed to National Geographic books which feature many bold competing colors, words, and images, IMO. The book tackles 30 topics, each with a two-page spread. Expected subjects include the human skeleton, atomic structure, and music notation. More obscurely, it also features morse code, screws and nails, and standards in paper sizing. This seems like a book that a grandparent would enjoy gifting to and reviewing with their grandchild.