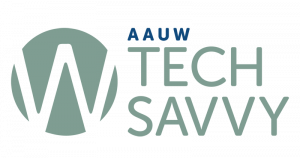 The AAUW, American Association of University Women, offers a STEM program for girls in grades 6-9 called Tech Savvy and it might be coming to your town! AAUW branches in nearly 20 states across the country put on this daylong science, technology, engineering, and math (STEM) career conference designed to attract girls to STEM fields.
Tech Savvy also has a parent component that keeps families in the know when it comes to STEM education and careers. Teachers and mentors are welcome to attend the adult portion as well.
Take a look at AAUW's Tech Savvy page to see if an event will be held in a location near you.
The Chicago program will take place on March 23, 2019, from 8:30 – 4:00 at Lewis University in Romeoville. There is a $10 dollar per person fee that covers the event, lunch, and a t-shirt. This is a popular event and it will fill up, so don't wait to register! Click here to register. Here is a downloadable flyer if you want to help spread the word about the event.
Chicago STEM Fun
For more Chicago-centric STEM fun, check out the event calendar at STEM Kids Chicago. Don't miss their latest Chicago guides: Spring Break, Summer STEM Camps, and STEM Camps for Girls.
You can join the STEM Kids Chicago newsletter to receive the coolest area events delivered to your inbox twice a month!
If you're in the Milwaukee Metro area, join the STEM Kids Milwaukee newsletter, which will launch later in 2019.