Christmas is coming and Hanukkah might be over by the time you read this (it starts December 2, 2018). Are you wondering what to get your favorite children? We've got a great round-up of STEM gifts that build science, technology, engineering, and math skills and are geared toward girls and boys ages 8 and up.
Look for Kim Moldofsky. The Maker Mom, on WGN Morning News on 11/27/18 around 9:30 AM Central. Kim and a pair of her young maker friends are going to show off some of this year's coolest STEM toys for kids.  This post contains affiliate links.
STEM and Tech Gifts for Kids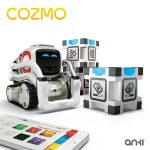 Cozmo is the palm-sized programmable robot with a big personality. Like the Tamagochi and Furbies of the past, once you connect with Cozmo, you are incentivized to keep playing. However, Cozmo has the added benefit (benefit?) of AI-powered technology, a literal window into your life with its camera and facial recognition technology, and an unexpectedly adorable range of emotional expressions to keep you tied in. Unlike those two previous addictive tech toy trends, Cozmo can teach useful programming skills. Read our full review here.
A 3Doodler Pen brings your drawings and doodles to life in a high-tech way. Extrude heated plastic to draw in 3D. Design, decorate, build models, jewelry or whatever you want. Embellish your own HEXBUG with this 3Doodler Kit.  Take it up a notch with the Create Kit 3D doodle pen or go PRO with the highest grade 3D pen around!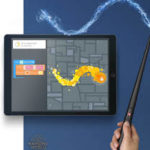 British science fiction writer Arthur C. Clarke said that "Any sufficiently advanced technology is indistinguishable from magic." Kano's new Harry Potter Coding Kit doesn't fall short in that regard. Follow 70+ coding tutorials, take on challenges, and code your own programs that look like magic thanks to the interactive wand. In addition to recognizing up, down, left, and right, the program recognizes complex wand movements related to a dozen popular spells, like Stupefy and Expelliaramus. Want more cool Kano coding items? Try their budget-friendly Pixel Kit and their Motion Sensor Kit.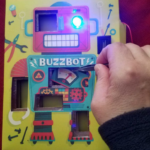 Klutz: Maker Lab: Circuit Games has almost everything you need to create five, fun electronic games. The kit includes an overview of circuits along with fully illustrated instructions, wires, LEDs, colorful templates and more. See our full review here.
The Marbleocity Archimedes Screw Marble Coaster kit hits the sweet spot with a relatively easy build that offers enough challenge to keep things interesting. Once it's together, it's fascinating to play with. An Archimedes screw is a tool used for transferring water up from a low-lying area. In this case, it moves small ball bearings up to a mini-rollercoaster adventure. A motor and other add-ons are available. (When I had a Marbleocity coaster on my desk at the co-working space, people (adults!) couldn't resist giving it a try.)
More Tech Toys and Gift Ideas
Want to give the gift of experience? Check out the Chicago Winter STEM Camp Directory.
Electronics and Circuits
Learn the basic of electronics without soldering thanks to these handy kits: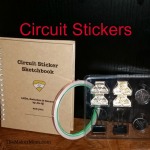 Chibitronics's Circuit Stickers Starter Kit
 comes with everything you need to get going, including a sketchbook that provides a workspace, as well as an educational overview and instructions.  In addition, it includes copper tape, button cell batteries and the namesake circuit stickers, tiny stickers with embedded circuits and surprisingly bright LEDs in three colors. The Chibi Chip lets you program your designs. Check out all of Chibitronics' latest offerings here.
littleBits has grown so much since we first called attention to them that it's hard to keep up. The LEGO of the electronics world, kids use the small magnet bits to build circuits and all kind of cool things. Prices range from moderate to high, depending on the kit. For example, the Rule Your Room Kit is for sale on Amazon for $60, the Marvel Avengers Hero Invention Kit is $149 (prices as of post time). The Droid Kits let you combine electronics and coding.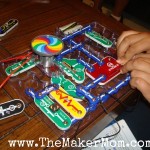 Snap Circuits sets are the classic and affordable electronics teaching kits. With affordable sets for young kids on up through big kids, they've even got a new kit, Snapino, that combine electronics and open source computer programming, or coding.
Roominate was invented by women with an eye toward a girl-friendly engineering product. Kids build things and dabble in very basic electrical engineering by adding easy-to-use circuits to make parts light up and move. Although designed with girls in mind, boys like it, too.
Klutz: Maker Lab: Circuit Games as noted above.
Programming and Coding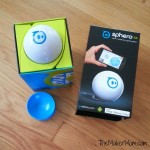 Sphero has a growing stable of programmable robotic balls. Check out their many options.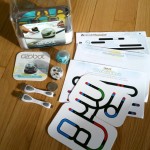 The Ozobot Bit remains the smallest and most affordable programmable robot at only about less than $50 for the Bit bot. You can play with the Ozobot Bit through tablet-based apps (iOS and Android), draw coded paths for the robot to follow, and even code its actions with OzoBlockly, a drag and drop programming language. The brand has added new bundling options and cute extensions like this construction kit.
LEGO Boost provides opportunities to build a bot and program it.
Like many of the other robots we've followed since the beginning, the Wonder Workshop line has expanded Dash and Dot with the Cue bot that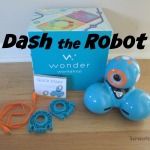 features an "emotive artificial intelligence" and even greater interactivity. Wonder Workshop also offers new expansion packs, like the Dot Creativity Kit and a launcher for Dash.
Scratch, Jr. Coding Cards Use these 75 cards along with Scratch Junior to build programming skills while having fun.
Also see the Kano coding kits, Chibitronics, littleBits, and SnapCircuits in the electronics section above.
Engineering and Building
Our favorite kits include LEGO (budget-friendly or budget-busting), K'NEX, Goldieblox, and Meccano. We also like the Marbleocity kits mentioned above. For the younger kids, Gears! Gears! Gears! is (are?) lots of fun.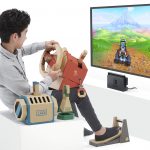 Nintendo recently "Switched" things up with the addition of their Nintendo Labo kits. Use the kit to build real-life items, like a steering wheel and gas pedal, that bring a real-life element to gaming with the Switch and Joy-Con controllers.
Click for great new STEM books, as well as this list of books for STEM Girls (and Their Brothers).
Bonus
I was at a recent Techlicious event with the Consumer Tech Association and received a free Lenovo Mirage Solo with Daydream virtual reality headset. Without the related camera, its only role is consumption (though there is some cool VR educational content in addition to lots of games) and I only recommend gifts that encourage kids to be creators. But if a VR headset is on your gift list, the Mirage Solo, which wireless and does not require you to insert a phone, is really sweet.