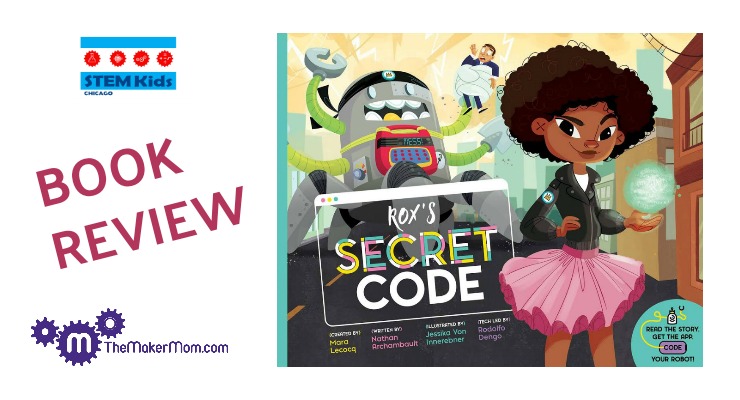 I was so intrigued by Rox's Secret Code (affiliate link), a cool new interactive picture book, that I wanted to tell you about it even before I passed it along to one of my young reviewers. The interactive piece will launch in early November, but you can get a peek at it in the video below. The book has an entire team behind it. It's the brainchild of Mara Lecocq, was written by Nathan Archambault, illustrated by Jessika Von Innerebner, and Rodolfo Dengo headed up the tech portion.
Rox's Secret Code Book Review
Rox, a tech-savvy tween, is an inventor who uses her computer programing skills to bring her creations to life. After her dad asked her to clean her room, she decided to create and code a robot, dubbed the Chorebot, to do the job for her. An experienced coder, she wrote a sorting program that incorporated artificial intelligence, imbuing the robot with the power to clean up all sorts of disorder.
The robot cleaned and learned and organized and everything was great!
Until it wasn't.
Machine learning drove the robot to an unintended, unexpected definition of disorder that caused Chorebot to wreak havoc on the town. Rox knew she had to fix the Chorebot's code and she did it. The key plot point involved Rox's male friend, Amar, donning her tutu. Having created its own rules of order, the robot was confused about seeing female clothing on a male. Rox used this moment of confusion to connect her computer to the robot and change its instructional code.
In a world where gender boundaries are shifting, I was taken aback by key plot point that relied on traditional norms. Although somewhat redeemed by the fact that Amar enjoyed wearing the tutu, I reached out to Mara, Rox's creator, to express my concern. And I liked her thoughtful response so much that I'm sharing it here (with permission).
By programming her robot to "sort by type and color," Rox had no idea Chorebot would take it to the next level and sort people by type and color—very wrong!—and end up literally putting them in boxes!

Putting people in boxes due to their type and color is a metaphor of the unconscious bias our society has "programmed us" to think. And we cannot put people in boxes anymore: we can no longer expect everyone to tick one race box in legal forms, or having skin color match country of origin, or gender assigned at birth match the gender we feel…we are becoming very fluid in terms of gender, ethnicities, interests and personalities. Which is why Rox is also creative and technical, strong and vulnerable, badass and cute (biker jacket + tutu), likes dolls and race cars, etc.

Rox exclaims, "Oh no! He was supposed to sort toys by type and color, not put people in boxes!" Therefore, Rox realizes she needs to fight fire with fire and thinks, "Ok, since Chorebot has this logical fallacy, what can help derail him using this logic—sorting people by type and color?" And because she knows his flaw is to put people in boxes, she decides to make Amar belong to several boxes. And it worked! "Chorebot was stumped. Amar didn't fit in a box!" (Which is amazing!) The subtext here being, "When you don't fit in a box, you can outsmart your problem and be the solution."
Artificial Intelligence for All
I really appreciated her insights. And it reminded me of a topic I worry about. (Admittedly, right now there are several.) When the majority of the programmers working with artificial intelligence are able-bodied, cis-gendered, straight, white and Asian males under the age of 50*, we wind up with a lot of assumptions and bias (unconscious or not) baked into the code. It's so important to have diverse voices join together and create solutions that consider multiple viewpoints.
So I also want to tell you about AI4ALL, an organization that supports diverse voices in the field of artificial intelligence. Their educational programs for 9-11th graders include supportive and rigorous summer education programs for underrepresented high school students, especially:
Young women
Underrepresented minorities
Families of lower socioeconomic status (eligible for public assistance programs or free/reduced lunch programs)
Potentially first in family to attend college
Access Secret Code
Back to Rox's Secret Code. There is secret code that readers can access! The books pairs with a free companion app (available November 6, 2018). See yoursecretcode.com/game to get started. Kids will make their AR robot appear on the cover of the book and use coding blocks to instruct the robot to clean up items. Watch the video to learn more.
Even without the app, I give this book a thumbs up. As with Ada Twist, Scientist, I'm glad to see a diverse STEM role model who lives in a community as diverse as my slice of America. And I like the layers of the story that can be discussed according to the age, maturity, and insights of its audience. And, of course, the tech piece is a fun bonus.
Rox's Secret Code is a good choice for your home library. It's also one you should ask your public library to purchase (something you might be able to request through their website). It makes a fun Hour of Code or holiday gift, as well.
Click to see other books we like.
Rox's Secret Code – Picture Book & AR Coding Game from Secret Code on Vimeo.
*If you think I'm generalizing, Google "AI, machine learning or deep learning meet-ups" + the major metro area closest to you and see who attends the sessions or is active in those groups.