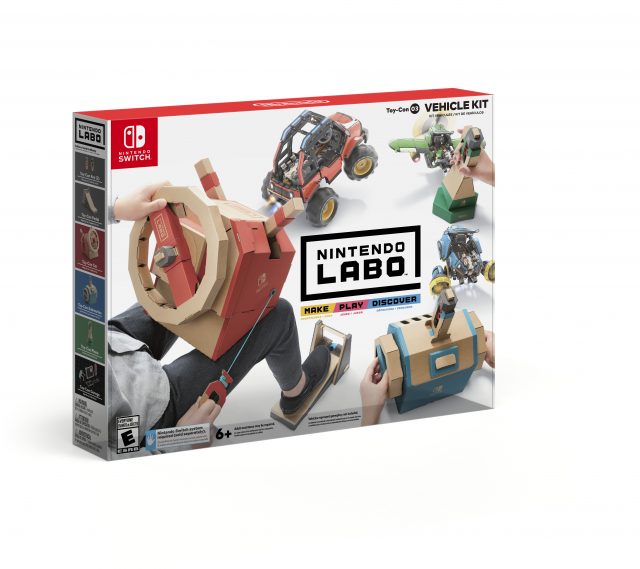 A few weeks ago, I had the pleasure of joining Nintendo's PR team for a sneak peek at the newest Nintendo Labo extension: the Vehicle Kit. First, a quick refresher. The Nintendo Labo adds an exciting Maker element and a new level of interaction to Nintendo Switch games.  The Nintendo Switch can be used with Joy-Con controllers and special new kits, like this one, to create what they call an interactive Toy-Con. This post contains affiliate links
The Vehicle Kit will launch on September 14. As Nintendo's guest, I had the chance to construct a controller and drive, dive, and fly using the new kit. It works as you'd expect from the photo below. Players have to step on the pressure-sensitive gas pedal to move. Light pressure leads to slow and steady movement and flooring it make the on-screen vehicle move full steam ahead. And of course you have to steer–with just one hand if you want to set off the special effects. You'd never know I'm a licensed driver. Like any car, it takes some getting used to.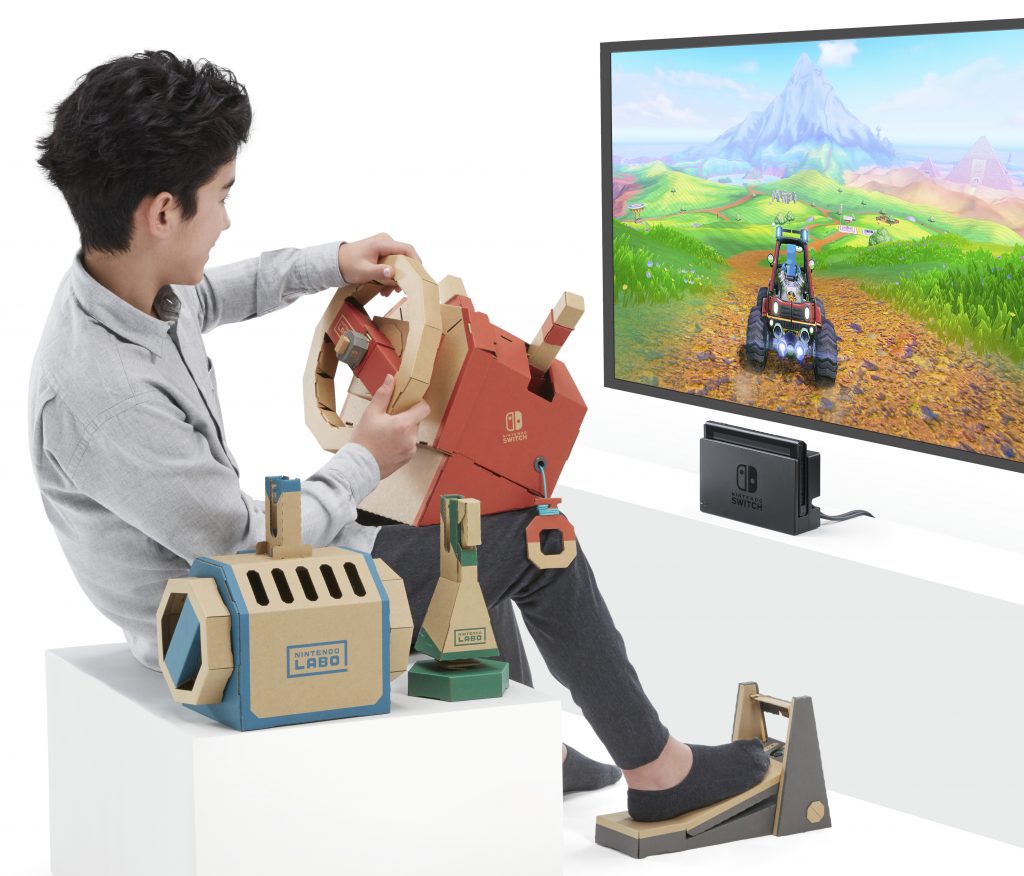 The games are well-suited for kids in the 7-11 range and children in that age group should be capable of building the controllers (possibly with the help of an adult). They include racing, automotive combat, slot car racing, and more. Using the controllers like a can a spray paint (it even has the mixer ball), players can customize their vehicles in the Paint Studio. I'd love to see expanded for free painting and art-making. It was fun! There are multiplayer options for some of the games. I would have like there to be more options for cooperative (as opposed to combative) play. I know, I know, spoken like a mom, not a nine-year-old boy.
There are two new elements that I'm especially excited for. First, the Custom Controls, which will encourage players to make their own controllers with cardboard and other household items or basic office supplies. They give some prompts to help people get started. This may be the hook to bring older kids into the fold. Or it might create some great family fun. The family that makes together…
Second, soon players will be able to use their Vehicle Kit set-up to play Mario Kart 8 Deluxe (which you hopefully own, or soon will). How exciting does this look?
The Nintendo Labo Vehicle Kit has a suggested retail price of $69.99. Click for
more information
 or to
purchase one
for yourself. I mean, your kids.
Although I was a guest of Nintendo, I was not required to write this post. All opinions are my own.