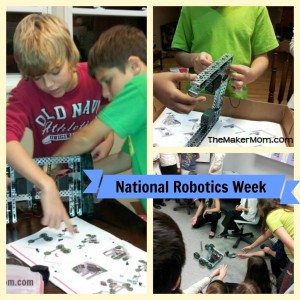 It's National Robotics Week! Time to honor good old American ingenuity and embrace our robot future.  We adults haven't passed the torch just yet, but it's incumbent upon us to make sure our kids have the skills to create an awesome future.
There's a lot going on across to the country to celebrate National Robotics Week. In fact, click that link to find events near you. If you don't see one, create your own! Contact a local school, afterschool club, or library to organize a bot-themed event. Or invite the neighbor kids over using one of the ideas below. It's not hard to do something to share the excitement of robotics with your community.
National Robotics Week at Home
This section contains affiliate links.
Build your own Vibrabots and Bristlebots from (mostly) basic household supplies or create six kinds of small solar robots from a kit
Read books that will teach kids and their parents build their own, like Robotics (great for kids!) or Making Simple Robots by Kathy Ceceri.
Buy a programmable robot, like Sphero, the palm-sized Ozobot, or the durable kid-friendly duo, Dot and Dash. Look for a review of Cozmo next week!
Peruse these robotic resources from PBS.
National Robotics Week Next Year
If you don't have the support to host an event this year, start planning for next year. For example, if you want to start a robotics team at your child's school, now is the time to lay the groundwork and find coaches and sponsors. This will give you a chance to find grants to help you keep costs down or maybe even let you start your team for free. Be sure to loop in your kids to help plan and run whatever it is you decide to do.