In support of, but not affiliated with the UN campaign.
Inspired by the book, Written in Water. (affiliate link), I began to educate myself on issues related to fresh water. That's when I learned about World Water Day. World Water Day takes place on March 22. A project of the UN, it focuses global attention on Earth's most precious resource.
Kids and World Water Day
Unlike chromosomes or atoms, kids know water. They see, touch, and drink it every day. But on World Water Day, you can help them understand the larger role of water in our lives. Freshwater is not only necessary to sustain our bodies, it's also crucial for farming, industry, and transportation of goods and people. Water can be used for leisure- think lakes, swimming pools, and sprinklers- but it also crucial for hygiene and sanitation. Water can be used to create energy and is an engine for economic growth.
Water is a precious and undervalued resource. Though it may not feel that way if it's flooding your house. Water is a force of nature.
Freshwater is like oil and someday may be traded, bought and sold as such. It already is in parts of the world.

Discussions about water must have a global scope. Did you know that an estimated 1 billion people around the world lack adequate access to water and 2.5 billion lack access to adequate sanitation (i.e. toilets or other safe ways to dispose of human waste)? Hence Matt Damon's toilet strike.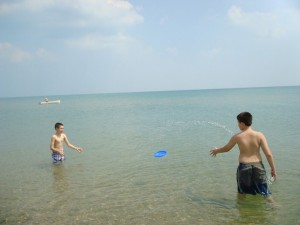 We play in and drink from Lake Michigan (after treatment!).
Even here in the US many of us don't understand what it takes to get the clean water we expect (see Flint Water Crisis), which leaves the purification process feeling more like magic than science. A lack of understanding of the infrastructure that supports our clean water system can also lead to a lack of funding to maintain and improve it. If you ask, you may be able to arrange a tour of your local waste treatment plant. (Expect some security questions. Also, it may not smell as bad as you fear.) Your wastewater treatment/sewer district may also have outreach programs for school and scouting groups.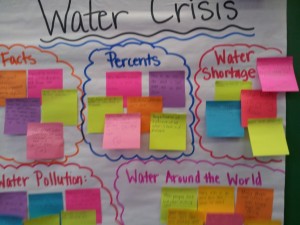 Bringing clean water and sanitation to villages in developing nations affects the lives of children, especially girls. When women and children are charged with fetching water and that task takes much of their day, that means no time for schooling. Freshwater access means more time for schooling for kids and frees women up to learn a trade and work to contribute to the family income. Social issues and taboos prevent girls from going to school once they reach puberty if there's a lack of sanitation resources.
Water Conservation at Home
Most of us have already learned basic tips like turning water off during toothbrushing and limiting shower times. Low flow shower heads and toilets are good to have around the house, too. (I'm fond of our dual-flush low flow toilet.)  You can also do things like place a bucket in the shower when you first turn it on and save the cold water for your plants.
Conserve water by choosing appropriate landscaping for your lawn, like native drought-resistant plants and setting sprinklers to run efficiently (i.e. don't water the lawn at high noon and don't water the sidewalk). Xeriscaping is another good option. We've incorporated rain barrels into our Midwestern garden and thanks to Mother Nature have barely had to tap into our municipal water supply to grow a bevy of veggies.
Not just for World Water Day:
Water Education Resources for Kids
This poster from the USGS showing the water cycle can be paired with a world map to discuss water-rich and water-poor areas. Teaching children the concept of watersheds and understanding that they live in one, even if they don't live near water is important. Show kids where their water comes from in nature, if possible. That's the water equivalent of knowing food comes from farms, not stores.
Teach kids not to throw trash or other objects down sewers (we used to love throwing rocks down there when I was a kid).
When working with children, it's good to piggyback on other awareness programs like the UN's World Water Day or Fix a Leak Week. Get your family involved with charities or projects that bring clean water and sanitation to villages or clean up/ protect local waterways. Spend time out in nature on or near those bodies of water. If you have a well, explain to your children how it works. By the way, the EPA funds an informative online class for that's free for homeowners with wells.
Other online water education resources:
Water Environment Federation
The Groundwater Foundation
US EPA for Kids
Northwest Ohio Regional Sewer District (this, too)
Tomatoes and wastewater facilities
UN World Water Day Kids' Site
Stroud Water Research Center
WaterPalooza
Get involved in the Stockholm Junior Water Prize or the noncompetitive Earth Echo Water Challenge
Take a Water Field Trip
How about a watershed road trip? My family visited Lake Itasca in Minnesota, the headwaters of the Mississippi; can you imagine following it all the way down to the Mississippi Delta? Okay, maybe you don't have enough time to take trip down the middle of our country. Try the National Museum of the Mississippi in Dubuque, Iowa instead. In Orange County, California you can drive from mountain reservoirs to the bay.
Visit a hydroelectric dam, a water treatment facility as noted above, or even a picnic or hike near a local body of water. John Bunker Sands Wetland Center in Seagoville, Texas is another educational water site. Travel abroad to see remains of water transport systems in Pompeii and see how Israel makes its desert bloom.

Eco isn't the only Green when it comes to Water Careers
There is a bright future for water management careers. Not only will they be in demand, but such careers can be lucrative. The path to a career in water can be as meandering as any river. Among the areas of study that can lead to this type of STEM career include chemical, civil, and other types of engineering, biology, environmental science, chemistry, physics, microbiology, hydrology, political science, geology, geography, finance, communication, marketing, economics, land management, law and others–a good reminders that there are pathways to STEM careers for business and liberal arts majors. In addition, there are government and nonprofit jobs in water that rely more on passion than technical know-how.
Work for Water has loads of advice for high school and college students considering a career in the field, as does the Army Corps of Engineers. Some fear the industry has an image problem, but money makes a lot of things look more attractive, so does the potential to impact lives. Either way, there are many promising opportunities.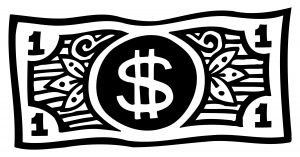 STEM developments in water management include the development of new types of filtration systems like those made of graphene.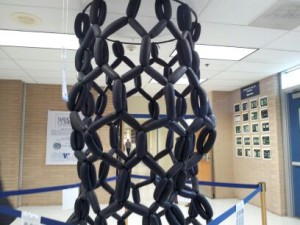 If graphene was made out of balloons, it might look something like this.
Water Education for Teens and Adults
I already mentioned in Written in Water.  Here is more recommended reading (affiliate links): When the Rivers Run Dry and Confessions of an Eco Sinner by Fred Pearce and The Big Necessity: The unmentionable world of human waste and why it matters by Rose George (named best science book of 2008 by The Economist).