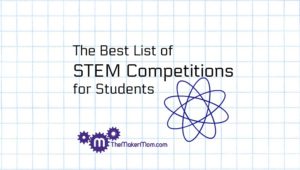 STEM competitions are a great way to build friendships and have fun while building STEM skills. Below you'll find an awesome list of science, engineering, and robotics competitions for middle and high school students to help you find the right one for your child.
In middle school, Science Olympiad helped my boys explore new topics and connect with a like-minded peer group, not to mention receive a hero's send-off when their team departed from school grounds to head to the state competition. Likewise, my younger son expanded his technical skills as he progressed with his VEX robotics team from building a simple "scoop bot" as a 7th grader to creating a complex robot that was a state champion his junior year in high school.
This awesome list of STEM competitions is a work in progress. It's a great resource for classroom teachers, homeschool teachers, librarians, and youth workers. Entry criteria vary from simply having a good idea, while others require well-written essays, or full-on experiments or inventions.
If you want to add to it, drop me a note at TheMakerMom (at) hotmail (dot) com with a couple of lines and a link (please) to your favorite competitions that aren't listed below.
2018 STEM Competitions for Middle and High School Students
Aviation Design Challenge The General Aviation Manufacturers Association (GAMA) sponsors the Aviation Design Challenge to promote STEM education through aviation in high schools across the United States. The entry period starts in early February. Entries must be received by April.
BotBall competitive robotics league for middle and high school students. There's a junior challenge for elementary school students.
Chicago Electric Car Competition Middle school students from Chicago compete to have the fastest car with the most creative design.
Congressional App Challenge  Entries are typically due in late October or early November.
Destination Imagination Students hone their teamwork and creative problem-solving skills as they join together to solve open-ended challenges and present their ideas at tournaments.
DNA Day Essay Competition Sponsored by American Society of Human Genetics' (ASHG), open to students in grades 9-12 worldwide and asks students to examine, question, and reflect on important concepts in genetics. Entries are due in early March.
eCYBERMISSION Students are challenged to explore how STEM works in their world while working as a team to solve problems in their community. This competition is sponsored by the Army Education Outreach Program and is open to 6-9th graders who are U.S. citizens.
Emperor Science Award  100 winning students in grades 10 or 11 are paired with a university-level mentoring scientist to collaborate (virtually or in a lab) on an important cancer research project. Entry period usually runs from mid-January to mid-March.
Engineer Girl Annual essay contest for girls in three age groups: elementary, middle and high school. Submissions due February first.
FIRST League competitive robotics for students ages 9-16.
Future City Competition for middle school students that opens each summer with finals in Washington, D.C. in February of the following year.
Future Engineers Check the site for the latest challenge. Two age groups: junior engineers ages 5-12 and teen engineers ages 13-19.
Future Problem Solvers With a mission to "develop the ability of young people globally to design and promote positive futures using critical, creative thinking," this program is more exciting than it may sound.
Intel ISEF International Science Fair
MATE ROV Marine Advanced Technology Education Remote Operated Vehicle, or underwater robotics competition for kindergarten up through university level.
Moody's Mega Math Challenge Competition for high school students. It is a math modeling contest that will push you to the limits of what you know about math and test your ability to work as a team and under strict time restraints.
National Science Bowl The U.S. Department of Energy (DOE) National Science Bowl® is a nationwide academic competition that tests students' knowledge in all areas of science and mathematics. Middle and high school student teams from diverse backgrounds are comprised of four students, one alternate, and a teacher who serves as an advisor and coach.
National STEM Video Game Competition Open to 5-8th grade students (or kids 9-13). Entry period typically runs April through August with finalists announced in early fall.
Newhouse Architecture + Design Competition This competition run by the Chicago Architecture Foundation inspires teens to understand why design matters by researching, representing and redesigning the built environment to solve challenges that are personal and place-based. It is only for Chicago-area students. Entries are usually due in early spring.
Odyssey of the Mind A focus on finding creative solutions to challenges that may also require students to invent and build or possibly require them to script and act.
Project CS Girls  Competition for middle school girls. Opens in October and closes in early March.
Science Olympiad for middle and high school students.
Stockholm Junior Water Prize Students from more than 30 countries enter this competition designed to improve water quality, water resources management, water protection, water and wastewater treatment as well as water education and social-related aspects of water. Projects may focus on local, regional, national or global topics.
Team America Rocketry Challenge (TARC) is the world's largest student rocket contest.  The contest challenges students to design, build and fly a rocket to safely carry a raw egg payload to a specific altitude and back within a certain amount of time. Registration opens in the fall and finals take place in the spring.
Technovation Challenge  A worldwide app development challenge for girls in middle and high school.
VEX Robotics VEX IQ for elementary and middle school students, and VEX for middle, high school, and college students.
World of 7 Billion Student Video Contest To enter, students create a video of up to one minute long about human population growth and highlight either public health, deforestation, or water scarcity, noting how population growth impacts the issue and at least one idea for a sustainable solution. The competition is open to middle and high school students. The entry deadline is usually in late February.
Young Scientist Challenge Do you know a middle school student who has what it takes? All it takes is a great idea, a bit of research, and a way to record a video. America's Top Young Scientist will win $25,000, a chance to work with a 3M mentor and more. Also, our publisher, Kim Moldofsky, was a long-time guest contributor to their blog. Entries are typically due in late April.