Late last spring, we took the best Wild West vacation as part of our 50×50 challenge. Our western road trip itinerary was packed with area highlights. This plan worked so well for my family that I wanted to share it with you.
How Do You Plan a Trio Out West?
This trip to the American West took us to South Dakota, Idaho, Montana, and Wyoming. Note that we paid for everything in full–no blogger discounts or freebies. I'm mentioning what we liked or didn't in the hope that it might help you plan your own awesome trip out west.
The Best Wild West Vacation
Our itinerary emphasized national parks and monuments, I am in love with America's national parks, but we went well beyond Yellowstone. If you fancy rodeos, the history of western settlement, fishing, biking, or the exploration of Native American cultures, you will find plenty to do along this route. Our main focus, though, was on being in nature.
We arranged for a "Jeep midsize SUV with GPS" from Hertz. Instead, we received a Subaru Outback without GPS. Fortunately, I'm a fan of Subaru. Plus, we figured that we weren't going too far off the beaten path, so even if we lost a cell phone signal (we did), we'd manage just fine (we did). Also, the shiny new car was a 2017 model with only four miles on it; how could we pass that up?
Ten days later we had put more than 2,000 miles on the car. That's almost the distance from New York City to Yellowstone Park (2,174 miles). Also, the car was less shiny and was covered with enough dead bugs to feed a family of birds. To keep us from spending even more time behind the wheel, we flew from Chicago to Rapid City, SD, and back.
Here's our Great American road trip itinerary from Rapid City to Yellowstone and back to the Black Hills of South Dakota.
Itinerary
Your mileage may, quite literally, vary, but here's our path from Black (Hills)  to Yellow to Black. And by the way, almost every drive was scenic. When the map noted that a given route was scenic, it was even more beautiful. Thank goodness for breathtaking scenery and big skies because, for every exciting activity (whitewater rafting! rock climbing!), we spent hours driving from place to place.
What follows is brief overview. Let me know if you'd like to hear more about a given aspect of our trip out west.  I could write a full post about any single day or activity.
Day 1 ORD->Rapid City, SD
We drove from Rapid City to Cody, Wyoming and spent a night at the AmericInn, where local laws mandate a minimum of three taxidermied animal heads in all tourist locations. (This hotel's lobby far exceeded that number). Okay, it's not a real law, but pretty much everywhere we dined or stayed was graced by majestic, but dead, critters observing us.
I had thought that Cody was just outside Yellowstone's east entrance. Alas, it took an hour to get to the park, but after a day of travel across Wyoming, Cody seemed like a good stopping point. Cody is a sizable city with several museums and a famous rodeo (that started just after we passed through), not to mention many lodging and dining options. If getting closer to the park Yellowstone is a priority you can also find cabins, inns, and camping spots between Cody and the park.
Day 2: Drive to and Explore Yellowstone
Yellowstone's east entrance opened just days before we arrived in late May. Many of the two-lane mountain roads had snowpack piled on their narrow shoulders. We weren't far into the park when we encountered our first traffic jam:
On our first day in the park we rounded Yellowstone Lake and hiked the stinky, smokey, but fascinating Fountain Pot trail in a drizzly mist. We also viewed the spectacular falls of the Grand Canyon of Yellowstone. We saw pronghorn, sheep, deer, and bison in and to the side of the road.
We ended the day's grand tour with dinner at the Old Faithful Inn. The service in the main dining room was great, the food was decent, and the building's rustic timber architecture is definitely worth a look. The Old Faithful Geyser was also a crowd pleaser. True to its name, it erupted in a timely, predictable manner to the excitement and applause of an enthusiastic group. Take note that Old Faithful has its own Twitter handle, which is super helpful when it comes to planning your day.
One regretful decision was to stay overnight in Grant Village on park property. I had expected it to be a worthwhile splurge, but the pricey accommodations were mediocre. If we did it again, we would stay in West Yellowstone, Montana, just west of the park, where there are many options to choose from.
Out of obligation to our 50×50 requirement, we emerged from the car long enough to snap this photo, make a U-turn, and explore the park some more. Idaho! Check.
Day 3:  Yellowstone Highlights
Geysers, fumaroles, and mud pots. Oh, my! We visited most of Yellowstone's hot spots (pun intended) that were highlighted on the official park map.
The day's excitement included getting uncomfortably close to a small herd of bison that passed into a touristy area in the Norris Basin. The herd, which included a calf, first lumbered slowly towards a large group of people, but then became agitated and shifted to a walk, and then to a trot. Everyone scrambled to get out of their way, thankfully.
Later, we emerged out the park's northern entrance, high desert country and home of the famed Roosevelt Gate arch, to Gardiner, Montana, just down the street.
We intended to grab lunch and to check into our hotel (Comfort Inn) for a nap, but you won't believe what happened next.
We were surprised to find Gardiner's main road blocked by police cars. We learned that, by sheer coincidence, the Hell's A-Roarin' Horse Drive was about to go down. Each Memorial Day weekend, cowboys rustle 200 horses through town to lead them from their winter home to their summer grounds. Soon, we heard the clopping of hooves in the distance and then saw the herd thundering toward us. It ran past just yards away from us (as with the bison video, we were closer than it appears in the recording). Some animals veered away from the herd and headed towards human observers, but, in the nick of time, real-life cowboys wrangled them back into the street and saved the tourists. A few other horses broke free and trespassed in the yard of a small motel just off the street as you can see at the beginning of the video below.
We skipped the concert and cowboy poetry portion of the celebration returned to Yellowstone's Mammoth Hot Springs, where steamy water bubbles up, trickles down, and builds up creamy and rusty looking deposits of travertine, a mineral-rich natural limestone. Hundreds of wooden steps lead to the top, but there's much to see without going all the way up. (We did go all the way up. I returned from our trip in better shape than I was when I left home.)
With two stampedes, hours of driving and dozens of stairs climbed, it was easy to hit the hay early in anticipation of a 5 a.m. rendezvous with our wildlife tour guide. I'll admit that I second-guessed whether it was worthwhile hiring a private guide after already having seen so many animals just by driving on the park roads.
Day 4: Yellowstone Wildlife Tour
Emil, proprietor of Yellowstone Wild, did not disappoint. He's a wildlife biologist and experienced guide with many years at Yellowstone under his belt. Emil is intimately familiar with the park. He not only answered our endless questions about the surrounding flora and fauna, as well as the ecology and geology, but drove the whole time and made us brunch (and provided coffee, hot cocoaand pastries early on in morning). He also provided expensive, powerful spotting scopes, was able to quickly point them at animals a mile or more away.
Anyone can head to Lamar Valley and see a scene like this:
See the mountain in the upper right? Through Emil's scopes, we watched a mama grizzly and her cub meandering as they foraged for food. We would not have noticed them on our own. And even if we did, our binoculars would have only picked them up as small blips.
Emil had a scope for each of us so that we could safely and clearly watch one of Yellowstone's famous wolf packs, a mile away, studying a herd of bison, trying to identify weaker individuals. You'd think the wolf below might be preparing for a kill, but they spend a lot of time just observing, awaiting the right moment to strike.
The bear photo on the blow and to the right, however, was taken from the car. Just one of those delightful Yellowstone moments when you happen upon a black bear and her cub.
Here's video of the wolf and bison that Emil recorded on his phone and shared with us. The heat waves that show up on video are not visible to the naked eye when using the scope and in-person view is sharper, too.
Emil also helped us spot owls, marmots, elk, prairie dogs, black bears, more bison, and a coyote. And bears. More bears. Just after we finished brunch, a black bear climbed up our mountain and sauntered a few dozen yards from where we stood and pounced on a ground squirrel. We stood in the parking lot and stared in amazement while the bear chewed its breakfast and then lumbered away.
That afternoon, we rafted the Yellowstone River with the Paradise Adventure Company. The rapids, just north of the park entrance, were swift and bumpy, exciting enough to be fun and get us a bit wet, but not very technical. The company provided us with wet suits because the river ran high and cold. We stayed a second night at the Comfort Inn in Gardiner.
Day 5: Pray and Beyond
We drove to Pray, Montana to relax at Chico Hot Springs. This once-sleepy outpost brags of a charming historic hotel with, supposedly, some of the area's best dining. Instead of eating, though, we enjoyed a dip in the spring-fed 90-degree pool.
It's easy to miss the sign telling you to turn into Chico, even if you're looking for it. Keep your eyes on the roadside near the Sinclair gas station. The turnoff was also home to the first of many prairie dog towns we saw on our trip.
Driving east through Montana, we stopped at an information center in Big Timber and learned about the Natural Bridge Falls. It sounded like a fun break, so off we went. Although hiking this well-appointed trail was beautiful, we did not feel the nearly two extra hours off the highway was worth it.
By late afternoon, we reached Billings, a large town ringed by oil refineries. We drove up to the "rim rocks" above town to take in the underwhelming view of Montana's largest city (population an estimated 115,000). We found a hip area of town and decent place to eat, but many shops and restaurants were closed for Memorial Day.
We stayed at Riversage Inn where the low rate, free popcorn, working laundry facilities, and complimentary breakfast made up for some of our earlier disappointment. Meh, Billings, you might want to skip it.
Note that we would have stopped in Bozeman and taken a tour of Montana State University with our high school senior, but it, too, was closed for the holiday. The American Computer and Robotics Museum (so intriguing to our nerdy family) on the MSU campus was also closed. Don't head to Bozeman on a Federal holiday! (The town is also home to the well-regarded Museum of the Rockies.)
Day 6: Little Bighorn, Sheridan, and Devil's Tower
Little Bighorn National Battlefield, AKA the Custer Battlefield until 1991, is known by white folks as the site of Custer's Last Stand. The current name more accurately reflects the historic significance of the site. The visitor center screens a culturally balanced and interesting film about the famous battle. Memorials to both Native Americans and the US soldiers who fought the battle lie a short walk from the center.
We stopped for lunch in Sheridan and strolled its historic main street, which attracts a blend of locals and tourists. Meaning it had an authentic Old West feel while avoiding kitschy tackiness (see Deadwood below. Ugh.). Interesting sculptures sat on most corners. My teen is not one for window (or, really, any type) of shopping, so we didn't linger downtown, but I can imagine spending a couple of hours or two perusing the shops and local artwork.
A trip to Devil's Tower National Monument is a pilgrimage for those of us who grew up watching Close Encounters of the Third Kind. The gigantic rock has an awe-inspiring, spiritual feel. It's a crazy big, vertically-striped monolith that rises up from the middle of nowhere. Its base is surrounded by conifers, which, in turn, are surrounded by a field of enormous boulders that called out to my son to climb them (scrambling is permitted up to the tree line). Vultures and birds or prey circled high above us and a few climbers were descending the striated sides as we walked the circular tail around the monument. Many native tribes have names for this site, like Bear's Tipi or Bear's Lodge. It would be nice to see this park follow the trend of being renamed to reflect its traditional roots.
After a satisfying dinner at Ponderosa (an indie place, not the steakhouse buffet of our youth), we spent the night at the Best Western in Hulett. The town, just a short drive from Devil's Tower, has limited dining and lodging options, but we chose well. We intended to head back to Devil's Tower at night to stargaze but realized we only needed to drive a few minutes out of town to find pitch blackness. We pulled off the road, turned off the car and looked up. A waxing moon lit the sky, but was still dim enough to allow us to see a lot of stars. It was too dark, however, for us to put shapes to the sounds of the animals we heard rustling in the fields around us. This made 2/3 of our party nervous enough to hop back in the car. Wyoming is home to plenty of wild bears and other animals. If you are determined to see the night sky at Devil's Tower, consider staying at the KOA near its base. This is an especially good idea if you are nervous about driving at night for fear of hitting a deer or other animal that might unexpectedly pop onto the road, which can total happen out west.
The base of Devil's Tower is also home to a thriving prairie dog town. A scourge to western ranchers, these rodents are ADORABLE, popping out of their holes and quickly diving back in at the slightest provocation like an enormous Whack-a-mole game.
Day 6: The Black Hills – Devil's Bathtub, Deadwood and the Broken Boot
We traversed Spearfish Canyon Scenic Byway en route to Rapid City and detoured to the "secret" Devil's Bathtub hike. This unmarked trail is tricky to find, and we spotted the Cleopatra Road turnoff just in time. The path follows alongside, and occasionally crosses, a stream. My teen happily hopped from rock to fallen branch to rock at every opportunity. The bathtub pool at the end is suitable for a small group of people with a large tolerance for very cold water. There's even a natural slide for those who choose to dare the plunge.
The town of Deadwood was a disappointment–tacky and touristy. The main historic drag is full of casinos and tzotchke shops. For lunch, we each ordered a variation of an Italian Beef sandwich at the Mineral Palace casino. As one does in the west, the meals were made with bison instead of beef. Perhaps we're used to a moist, tender, Chicago-style Italian beef. None of us finished our meals, finding the bison too rubbery to chew. Our waiter discounted the meals and assured us the food is normally high quality, but I'd be hesitant to send anyone there. Take your meal at the chocolate shop just outside of town instead. I wish we had.
Hoping to leave Deadwood on a pleasant note, we toured the Broken Boot Gold Mine before skipping town. Our tour guide was a repository of corny jokes and puns, but he also dug deeply into the mine's history and delved into a day in the life of a miner in the late 1800s. Mining was dirty, difficult, and often deadly work and we have pictures to prove it. Happy memory achieved!
We drove until we reached our destination, the Baymont Inn in Rapid City, which boasts not a single stuffed beast on its walls. There's a nearby hotel with a large water park. If you have youngish kids, that might be the place to stay.
Exhausted from our busy day, we almost stayed in, but, prompted by an entry I found on Atlas Obscura about the Rapid City Art Alley, Hubs and I headed out. We enjoyed dinner at the kid-friendly Firehouse Restaurant and Brewery and wandered the main square for dessert. Downtown has a nice blend of new and old shops, and the street corners are dotted with statues of former presidents, earning Rapid City the moniker, City of Presidents. Rapid City turned out to be livelier than expected. Our walk down the art alley, encourages graffiti in, was one of the more interesting self-guided art walks we've been on.
Day 7: Missiles, Grasslands, and Badlands
After popping into the National Grassland Visitor Center and making the obligatory stop at Wall Drug (as delightfully kitschy as expected, but more wholesome than Deadwood with some fun photo ops, to boot), we took off for the Minuteman Missile National Historic Site. With a few minutes to spare (thankfully), we learned that the Delta-01 Launch Control Facility Tour actually takes place a highway exit four miles northwest of the visitor center. That's right, be aware that these are two separate locations!
The launch control facility is a time capsule. No longer operational, it's preserved as it was on its final active days. Fans of modern history, the military, technology, or the War Games movie will want to see this. Note that the facility is very small. Tours of Launch Control are limited to six people. Although there are several tours each day, don't wait to book yours.
The photo below was taken in the room where IT could have happened. To be truthful, redundant procedures required a team at another launch control facility to open their red box and enter their top-secret launch code simultaneous with the team at Delta-01. However, in case the other launch facility had been blown to bits rendered inoperable, a special military plane flew 24/7 in U.S. skies to provide the second code if necessary.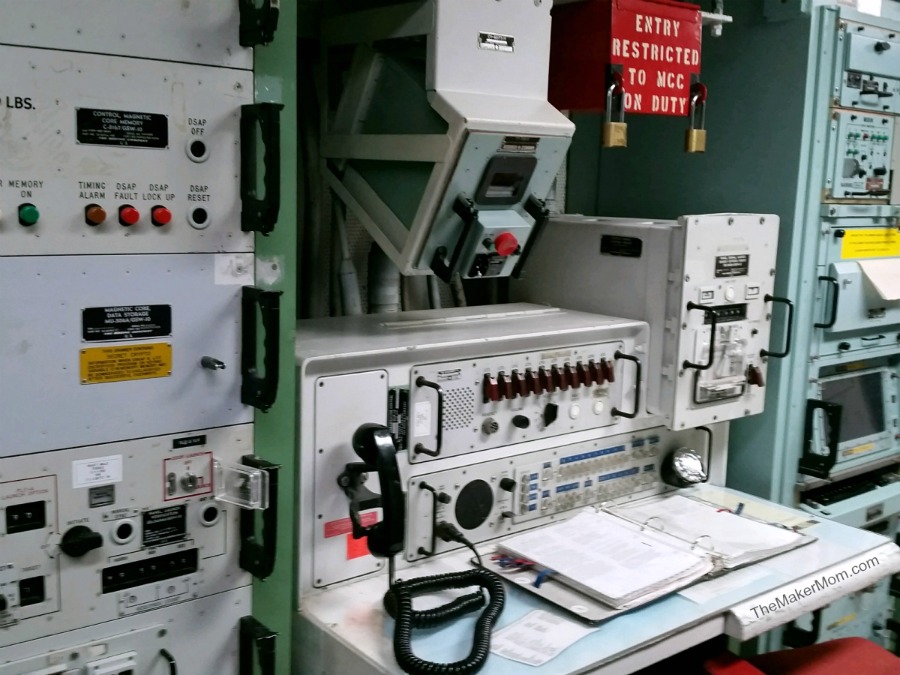 We could only reserve two tickets for the tour, so Hubs perused the visitor center while the teen and I hunkered down at Delta-01. Hubs said the center provided an impressive history of the Cold War, as well as unsettling information on just how close (and frequently) we and the U.S.S.R. came to starting a nuclear war before the fall of the Berlin Wall.
Next, we visited Badlands National Park. Though normally sun-averse people, we arrived mid-day and climbed the Notch Hike. I picked this because of the cool ladder pictured below. The timing was regrettable (so. very. hot.), but the hike was not. The teen had fun leaving his parents in his dust and scaling peak after peak.
Next stop: Mount Rushmore! Our consensus was that it looks better in pictures. Plus, having just come from more isolated areas, the park seemed crowded and overbuilt. Its mammoth parking lot rivals some shopping malls. However, the nearby town of Keystone boasts of "family attractions" like mountain slides, zip lines, a reptile zoo, etc. Ten years ago, we probably would have spent a day or two in the area. In this case, we just wanted to grab some grub and head to our hotel. The Black Hills region is full of tourist attractions for kids, history-themed attractions, and stunning natural features.
After our awful meal in Deadwood, I decided to check TripAdvisor before we settled on a place for dinner. Previous travelers steered us in the right direction and we ate our fill at Ruby House in Keystone.
We overnighted at the Bavarian Inn, home of the automatic pancake makers, and hunkered down in Custer, South Dakota for the remainder of our trip. It was calming to settle in one place after so many days on the road.
Day 7: Black Hills Rock Climbing and Crazy Horse Memorial
The boys headed off on a rock climbing excursion at Sylvan Lake while I explored Custer's main drag. I visited the local shops and set off on a hiking path (more of an extended, rustic stairway with 150+ steps) that led to an overlook with a bird's-eye view of town. Custer is home to a slice of the Michelson Trail. This 109-mile gem of the rails-to-trails movement that runs though the Black Hills is a favorite of bikers and long-distance runners. I crossed over the trial and then enjoyed a slice of cherry pie at the Purple Pie Place, a favorite with TripAdvisor readers. 

We were unsure of what to expect at the Crazy Horse Memorial visitor center and Indian Museum, but it lived up to its name in that it's crazy. The sculpture is (or will be?) the world's largest mountain carving. Inspired by Mount Rushmore and spurred by a request from Chief Henry Standing Bear to Korczak Ziolkowski, this privately-funded memorial pays tribute to Chief Crazy Horse. Started in 1947, it's nowhere near completion. Honestly, it's doubtful we will live to see it finished. But despite, or maybe because, of its uncertain completion date, it's worth seeing.
The museum holds an extensive collection of Native American artifacts and exhibits. It also hosts Native artisans and dancers and provides cultural opportunities (we watched dancing) in a seemingly endless stretch of buildings, which of course, also include a gift shop and restaurant. Start your visit with the introductory movie at the visitor center for a good overview of the sculpting process and the big idea behind the project.
Hubs and I ate dinner at Sage Grill, which we liked enough to visit again for lunch the next day. We returned to Crazy Horse that night for a laser show that's cast upon the mountainside (think: Stone Mountain, Georgia). Your day ticket will get you back in for the show, which was good, but had an excessively cheesy ending.
Day 8: Jewel Cave and the Volksmarch at Crazy Horse
Depending on which tour you want to take of Jewel Cave, which is the third longest cave in the world and part of the National Park System, you may have to show up in person to reserve your spot. Some tours offer reservations and advanced purchase. Our preferred tour, however, did not. So we drove nearly 15 miles out of Custer to claim our spots for later in the day and then drove back to Crazy Horse for the volksmarch.
What's a volksmarch?
Despite my talking about the volksmarch since learning of it in a tourist guide back on Day 3, my traveling companions claimed to not have heard about it until our visit to Crazy Horse on Day 7.  A volksmarch is an organized 5 or 10K walk. They are not races, nor are they neo-Nazi rallies (as one family member wondered). Volksmarches are just lovely, noncompetitive walks that people enjoy the world over. They are often organized around special events or unique locations. In this case, it gave us the opportunity to hike up to the top of the memorial! It was a long, hot walk, but we were surrounded by multi-generational families, athletes, and people who looked like they hadn't raised their heartbeats beyond resting in quite some time. Everyone can (and does) join in for a volksmarch. In fact, up top, we met a couple who travels with volksmarch groups and has participated in walks in all 50 states. Now THAT would have been an awesome 50×50 goal!
After cooling off with an encore lunch in town at Sage Grill we returned to Jewel Cave for our tour. Jewel Cave is know for having the world's among the largest collection of boxwork, a feature created when dissolved calcium carbonate forms tough calcite crystals in cracks in rock formations. Eventually, the surrounding rock wears away and the boxwork frames remain. Alas, you can't see any in the photo below.
Tired from our long day, we opted for "dinner" at the Pie Place, supplemented by snacks in our hotel room.
Day 9: Custer State Park and Wind Cave
While the teen caught extra zzzzs, Hubs and I drove an early morning wildlife loop at Custer State Park. In addition to glimpsing dozens of bison visit a watering hole, we got up close and personal with the park's wild burro population.
Then we took the Needles Highway back to Custer. Note that Custer State Park roads are not for the faint of heart or careless of steering. There are some seriously steep, twisty and narrow byways with few guardrails.
But so pretty!
Later that day we saw Wind Cave National Park, which also features boxwork and extensive subterranean rooms, many of which are still undiscovered. Somewhere along its route, it may even be connected to Jewel Cave. Do you need to see both? Only if you really like caves. I don't, but Hubs can't pass up the chance to acquire national park passport stamps when they're within reach, so we went. That said, we had a different experience at each cave.
We signed up for the historic cave tour. Our tour group ventured off the paved main path and navigated via "candlelight" (#fakecandles lit with LEDs), like in olden times (only safer). Advanced tickets are required for this tour; click for details.
Also required? Long pants. A detail that we all forgot about. Hubs happened to show up in jeans, anticipating a cold cave. The teen and I were dressed for a hot summer day. The problem, though, is that they don't want your skin brushing against and contaminating the cave walls. The park provides you with gloves, but not long pants. We were ready to write off the unique experience and join a different tour, but the kindly rangers felt so bad about splitting up our family that they scrounged around and outfitted us at the last minute. Major props to Rangers Beth Ann and Earl!
Our tour was rated strenuous and required a steady gait and decent night vision, as well as the ability to walk up a few hundred stairs. We enjoyed several rest periods during which the rangers regaled us with stories from the past. In both our cave tours (and even the Deadwood mine tour) we got to experience a rare lights-out, total pitch blackness during which we waved our hands in front of our faces and learned that the human brain, in total darkness, creates a ghost or hallucinogenic image of its own limbs.
We took our final meal of the trip on the gorgeous terrace at Sylvan Lake Lodge. A true wild west experience and a carnivore's delight,dinner included bison ribs, elk ravioli, seared trout, roasted pheasant breast and rabbit and rattlesnake spoon bread, (not a fan of the double-"r" bread).
After dinner, we returned to the lake (near the rock climbing area from earlier in the week), for a lovely walk. As Hubs and I ambled about, the teen alternately scrambled and bounded up the rocks and boulders surrounding the lake to burn off extra energy. Just before we headed back to the Inn, he stripped to his shorts, swam to the middle of the lake (holding his shoes overhead to keep them dry) and climbed the boulder in the center of the lake. It was the perfect end to an amazing trip.
Day 10: Rapid City-> ORD