As part of my mHUB residency, I plan to highlight some of the members and the cool work they're doing. I also expect to interview Chicago Makers and local women in STEM. First up is Joseph Greer, founder of MakeXchange, which recently launched an electronics invention set for beginners.
I met Joe last summer when he first joined the mHUB community. It's been exciting to see his idea come to fruition in the last nine months. You can meet Joe and try his kit (and its super cool paper airplane launcher), which is currently on pre-order, at the Chicago Northside Mini Maker Faire on May 6. MakeXchange will also be at the Bay Area Maker Faire May 19-21, the New York City Maker Faire September 23-24, and hopefully the large Chicago Maker Faire that is rumored to be scheduled for November 2017.
The Best Arduino Inventor's Kit?
There are a growing number of kits that help people learn to use microcontrollers like Arduino and Raspberry Pi. I've received samples of several. They tend to be similar in terms of the components they contain. The MakeXchange Inventing with Electronics Kit really stands out, however, when it comes to design.
Joe and I discuss the whats and whys of the kit design in the video below. You can watch or simply listen to the video, but I'll share a few highlights of the MakeXchange electronics kit:
It's one of the most inviting electronics invention kit I've ever seen.
It opens up and stores like a book while providing for a built-in work space. Projects don't need to be disassembled when it's time to clean up and you won't mess up your kitchen table or workbench when you leave your work-in-progress.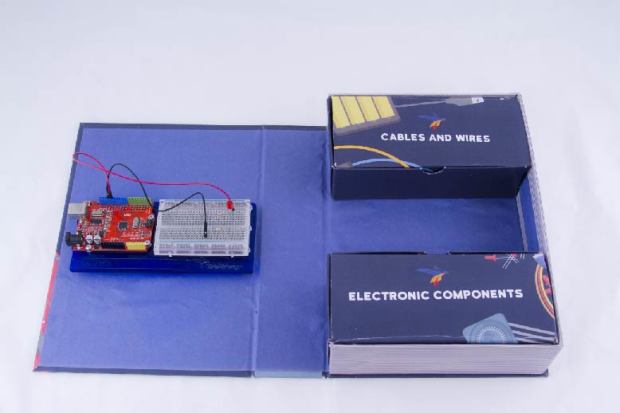 Every component has its place. Regardless of the user's age, it's so much easier to keep things organized when there's a system in place.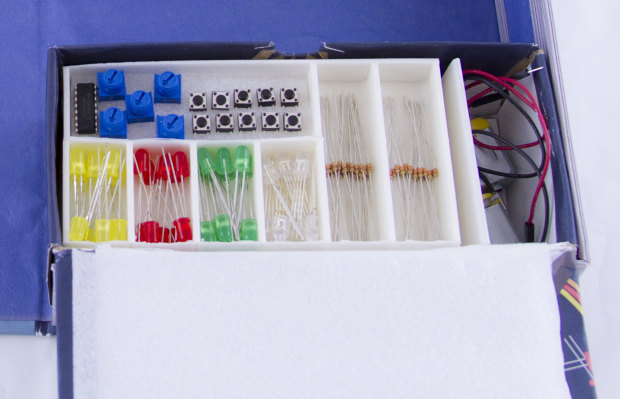 Watch the video to learn more about Joe, the kit and the process and making it all come together.