When I've got the stomach for it,  I read a daily news summary called WTF Just Happened Today? It's perfectly named because that's a question I often ask myself these days. The news gets more surreal, more unbelievable, as time goes on. I've been quiet here, but if you follow The Maker Mom on Facebook, you know I'm not a fan an active opponent of the current administration. This post by J.A. Ginsburg sums up a lot of my concerns about the dangerous direction in which our country is headed. Our country is not only about to screw ourselves royally but we're also on an irreversible course to ruin the Earth for future generations.
However, it's not just the physical environment crumbling in the era of the Orange One. Trump has Made America Hate Again. Granted, our country never made it to the post-racial era many thought would be ushered in with Obama's presidency, but it's open season for racists and haters now. And it's disgusting. There are many examples I could cite- personal stories from friends,  bomb threats at Jewish Community Centers around the country to name a couple- but I'm writing here because of an incident at a recent VEX robotics competition.
According to an article in Saturday's USA Today, racist insults were hurled at the PantherBots, an elementary school VEX IQ team comprised of two African-American and three Latinx students.  Thanks, Trump. This is unacceptable! At a STEM competition skills, knowledge, preparedness, and attitude matter. The color of a student's skin, where they were born, not to mention their race, religion, gender, or sexual preference, should not.
I've been involved in VEX Robotics for five years now. In that time, I've attended local, state and the international tournaments. I've witnessed a lot of friendly competition and seen countless examples of good sportsmanship over the years. It's not uncommon to lose small parts or have a battery die unexpectedly. Other teams always chip in to assist their competitors. But I've also seen an overwhelming number of White and Asian boys on the playing field*. I don't know the official numbers from VEX (or if they even track such things), but I don't feel like I've seen the gender or racial balance change much over the years. If anything, my experience at VEX Worlds in 2016 reinforced my sense of how few girls and African-Americans are involved in the league, at least at the top levels.
The Bechdel Test
In fact, this has been brewing in my mind for almost a year. Have you heard of the Bechdel test? It was a test created by cartoonist Allison Bechdel to assess how women were represented in movies. Often women are on screen to move a plot along or serve as a romantic interest. Bechdel provided guidelines to determine the significance of women in a given production: does the movie feature two or more female characters with names? Do they talk to each other? About something besides a guy? If so, the movie passes the Bechdel Test.
People now apply Bechdel Test concept about meaningful roles for women in other arenas, such as technology. Hence the  Techdel Test. For example, in computer programming: did a woman write the original code? Are other women involved in updating or revising code that was created by another woman? If yes, it passes.
The Techdel Test for Robotics
Sitting in the stands at VEX Worlds last year, I definitely saw girls on the playing field now and again (feel free to sub in "girl" for other under-represented population. Als0 feel free to sub in female or young woman if that's your style). But I wanted deeper and more meaningful representation. I scribbled notes about what a Techdel Test might look like for robotics
As I watched the matches, I scribbled notes about what a Bechdel or Techdel Test for robotics would look like. Here are my thoughts:
Two girls from different teams involved in a single match.
A female judge inspecting an engineering notebook that was written or edited by a girl.
A woman coaching a team that has at least one member who's a girl.
A girl who programs a robot that was also built by at least one girl.
At least one girl competing in a match that is officiated by a woman.
A female judge inspecting a robot that was built by at least one girl.
A woman announcing a match in which one or more girls are competing.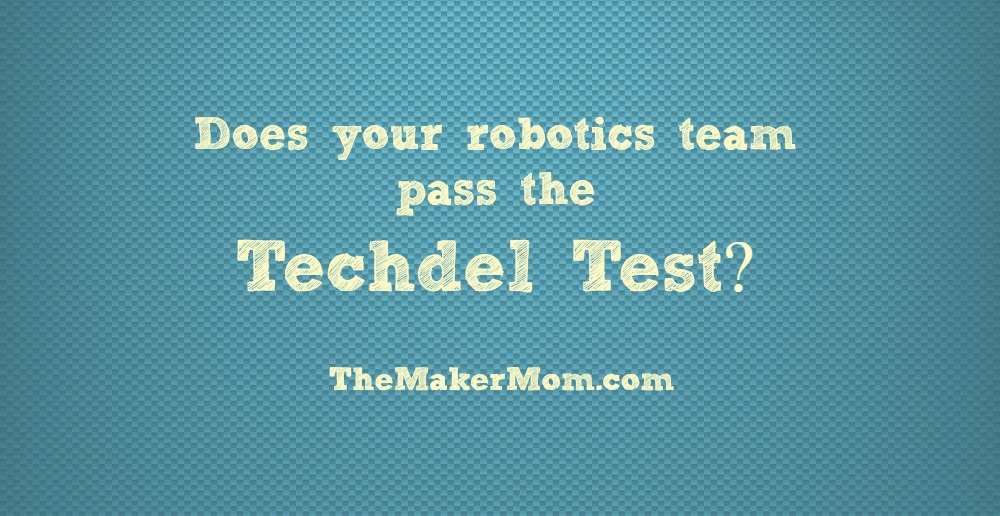 Granted, not all of these are easily observable, but of the options that are, I saw pitifully few matches that met any of these criteria at VEX Worlds within my son's division. I'd urge coaches and program organizers to think beyond simply getting girls and underrepresented groups on the team and more to ensuring that they can have deep involvement in the robotics program.
Clearly, the league's leadership needs to work harder to recruit and retain students from underrepresented groups, but I want to urge coaches and program organizers to think beyond simply getting such students in the head count. Those in charge need to make sure that such groups have deep involvement in the robotics program. They also need to bring these underrepresented groups in at other levels of the competition as judges, referees, and announcers, not to mention coaches. On that last issue, I want to remind you that I was a coach for two years.
My role as coach mainly involved acquiring the robot kit, running carpools, and signing the team up for tournaments. I was a rather hands-off facilitator. My guiding philosophy was, out of necessity, one of benign neglect. But it worked. Five years later, my team is going strong. Now they have more resources thanks to our local high school. I only have to show up and cheer them on (quietly, because, teenagers).
The PantherBots
Back to the PantherBots. These kids are clearly awesome. It's wrong that there were on the receiving end of hate speech. But it's also wrong that their team is a unicorn in the world of competitive robotics. They are a team to be celebrated and replicated. They are the future of America and right now we need all the help we can get to make it awesome!
The team is no longer accepting donations, but if you're so moved, you can make a donation in their honor to the TechPoint Foundation, which provides meaningful, experiential STEM opportunities for students from low-income schools. The foundation helped the PantherBots get their start.
*Granted, this is not just an issue for VEX. I see this in many other STEM competitions, especially those with a focus on coding and engineering.