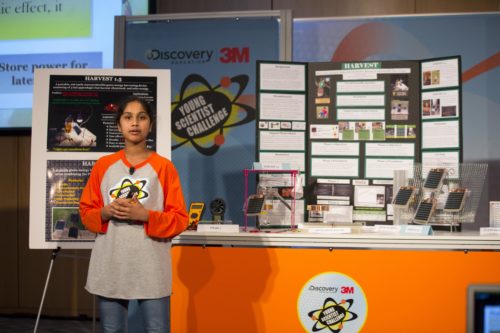 Maanasa Mendu is the winner of the 2016 Discovery Education 3M Young Scientist Challenge for 5-8th graders. As a result, she earned the title of America's Top Young Scientist for her energy-harvesting invention. In addition to that flattering title, she won $25,000, a chance to work with a 3M scientist mentor and other prizes. I thought you'd all like to get to know her a bit better.
Please note that this is not a sponsored post, but I'm a regular guest contributor to the Discovery Education Young Scientist Challenge blog.
Meet Maanasa Mendu, America's Top Young Scientist
There are a lot of pressing environmental issues, what attracted you to renewable energy?
Every summer my family visits India, and there I experienced persistent blackouts. This meant no lighting or air conditioning for my family. For over one fifth of the global population, darkness remains a permanent reality. Electricity is a fundamental necessity of modern society and providing electricity access to the citizens of the entire world should be a top priority.
Tell me about your invention!
My bio-inspired device harvests mechanical energy in the forms of wind and precipitation through the piezoelectric effect, which is an amazing phenomena in which certain materials produce electricity when exposed to mechanical strain, and solar energy through organic photovoltaics in a single design.
You made several prototypes to come up with your entry. How did the prototype change after working with Margaux Mitera, your 3M mentor?
First, I started off by creating an alternative wind energy harvesting device-composed of foam oscillators, and piezoelectric materials (you can see it here). After discussing with Mrs. Mitera (my awesome 3M mentor), I realized that I wanted to expand upon this idea in a new way. I created a goal to increase the power output and functionality while reducing the cost of my device. Over the course of several weeks, we discussed, contemplated, and analyzed several different solutions. While conducting research, I eventually came across organic photovoltaics-the perfect solution.
Originally, I had planned to combine all the components: the piezoelectric materials, organic photovoltaics, and circuits all at once. But at my mentor's suggestion, I decided to split up the work into several phases to create a systematic and manageable workload. I then created a piezoelectric harvester, integrated organic photovoltaics and created a working prototype with a lighting application. Throughout this process, I made several changes to the initial design, including removing the foam oscillators and creating a modular leaf energy harvesting device. Additionally, I integrated 3M materials to prevent environmental degradation.
I definitely learned from my mentor's advice and personal experience that improvements can be made everywhere, and that failure is inevitable. It is bound to happen, and we just have to learn from it (my device "failed" a countless number of times).
As of now, there are three different prototypes that are various applications of the same concept: a portable three-leaf harvester, a fencing application and a metallic mesh application. After hundreds of tests in different environmental conditions, my device finally worked– it illuminated 15 watt led bulb, charged a power bank and powered a flashlight!
I realized that since my device targets third-world countries it would be impractical to use rare and expensive materials. Instead, I integrated recycled and waste materials into my device like recycled water bottles, reducing its price to $5. Overall, my 3M mentor was a crucial part of the project: teaching valuable lessons and just making the experience amazing!
What were some of the highlights of working with your 3M mentor?
Looking back, it has just been an amazing process of collaboration, and all the lessons that I have learned from this process. Most importantly, I learned about the 4 Cs of science: creativity, communication, collaboration and critical thinking, along with the process of innovation. Innovation is more than just a "lightbulb" moment, it's actually a continuous exploration, very much like our universe.
I now realize the truth in Thomas Edison's quote, "Genius is 1% inspiration and 99% perspiration" based on my mentor's awesome advice and my experience with the Discovery Education 3M Young Scientist Challenge. Whether testing for the hundredth time, researching for hours or perfecting a presentation, nothing ever comes without hard work. Furthermore, Ms. Mitera has truly exemplified that collaboration is key to success, taking your initial ideas and building upon them from the realizations of others, and sharing your new discoveries!
What advice do you have for aspiring young scientists?
My biggest piece of advice is to try stuff and believe in yourself! Even though an idea may seem crazy you may never know whether it may change a person's life. Remember to take risks! If you have an idea or a problem to solve, don't hesitate to sketch out a model or build a prototype just using common household materials. When people don't believe in you or even when you don't believe in yourself -you must be brave and go for it. You'll be surprised at what you can accomplish when you put your fears aside. Everyone has the potential to change the world for the better and the hard part is they just have to harness it!
Anything else you'd like to add?
No matter where you are, you can always dream big. Don't let other people or most importantly yourself stop you from achieving your dreams. Opportunity is everywhere.