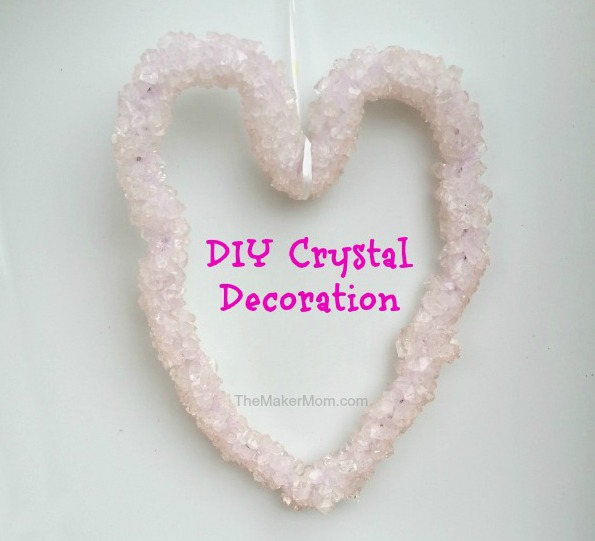 Here's a little blinged-out DIY science and maker project that's a perfect way to add sparkle to any day. Plus, growing crystals, solids whose molecules are arranged in an ordered, repeating pattern has a magical quality. This can come in handy if, say, you are trying to summon a fairy* to your garden. Or maybe you want to show off or share a shiny Valentine's Day gift made with love…and science.
If you want to grow crystals as a scientific process, start this first thing in the morning and check your results at a few points during the day. For example, plan to check in every two hours and use drawings and written descriptions to note the crystal's formation and growth. Otherwise, you can mix up your solution before bedtime and fish out your finished product before breakfast.
This post contains affiliate links.
DIY Crystal Heart Ornament
Supplies
A glass jar with a wide mouth such as a Mason jar**

Boiling water to fill your jar most of the way
A tablespoon for measuring.
A spoon for mixing spoon
A substrate for growing the crystals, like a pipe cleaner
An 6-10-inch piece of string or dental floss
A pencil or popsicle stick
Food coloring (optional)
Steps
Shape the pipe cleaner as desired. Popular shapes vary by season, but they include snowflakes and icicles in the winter, hearts near Valentine's Day or whenever you want to spread love, and Pi signs for Pi Day. The more convoluted your design, the great its surface area, the more (and more dense) crystals you will grown. I went for a classic Valentine's heart, but you may prefer a shiny rock-like mass.
Tie one end of the string or dental floss to your creation and wind the other end around the pencil or popsicle stick. It will rest on your jar like so.
Test your creation to make sure your shape fits into the jar without touching the sides. Remove from the jar temporarily.
Carefully fill the jar with boiling water. Add food coloring if you wish (I added 5 drops, which resulted blush pink crystals. Lesson: don't be shy with the food coloring.)
Next, carefully add the Borax, one tablespoon at a time. As scientists, your goal is to create a saturated mixture, one that can not absorb any more of the Borax, which is typically 3-4 tablespoons per cup of water.
Carefully lower your creation back into the jar with the pencil resting on the lip. Again, take care that your pipe cleaner clears the sides and bottom of the container.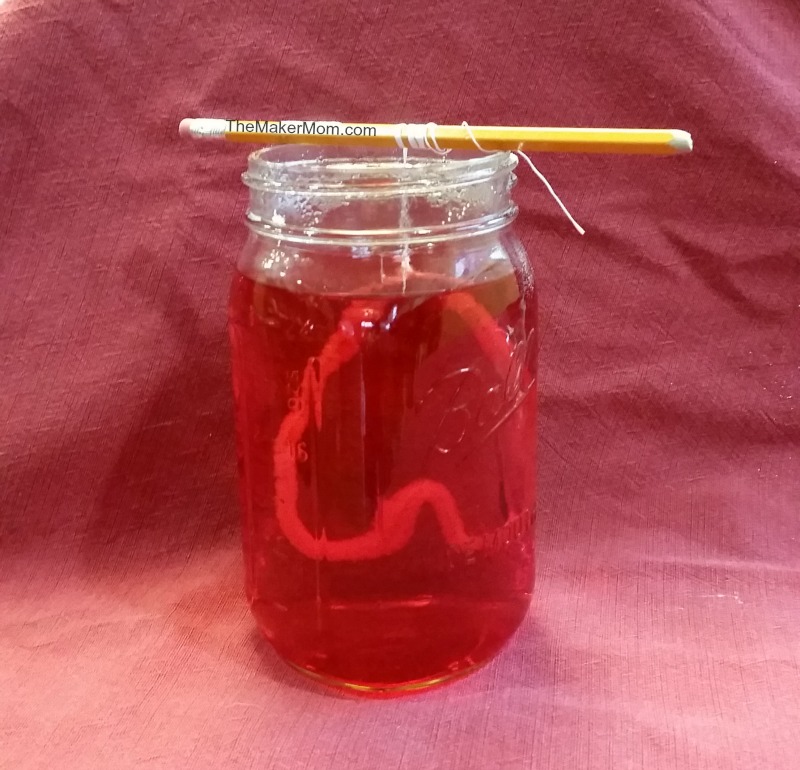 As noted above, you can check in every couple of hours make scientific observations, or you can leave it for the better part of a day. As you can see below, my red solution yielded a faintly pink heart, so if you want boldly colored crystals, add food coloring with a liberal touch.
Do not eat your crystal creation!
Science
When you mix Borax and water, you create a solution. Water is the solvent and Borax is the solute, or the substance that gets mixed in and dissolved. When the solution can not accommodate any more Borax, it is said to be saturated. You know it's saturated because when you try to add more Borax, it won't dissolve. The saturation point depends on temperature and pressure. Because the arrangement of molecules in the boiling water is looser than that of cold water and therefore has more room to dissolve Borax. On tastier or more practical note, this is why you boil the water before you add sugar when you make sweet tea, even though you drink it cold.
Experiment
Try this a few times, but change one aspect or variable each time and observe the results. Compare and contrast your findings as you make those changes. For example, try chilling your Borax solution more quickly to see how that affects crystal size and growth. Will the crystals grow on string or paperclips? What else can you change?
If you have access to a microscope (maybe on your cell phone?) use it to examine the Borax crystals. Compare these to other readily available crystals in your home, like salt and sugar.
Travel
See Borax in its natural setting. Really! You can see remnants of the old Borax mines in Death Valley National Park. I visited a few years ago and was surprised to learn that the "20 Mule Teams" like the one on the box above were real more than just a corporate logo. Back in the day, they hauled Borax for the Harmony Borax Works.
*One of my boys had a great appreciation of bling as a young child, but they never cared much for the Fairy Garden concept. My young skeptics only (begrudgingly) accepted the Tooth Fairy because she left money for them.
**Local friends and fans, I have a few jars in my garage that I'd be happy to pass on for free.