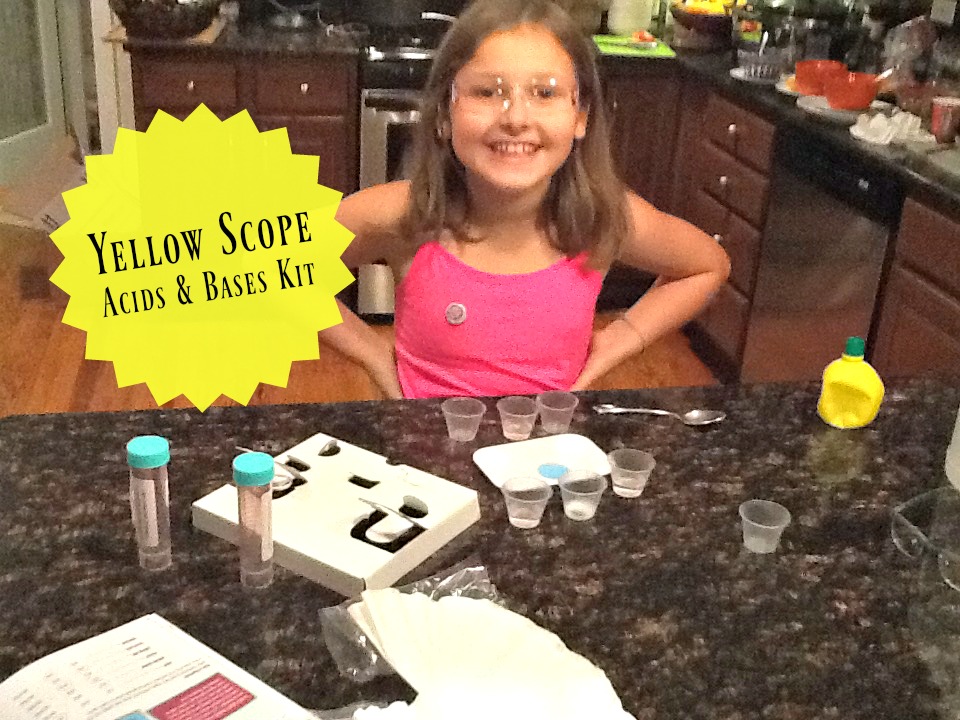 I've been following Yellow Scope, a company founded by two STEM moms that makes science kits for girls, since their beginning. I was excited to see that they expanded their line with a new kit, Acids and Bases.
I was sent the new Yellow Scope Acids and Bases kit for review. I passed it along to my friend Kristina and her 10-year-old daughter, Linnea, whose eyes lit up when I mentioned the opportunity to test it out.
Yellow Scope Acids and Bases Kit
My daughter, a 10-year-old in 4th grade, tested out the Yellow Scope Acids and Bases Chemistry Kit. So far, she's completed lab 1. She absolutely loved it.
She told me that first she liked how the kit was assembled with fun goggles and real science equipment (she loved the pipette). The pin was a hit, too, and she's completing the check list in order to earn it.
She loved the activity itself, though she said this should definitely not be for kids under 8, since the words were a bit hard and we needed to talk it out a bit for her to better understand the material and concepts.
Once she realized how the pH scale worked, though, she really got into it. She liked that she could follow the very specific instructions on using the first six substances and then once she'd completed that part, she could make her own experiments. Along those lines, my inspired girl tried pickle juice, fish sauce, and a piece of an apple.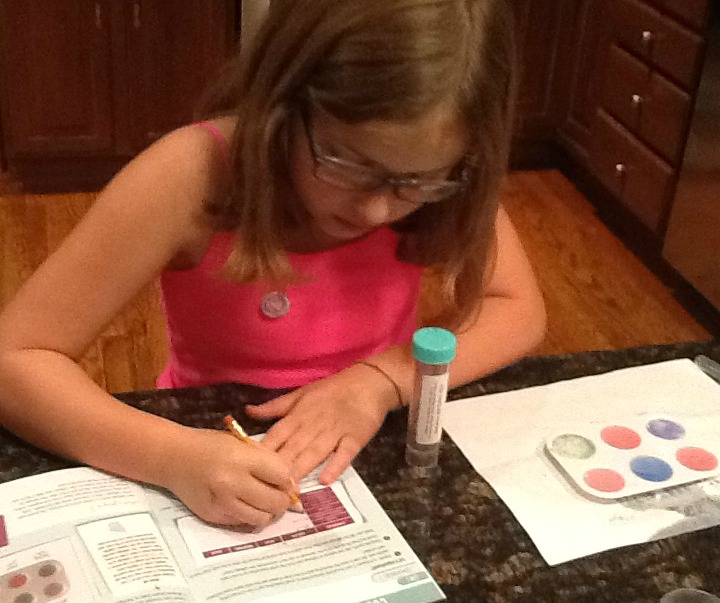 Linnea also liked that there was space for her to make her own chart of results. She also liked the introductory hypothesis questions, which she went back and checked after completing the lab.
She's very excited to try lab 2 tonight, and already prepared some red cabbage leaves, so she's ready to go. When I told her it would cost $25, she thought that sounded a little expensive, but said it's pretty fun though. I'd say $20 is a better cost, $25 seems a bit high to me, too.  It would be helpful to note on the box that the kit includes 3 labs because that wasn't apparent to me. I think that would show its value better for potential consumers.
Overall we had fun with these and we're ready for more kits from Yellow Scope!!
Learn about their original Yellow Scope Foundation Chemistry Kit. Support this blog by purchasing a Yellow Scope Kit on Amazon.