It's time to kick off the new school year! We're gearing up for back-to-school at the September 15 STEMchat with four-time sponsor, Texas Instruments Education Technology! We'll talk STEM goals, math attitudes, and more.
Join us on Twitter Thursday, Sept. 15 from 9-10 pm Eastern.
TI is always looking for new angles on STEM and this year they've teamed up with a new spokesperson, pro football player John Urschel! As an offensive lineman for the Baltimore Ravens and an MIT PhD candidate, John is a shining example of an athlete who is also a mathlete.
John is teaming up with Texas Instruments for a couple of initiatives. The first, as you may have read here, is the Math For the Win Contest. TI is giving away a TI-84 each day until September 17 and all you have to do to enter is post a photo on Twitter or Instagram that shares how you use math in your everyday life and tag it #MathFTW and #TIContest. In addition to the daily random giveaways, John will select his five favorite photos that will be put up for a public vote. The person who submits the photo that garners the most votes will win a $500 Amazon gift card and a classroom Skype session with John.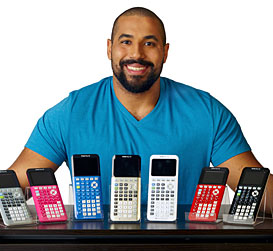 The TI-84 family is the preferred calculator of many middle and high schools. In addition to the features mentioned above, the TI-84 Plus CE has a bright, color screen, six times more memory and a rechargeable battery. It includes preloaded apps, a charger and a USB cable. And it's permitted for use on important tests like the SAT, ACT and AP exams.
(In keeping with tradition, I'm also giving away a calculator here, too. Read below to enter.)
John Urschel is also teaming up with TI to explore the STEM behind sports in a new series of activities designed to inspire young problem-solvers and critical thinkers. STEM behind sports. The first activity, "Field Goal for the Win!" is a fun, free activity for the TI-84 Plus family of calculators. Click to get in the game today!
Meet the STEMchat Panelists
Texas Instruments Calculators, @TICalculators, is on a mission is to improve achievement for all students in math & science.
Kimberly Gonzales, @kim_gonzales, is a digital content engineer at Texas Instruments who is passionate about getting more women and Latinas interested in STEM. With STEM degrees from MIT and UT Austin, she sees the potential STEM careers have on changing a student's future. Read more about Kimberly in this STEM Girl Friday feature.
Sarah Kimmel, @FamilyTechZ, is a mom who can fix your blog, your computer, or your server. She has been in the IT industry supporting small businesses for over 10 years, and now offers free computer help and tips on her blog.   FamilyTechZone.
Jacqueline Cromwell, @NerdMom, is a homeschooling mom of four and blogger at Nerd Family.
David J Lockett, @DavidJLockett, an Aerospace and Engineering Teacher for the Lake Wales Charter School System, a columnist and amateur astronomer.
Steve Dembo, @Teach42, is an early childhood educator, author of Untangling the Web, an edtech consultant and proud member of the #Eduverse
And, of course, I'll be chiming in as @KimMoldofsky and @STEMchat.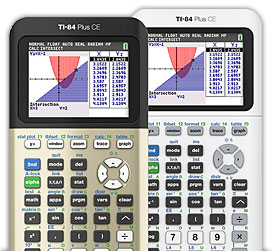 Win a TI 84 Plus CE Calculator!
Enter to win a limited edition TI-84 Plus CE color graphing calculator in bright white or the blingy golden ratio! We're giving away two of these light, slim, colorful beauties.
Fill out the Google Doc below to enter. Enter by September 15, 2015 at 9:05 PM CDT.  Must be 18 to enter. Open to US residents. Retail value of prize is roughly $130. Winner will be chosen at random and I will notify the winner by email. If the selected winner does not respond within 48 hours of notification, a new winner will be randomly selected.
You may complete one regular entry and an additional entry for sharing a Tweet about this giveaway, but you need to come back and share the Tweet link on the form below in order to get credit for it.
Sample Tweet to cut and paste:
I just entered to win a TI-84 @TICalculators from @TheMakerMom and you can, too! http://tinyurl.com/STEMchatonSept15 #STEMchat
Enter below. Scroll down and enter your information and then hit submit.

Tweet you on the 15th at 9 pm Eastern!
Spread the news to your STEM-loving friends and colleagues. Share the #STEMchat joy with these sample tweets!
Join me for #STEMchat on Twitter 9/15 at 9 PM Eastern to talk #STEM with @TICalculators http://tinyurl.com/STEMchatonSept15
Join me for #STEMchat with @KimMoldofsky and @TICalculators on Twitter 9/15 at 9 PM Eastern! http://tinyurl.com/STEMchatonSept15
Sign up here to receive a free email reminder about #STEMchat the day before our chats, as well as news from The Maker Mom.
Connect to TI before and after #STEMchat: