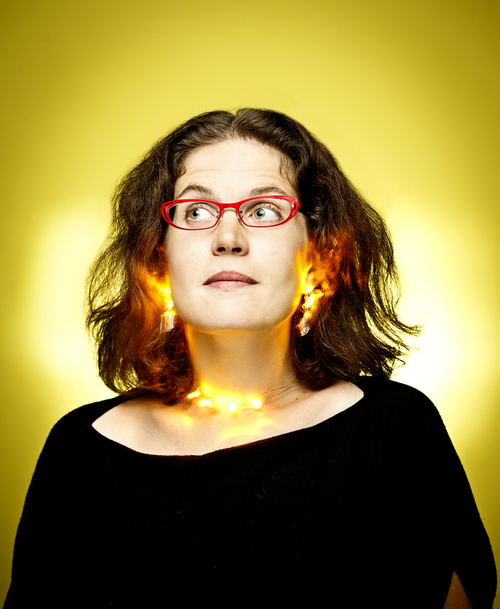 I had the good fortune to connect with AnnMarie Thomas in real life a couple of years ago. It was a brush with fame! After all, this is the woman who co-created Squishy Circuits! (She did this with one of her undergrad students, but AnnMarie's infectious enthusiasm went a long way toward popularizing them.) Shortly after our meeting I purchased her book, Making Makers (affiliate link). Honestly, it sat on my nightstand for about a year, but I'm so glad I finally read it. I loved the interviews, the insights, the departure from the parenting tropes that we hear in from mainstream media. Making Makers is no parenting manual, but it provides plenty of inspiration to parents who want to raise creative, can-do kids.
Meet AnnMarie Thomas
AnnMarie Thomas is a mom, a maker, a writer, a speaker, an engineer, and an aerialist who runs the Playful Learning Lab at the University of St. Thomas.
I once heard MIT's Dr. Mitch Resnick sadly comment that the name of his lab, Lifelong Kindergarten, was becoming a misnomer because these days, even kindergarten is increasingly focused on homework and tests. Tell me about your Playful Learning Lab.
I am a huge fan of the work that Dr. Resnick and his research group have been doing! Much of my lab's work is inspired by them. The Playful Learning Lab is the research group that I run at the University of St. Thomas. We believe that play is an essential part of learning, for people of all ages. We work with a diverse array of collaborators – from musicians to dancers to aerialists to preschool students – to explore ways of infusing whimsy and joy into learning.
The group consists almost entirely of undergraduate students (with majors ranging from engineering to education to liturgical music), though for a recent art gallery curation project we were fortunate to have two art history graduate students join the team. One of the most fun, and rewarding, aspects of our work is when we get to bring some of our techniques and projects to new setting. We are entering our third year of running weekly Engineering Exploration classes at Metro Deaf School, which has been a wonderful collaboration.
Here's a fun video that show some of that work, and the students who lead it:
Though your book is not a "parenting manual," I feel like it's great reading for parents of young kids. What do you most want parents to know about raising maker-minded kids?
I think the key take-away is that while there are many common themes in the maker childhoods I learned about, each story was unique. There is no "right way" to be a maker, and thus there is no "right way" to make a maker.
Encourage kids to ask questions, try things, and create their own answers.
There are a lot of parents today who feel great pressure to micromanage their children's activities, interests, and education. However, in the nearly 100 interviews I did while writing the book, there were very few stories that mirrored today's highly scheduled kids. Rather, these adult makers typically told stories of having a lot of freedom to make their own decisions with regards to how they spent their time.
The book is full of anecdotes in which today's leading makers recall their childhood freedom to take risks, sometimes with damaging consequences, but also deep sense of excitement and empowerment. How did the writing the book influence your mindset and actions (or tolerance for risk) as a parent?
It would be hard to write a book like this and not spend some time thinking about my own parenting style.
Spending so much time listening to stories of the childhoods of people I respect, such as Dr. Resnick who you mentioned above, has strengthened for me the importance of exposing kids to many things and letting them pick their own interests.
As for risk, in some ways my kids have been brought up in an environment that allows them to do certain things much younger than is likely typical. Circus training starting at two for one daughter and five for the other, building electrical circuits in pre-school, helping their dad build doll furniture using tools, etc. Growing up attending Maker Faire at young ages, and building relationships with a wide variety of makers, has (I hope) broadened their perception of what is "normal" and what is possible.
You're an engineer with a deep understanding of technology, what do you see as a useful role for modern technology at home and in schools? When does it become more of a hindrance than a help?
I think it becomes a hindrance when the focus is on the technology itself, and not on the learning and experience of the child. Tablet and computers can be wonderful, with the right content, or they can simply be a passive way to watch videos. That said, pencil and paper if used just to do worksheets isn't necessarily the best option either.
In the maker realm, I've seen way too many schools buy 3D printers that barely get used (due to fear of breaking them, lack of funds for consumables, the long time it takes to print something, etc.). That same money, though, could have bought a lot of "low tech" tools and materials that might have provided a more engaging learning experience.
It all comes down to how we use the technology. I helped found a center at my university that offers courses in Engineering Education to PK-12 teachers and one of the messages that I try to convey is that, as parents and educators, is that so much of design and engineering is about asking great questions and pulling together concepts from a variety of fields. Teaching your students how to do that is, to me, more important than any particular physical technology.
Between your roles as a college professor/researcher and a mom to two daughters, you also find time for interesting hobbies, like aerial arts! And then you tie that back into your work though classes like Circus Engineering. Have you discovered the secret to work-life balance or can you at least share a few tips on the topic?
It's a tricky balance, and I'm not always good at making it work. I'm fortunate to have a very supportive partner, who puts up with my sometimes chaotic schedule. Whenever possible, I try to bring my daughters with me on work trips, so they have made a lot of unusual friends. Finally, it's important to figure out what works for you. Throughout graduate school and my early years as a professor, I struggled with OCD and depression. Finding the right doctors to help me with that really opened the door to being able to accomplish the things I wanted to, both personally and professionally.