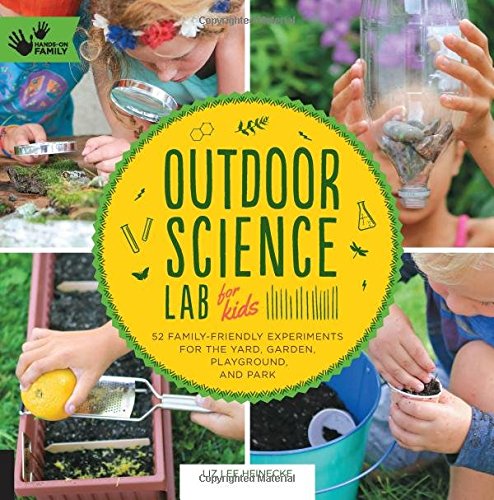 I'm pleased to share that one of my favorite STEM peeps has a new book out. Liz Heinecke, AKA the Kitchen Pantry Scientist, has stepped out of the kitchen and into the world. Her new book, Outdoor Science Lab for Kids (affiliate link) features 52 family-friendly experiments for the yard, garden, playground, and park.
As with her earlier book, the content is friendly, inviting, and accessible as it encourages and explains science concepts. Each experiment includes a list of necessary materials, safety information, instructions, an explanation of related scientific principles as well as ideas for creative extensions.
Outdoor Science Lab for Kids is divided into 12 units, or chapters, that include topics like Driveway Physics, Bountiful Botany, Garden Hose Science and Frozen Fun.
The book is geared toward young children (and their families) up through middle school students, but I'm hoping to convince my high school maker teen to try a few experiments with me. When I first looked through it, I tabbed a bunch of pages with sticky notes because, STEM fun, y'all!
The experiments I hope to do together include:
Produce-bag parachutes (a bike pump is involved)
Cardboard-box projector
Super spheres
Marvelous moss (AKA graffiti moss; I'll be on my own for this one)
Crystal caves
I'm a big fan of Liz's work and I hope that you will be, too. Outdoor Science Lab for Kids retails for $24.99, but at posting time is selling for $18.90 on Amazon. I received a review copy of Liz's book.