I don't know how things have been in your neck of the woods, but in Chicago, we've seen precious little of the fiery ball in the sky in recent months. But today the sun is shining, temperatures are rising, the breezes are slight- the prefect condition for making sun art, also called sun prints or solar art. If you want to get technical, we're talking about cyanotypes. (Click for interesting reading.)
I've been itching to make sun art and to see the sun for more than a day at a time. Check and check! This is not a sponsored post, but does contain affiliate links.
You can make sun art the slow way by taking a piece of dark, richly colored piece of construction paper, placing objects on top of it and leaving in the sun for several hours. Or you can do it the quick way buy purchasing photosensitive paper that reacts quickly to UV rays.
For around $10, you can purchase enough sheets to let everyone create a piece or two of art without breaking the bank. On the other hand, the paper is pricey enough that you want to make sure to use it thoughtfully.
I think it's fun to find items from nature to use in the prints, but you could just as easily make an interesting design from office supplies or items in a household junk drawer. I did a bit of both as you can see below.
The coins at the bottom of your purse work well for this activity, too. Money also adds a math element to your design as you can ask young children to identify the denominations or count up the monetary value of their artwork.
I recommend planning out your design prior to working with the photosensitive paper. Be mindful that items that are not flush to the surface or have a bit of depth, like the nose pencil sharpener above, will produce shadows that result in a "fuzzy" image. Also be aware of the sun's position in the sky and how that will affect your image.
You may wish to create a group project first to get a feel for the medium.
After leaving your design in the sun for the recommended amount of time, you will move it to a brief bath to set the image on the paper.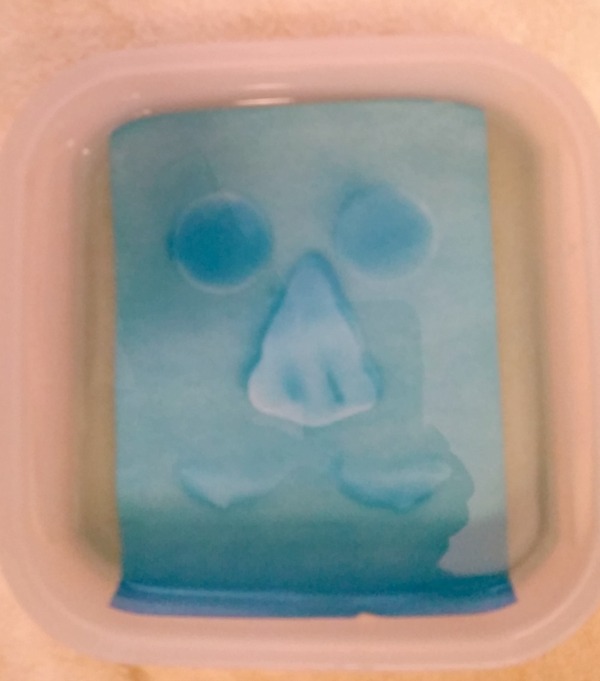 When you remove it, the color will be rather dull, but hang tight. Because this washed out blue:
Will develop into this bold Prussian Blue:
And this:
Your finished product should be suitable hanging on the fridge, if not framing or turning into greeting cards. If you feel you've really got a knack for this. Try turning a photo into a sun print. Or create a print on fabric.
If you're hooked on sun art, maybe you'll want to take the next step and create your own photosensitive paper. The process involves dangerous chemicals, so be sure you have a safe, well-ventilated place in which to make it and have the proper protective gear on hand.
And now, my sons' second favorite song about the sun. (I'm assuming their first is Here Comes the Sun, which Maker Dad sang to them since before they were in utero.)