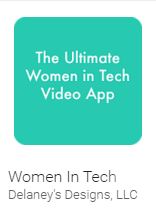 A while back I told you about the second annual Congressional App Challenge and now I'm pleased to introduce you to one of the winners, Delaney Rua, a high school student from Gainesville, Florida.
As is unfortunately common, Delaney found herself in a AP Computer Science class full of boys. She wanted to empower more girls to not only take the class, but to be open to pursuing careers in technology. She figured that exposing girls to role models, women with successful high-tech careers, would be a good first step to reach her goal to In her words, she sought to, "empower girls and women around the world to pursue their dreams in technology."
She had a two-pronged approach. First she created a local Women in Tech Speaker Series. Despite receiving local and even national attention for her series, she felt its reach was too limited, so then she created an app for that.
Her award-winning Women in Tech Video App makes inspiring talks from women in tech widely available for anytime, anywhere viewing. Indeed, it's been downloaded in at least eight countries so far.
Built using MIT App Inventor, Delaney plans to tweak things as she expands the app based on community input.
Download The Women in Tech Video App for free on Google Play and in the App store.
Check out the other winners and their projects here. Did your Congressperson host a local competition? If so, thank them. If not, it's never to early to let them know you'd like them to participate in the 2016 challenge.