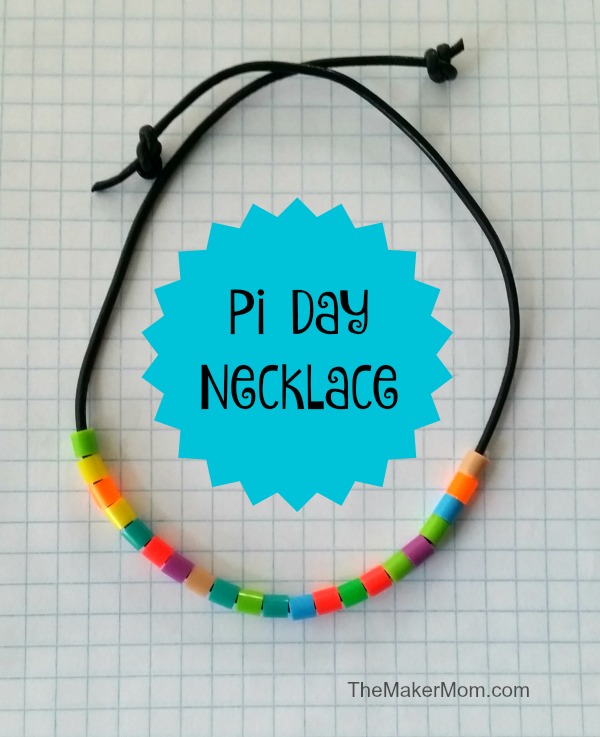 Whether you're literally outfitting a child or you want a few tchotchkes for a classroom of kiddos, Pi Day is mainstream enough that you can find everything from t-shirts, to temporary tattoos to Pi plates and tins with just a click these days. But the best stuff is the stuff you make yourself, right? So try your hand at making a colorful Pi Day Necklace.*
This post contains affiliate links.
Make a Pi Day Necklace
Supplies
Leather cording (string or yarn will work in a pinch, but a stiffer material makes it a little easier to manage)
A printout of Pi to 25 digits
Paper and pencil to create a number line
Steps
Create a number line and pair each number with a specific color bead; this will be your guide.

Tie a knot on one end of the cording so that the beads won't slip off.
Take the bead that represents 3 and slip it onto the cord. Repeat for the numbers 1, 4, and so on.
Flip it over so that Pi can be decoded from left to right.
This will get you up to the first 30 digits of Pi. Diehards (Pi-hards?) will want to add an additional color bead to represent zero.
More ways to celebrate Pi Day
Other fun ways to celebrate Pi include starting your day with homemade Pi Cakes and checking out these fun Pi Day links. Chicagoans can participate in one of four Pi-K runs, thanks to the Illinois Science Council.