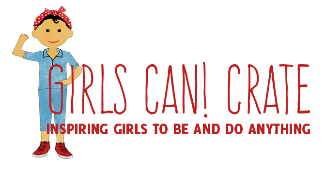 It seems like there's a proliferation of subscription boxes for kids these days. It's fun to have something arrive in the mail that will provide a few hours of fun, or at least a bad weather day distraction for the kids. And from their perspective, it's like getting a cool new present every month. The latest box to enter the fray is the engaging and informative Girls Can! Crate, designed with an eye on young girls ages 4-8 years old.
Girls Can Crate
I planned to pass the Girls Can! Crate it off to my guest reviewer, Jessica, who has a little one in that sweet spot, but I couldn't resist taking a peek first. I liked it so much, I decided to chime in myself.
Each box features a woman who will inspire your girl. In January, they featured Bessie Coleman. February's box was centered on the awesome astronomer Nancy Roman (who I hadn't heard of prior to opening the crate). Each crate also includes games and activities (and the necessary supplies to make/play them) related to the featured woman's field, a 20-page full-color activity book, tips for parents to help foster their girl's fabulousness, and other goodies.
Take a look at what's inside!
Lately, there's been a rising tide of critical voices noting the lack of diversity in children's books and in the feminist movement, so one thing that stood out for me, and makes the Girls Can! product stand out as well, is the inclusion of women of color. For example, last month's crate shined the spotlight on aviator Bessie Coleman, the first African-American woman to stage a public flight. And my kit, even with its main focus on Nancy Roman, also highlighted non-Caucasian women of NASA Christy Darcie, Kalpana Chawla and Mae Jemison.
Girls Can! Crates are available as single boxes, or is 3-6- and 12-month subscriptions with prices starting at $29.95.
I'm going to pass this on to Jessica to enjoy with her daughter. If they have additional feedback, I'll add it here later. But from my perspective, the Girls Can Crate this makes a pretty cool gift for a young girl.
I received a free crate for review purposes.