Whether as part of a classroom project, a school team, or an independent after school activity, STEM competitions for students provide opportunities and incentives to grow critical skills. I look back fondly on the days when my boys were involved in Science Olympiad. Not only did they learn a lot, but they got to spend time with like-minded peers and had a lot of fun. Keep an eye on this post for updates about STEM competitions for students in middle school and high school; I'll be updating it throughout the year.
2016 STEM Competitions for Students in Middle and High School
Young Scientist Challenge Discovery Education and 3M recently launched the 2016 search for Americas Top Young Scientist. Do you know a middle school student who has what it takes? All it takes is a great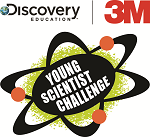 idea, a bit of research, and a way to record a video. Click for full entry details. Americas Top Young Scientist will win $25,000, a chance to work with a 3M mentor and more. Also, I'm a long-time guest contributor to their blog. Don't miss my application tips and fun science ideas. Entries are due by April 20, 2016.
#SoundContest DIY.org and Design Squad Global have partnered on a fun competition challenging kids to answer the question, what is sound? There does not seem to be a lower age limit on the contest. Prizes will consist of goodies from the DIY Market. Enter now through Jan. 31, 2016.
World of 7 Billion Student Video Contest To enter, students create a video of up to one minute long about human population growth and highlight one of these three areas, noting how population growth impacts the issue and at least one idea for a sustainable solution:
public health
deforestation
water scarcity
It's recommended that students choose a subtopic. For example, tackle deforestation by talking about biodiversity. Four winners will be chosen at the high school level and another at the middle school level. Entry deadline is Feb 25, 2016.