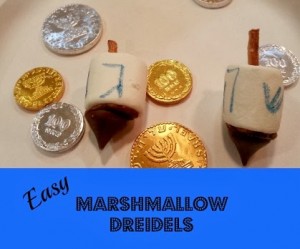 The first night of Chanuka (Hanukkah, etc.) is rapidly approaching. If you're looking for a fun dessert for the kiddos at your family's holiday party, these easy to assemble marshmallow dreidels are just the thing.
How to Make Marshmallow Dreidels
Supplies
Hershey's Kisses
Marshmallows (the giant ones are extra fun, but regular size will work)
Pretzel sticks
Food-safe markers
A clean mug  with hot water
Steps
Insert the pretzel stick into the flat surface of the marshmallow. This will be the top of your top.
Next take, unwrap a chocolate kiss and hold its flat bottom against the warm outside of the mug so the bottom melts just a bit.
Attach the melty bottom of the kiss to the bottom of the marshmallow.
Let your conjoined creation cool for a few seconds.
Once the chocolate is securely adhered, use the food safe marker to write the four Hebrew letters (nun, gimel, hei, shin) on the sides of the marshmallow. These four letters form the acronym of the Hebrew phrase: Nes gadol hayah sham, or a Great Miracle Happened There. Click here to learn to make the letters and create a paper dreidel.
It's easy to prepare a plate of marshmallow dreidels ahead of time, but as long as an adult keeps an eye on the hot water, the kids will enjoy creating their own.
Watch how easy it is and get a glimpse of the Maker Kids when they were pre-teens.


Wishing you a season of light and love.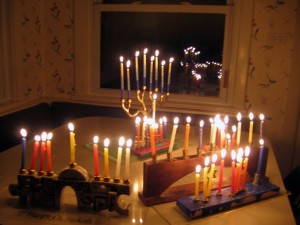 Like The Maker Mom on Facebook.  Follow us on Pinterest and YouTube.