Chanukah, Hanukkah, Festival of Lights. Usually the lights are candles, but I decided to try something a little different this year with these DIY lights. This fun idea can be easily adapted to any holiday that has its own themed silicone baking or candy-making molds.
This post contains affiliate links.
When I was planning the Bit Space event last month, the folks there told me how they had used hot glue guns (a kind of low budget 3D Doodle Pen) to make a casing for an LED attached to a coin cell battery for a lantern parade. The hardened glue encased the LED, diffusing its light, giving it a new look.
Holiday-themed DIY Lights
Supplies
A hot glue gun with several glue sticks (I preferred a mini working with my small mold)
A silicone mold typically used to make candy, baked goods or shaped ice cubes (I used a dreidel mold)
One LED (of course, the more the merrier)
Coin cell battery (CR2032) (one per LED)
Electrical tape (other kinds will do in a pinch)
Permanent marker for embellishment (optional)
Scissors or craft knife to clean up the finished pieces
Steps
Plan to do a dry run or two without the LEDs to get a feel for how to best work with your mold. In the case of my dreidel mold, it took some practice to properly fill in the detailed Hebrew letters.
Once the glue gun is heated and ready, coat the inside of the mold with a layer of glue about 1/4 inch thick and allow it to cool.
After the base layer is cooled and hardened, fill in the rest of the mold and stick the head of the LED into the soft, warm glue. Make sure the leads are sticking out enough to be attached to the battery.
Allow the glue to harden.
Once it's hard, pop it out of the mold.
Tape the long (positive) lead to the positive side of the battery, it's labelled with a +.
Tape the shorter (negative) leg to the the negative side, which is labelled with a -.
Show everyone your cool new light!
It's even cooler in the dark.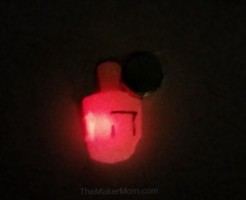 I got fancy. I cut a small hole in this homemade card and stuck the leads inside. Then I taped the leads to the battery and taped the battery to the inside cover.
In large collage at the very bottom of this post you can see an example where I used a yellow glue stick in an ice cube mold to make a light. I stuck that light into a fleece scarf that I'm embroidering.




The LED Throwie referenced below is a popular maker activity involving the basic LED + battery combo above with the addition of a magnet. Once it's all taped together, you can throw it onto a magnetic surface. Kind of a fun way to decorate, huh?