And now we turn our attention away from holiday shopping (but not these great STEM giveaways!) and focus on acquiring knowledge instead of things. That said, I know Maker Mom readers are prone to acquire things that help their kids acquire knowledge. My point is, it's Computer Science Education Week! CS Ed Week runs from Dec. 7-13, 2015, but is best known as time for the Hour of Code. Whether you want to bring Hour of Code into your classroom, library or home, there are tons of resources for you. In fact, there's enough out there to have your kids take on an Hour of Code challenge every day this week (and much of their Winter Break, too).
With so many free online resources, your family can participate in Hour of Code even if your child's school doesn't. That said, 9 out of 10 parents would like to see programming taught in school, but only 1 out of 4 US schools actually teaches it. Help close that gap. Here are some resources to help you advocate for change in your area.
Tutorials Galore
If your child is a bit hesitant to get started, maybe a familiar character or theme will motivate them to try. You can work with them or even do these fun tutorials on your own.
For the younger set (and adults who feel hopelessly technologically inept) take advantage of the new partnership between MIT, Tufts, and PBS Kids and download PBS Kids Scratch Jr. The free app designed for kids 5-8 is available on Android and iPad. It seeks to teach core coding concepts using well-loved PBS Kids characters like the Wild Kratts, WordGirl and more than a hundred others. The PBS site contains additional teaching materials, like this.
Cartoon Network is getting in on the action, too. They've partnered with the big-kid version of Scratch.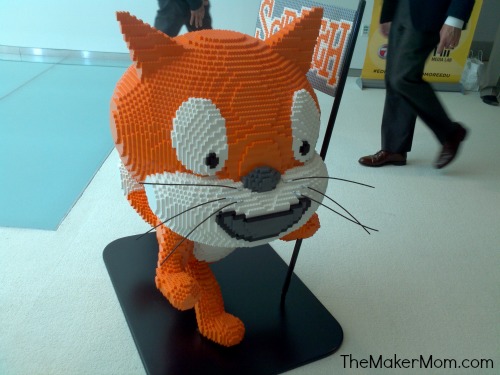 If you have an iPad, download free coding apps like Hopscotch or Tickle. 
New coding tools for kids (and timid adults) are coming out every month. We're going to have to wait until 2017 for this exciting development: Girls Who Code just announced a partnership with Viking Children's Books to launch what;what's being billed as "The Baby-Sitters Club meeting coding." Sounds cool, huh?
In the meantime, check out this Hour of Code project from the Girl Scouts of Greater New York and Vidcode, a site that teaches coding through digital media.
I'm going to end where I began. I have no doubt that Maker Mom fans will take advantage of resources listed above, in fact, some of your kids are already programming circles around their teachers, but it's important that we make computer programming accessible to all kids. Heed this call from The White House; make a difference.