We're thrilled to once again partner with ThinkFun for a lively STEMchat that will provide opportunities to learn, reflect, share, and possibly even save you some holiday shopping. That's right, our sponsor will be sharing more than great ideas, they'll be giving away some of this season's hottest games including Code Master, Compose Yourself, Laser Maze™ Jr, Rush Hour Shift (affiliate links), and a Holiday Hoopla Pack you won't want to miss.
We'll chat about STEM gifts of holidays past (remember that first chemistry kit?) as well as present presents, how to balance kids' wants with your budget, and share tips for stuffing their stockings with STEM goodness.
#STEMchat will take place on Thursday, 11/12, from 9 – 10 PM Eastern.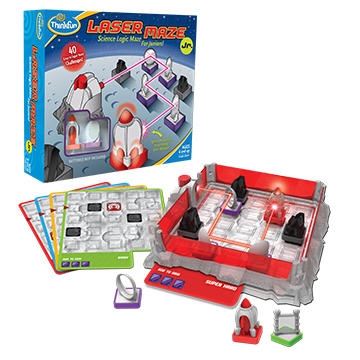 Meet our panel of trend-spotting moms who know what's hot and place a high value on learning while having fun. Or is it having fun while learning?
@ThinkFun, our sponsor, creators of addictively fun games that sharpen minds.
@SelfishMom Amy Oztan, has been called one of the funniest moms of Twitter and one of the most powerful social media moms around. She shares her thoughts, recipes and product reviews on her blog, Selfish Mom and you can enjoy her astute, witty commentary of the Parenting Bytes podcast.
@TeachMama  Amy Mascott is a teacher, mother, dreamer and expert finder of four-leaf clovers. She blogs at Teach Mama and is the author of the new book, Raising a Rock-Star Reader.
@ThienKim Thien-Kim Lam, is a mother, writer, coffee addict, foodie, and book lover. She shares recipes, multicultural resources and family fun at her blog, I'm Not the Nanny.
@Venspired Krissy Venosdale is a long-time teacher and lifelong learner. She's currently the Innovation Coordinator at Kinkaid Lower School and we all wish we could hang out in her classroom. The more accessible option, though, is to read her blog, Venspired.
And me, @KimMoldofsky, also known as The Maker Mom and founder of #STEMchat. Occasionally tweeting from @TheMakerMom and @STEMchat.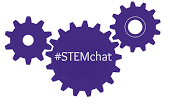 Spread the news to your STEM-loving friends and colleagues. Share the #STEMchat joy with these sample tweets!
*Join in #STEMchat on Twitter 11/12 at 9 PM Eastern with great prizes + STEM gift ideas from @ThinkFun http://tinyurl.com/ThinkFunSTEMchatWithPrizes
*Talk "Gifts that keep on giving" + win great prizes from @ThinkFun at #STEMchat on Twitter 11/12 at 9 PM Eastern http://tinyurl.com/ThinkFunSTEMchatWithPrizes
*Join me for #STEMchat with @KimMoldofsky and @ThinkFun on Twitter 11/12 at 9 PM Eastern! http://tinyurl.com/ThinkFunSTEMchatWithPrizes
Sign up here to receive a free email reminder about #STEMchat the day before our chats, as well as news from The Maker Mom.