We had a great time with ThinkFun, our fab panel, and a bright crowd of STEMchatters talking about holiday magic with a side of STEM. It's not surprising that our crowd knows that STEM gifts are smart gifts even when it comes to tweens and teens (maybe especially so!). That is, they're gifts that keep on giving long after they first come out of the box. ThinkFun's broad range of STEM games, brainteasers and puzzles give the gift of knowledge with a strong helping of fun.
(This post contains affiliate links. Most of these links go to Amazon, but if you like to shop a little "smaller," you can find many of the items below, including a great selection of ThinkFun items at Marbles, the Brain Store.)
STEM Gifts are Smart Gifts
What is the most memorable STEM or STEAM (STEM + Arts) gift you ever received?
At least one Chatter was lucky enough to get a rock tumbler, as a child. (My parents insisted it would not work as well as I hoped. Now, I'm debating if I should put that on my own list.)
Several of us showed our age by recalling the magic and pride of having a set of encyclopedias, but even more of us shared memories of memorizing the Sears Catalog toy section.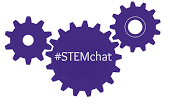 What do you think are some of the most inspiring STEM items today?
Circuit building kits (Snap Circuits, littleBits, Light Up Kits)
How do you balance what your kids want for the holidays with what is good for them?
Panelist @Thien-Kim said thhat she and her husband buy fun educational gifts for their kids and let the grandparents buy the more frivolous items. ThinkFun suggested it's possible to choose gifts that learning that are also very fun. When it comes to kids who love STEM, many parents say they are less concerned because the kids tend to choose toys and games that have an educational value. In this case the bigger concern may be stretching the child's mind with challenging puzzles or games, but not overwhelming them with items that are too difficult.
Other tips:
Support your child's passions and interests.
One chatter pointed out that it's okay to go "off-list" for your child–that gift might even be the biggest hit of the season.
Add books into the mix . Although it skews younger, I want to mention panelist Amy Mascott's new book, Raising a Rock-Star Reader.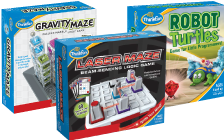 Kids want in on the giving fun too. What are some gifts that you can help your kids can give?
Teach them a skill that they can use to make gifts for others (baking, soldering, knitting)
Write story books
Allowing them input to guide your purchase
Bake up tasty gifts
Pick out gifts to donate
Draw cover for a custom calendar
Make origami gifts
Give the gift of song with Compose Yourself by ThinkFun. Create music as unique and for special people as the people in your life.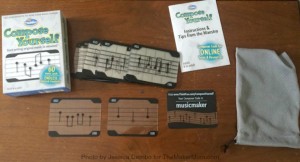 How do you find the perfect gift for tweens and teens – not old, not too young?
How do you give the intangible & most important gifts – time, joy & knowledge?
Trip to Maker Faire
Gifts like movies and games that will make your teens want to stay home and hang out with family (at least now and then…even if they don't admit they are enjoying it)
Create time and space for just being, this is a challenge for plugged-in teens, especially older ones.
Bring back family game night
Activity or craft kits and then working on projects together
Make time for genuine conversation
Let kids choose how to spend their time
"Whole family" gifts like a game everyone can play together or a special outing
Anything that lets you connect to each other, is creative, fun, and leads to discovery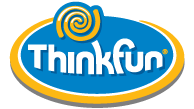 Thinking out of the box, what "gifts of experience" do you like to give?
Groupon can be a good source for affordable family classes in things like glass making or welding
A winter break camp experience real-life or online
A special outing 1:1 with one of your kids at a time
Museum passes
Tickets to a show, festival, or sporting event
Ziplining
Ropes course
Does the phrase "stocking stuffer" make you shudder? How can we stock 'em with budget-friendly STEM?
Fill them with small maker supplies like straws, washi tape, small soldering kits, and art supplies
ThinkFun's Math Dice
Playing cards and card games
LEGO minifigures or plain old bricks
Mad Libs or puzzle books
Affordable games like ThinkFun's Rush Hour Shift, Gravity Maze (a big hit in The Maker House!), Code Master and Laser Maze.