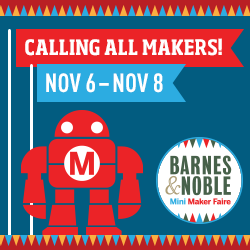 This weekend, November 6-8, 2015, Barnes and Noble Booksellers across the country will be hosting Mini-Maker Faires. The stores have partnered with Make Magazine to host this unprecedented event. it should be interesting time, albeit a bit different flavor from the Mini-Maker Faire.
Look for me this Friday evening at 7:00 PM at the Barnes and Noble in Village Crossing in Skokie at 5405 Touhy Avenue. I'll be a featured guest as part of the Meet the Maker session. I'll bring along a hands-on demo or two. (At the moment I'm leaning toward Circuit Stickers and maybe my low-tech Moon Balls and if I can get the Young Maker Teen to come along, he'll bring the Maker Makey and his bow.) I'll also be taking questions and sharing tips on raising Maker Kids. Join me!
In addition to Meet the Maker opportunities, the MMF will include hands-on Make and Collaborate sessions and well as Make Workspace segments which will feature demonstrations of 3D printers, robots and more.
Events will be staged throughout the day. Unlike a typical Maker Faire, Makers will be coming and going, switching in and out throughout the weekend, so check with your local store to see what's up.
I hope to see you there!