It's fun to learn about new makerspaces in my area, but it's even more fun to have a party at one. Last Sunday, a select group of Maker Mom friends and fans gathered with their kids at Bit Space Chicago. Bit Space serves kids ages 6-16 (adults, too, actually), but our event was specifically designed for the 10-13 year-old crowd.
It was a blast!
I mean super fun and waaaay cool. We practically had to drag the kids away when time was up.
Located on Chicago's North Side at 2541 W Lawrence Ave in Chicago (just a few blocks east of the little-known National Cambodian Heritage Museum and Killing Fields Memorial), Bit Space is a wonderland for Maker Kids.
Bit Space helps kids learn and make. Their programs are grounded in curriculum to help kids understand the design and engineering processes, as well as to learn to safely use the high and low-tech equipment. But they also help kids' imaginations soar.
Their three areas of focus are:
Bits – using design and construction principals, as well as hand tools and modern technology, to build physical objects
Bytes – computer programming and modeling projects to create 3D virtual worlds
Prints – 3D printing and computer modeling projects
For The Maker Mom event, the Bit Space team came up with a mind-blowing project that allowed kids to do all of the above. I'll explain it via the photos below.
If you weren't able to attend the event, plan to visit their all-ages Open House on Saturday, December 12 from Noon to 2:00 pm. See the Bit Space website to learn more about their curriculum, as well as camps, after school programs and other special events.
And if you're a local reader who wishes you'd been invited, I put out an open call on The Maker Mom Facebook page a few weeks ago. Sorry if you missed it.
Here was the amazing project:
The Bit Space team had started to build out a scaled model of their space, but the kids had to help complete it.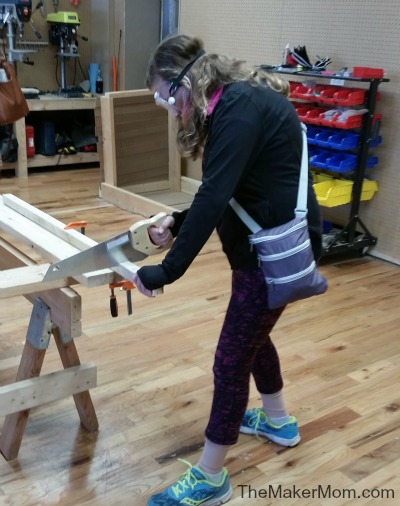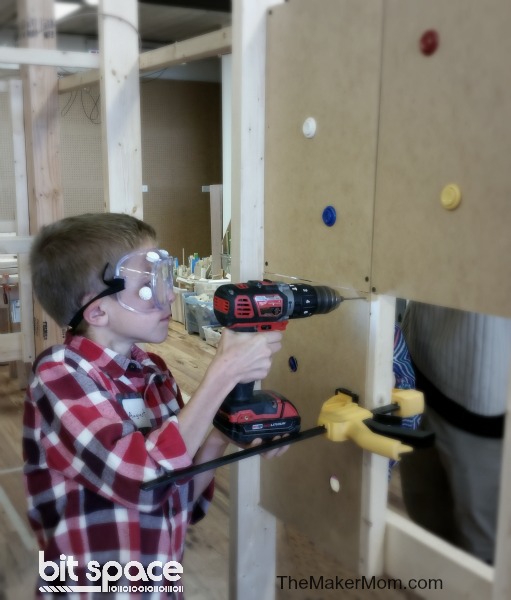 While some were building the walls, other kids were soldering wires onto pressure switches.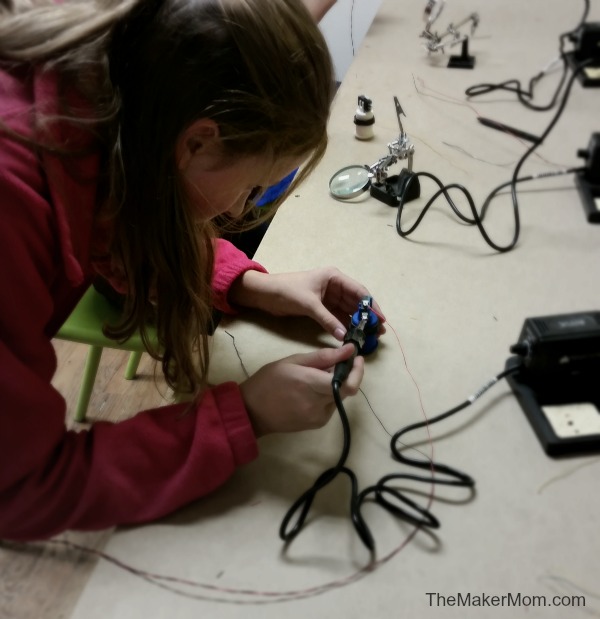 Pressure sensors connected to a computer were then connected to the pressure switches. So when the colorful button on the switch is pressed, a message is sent to the computer.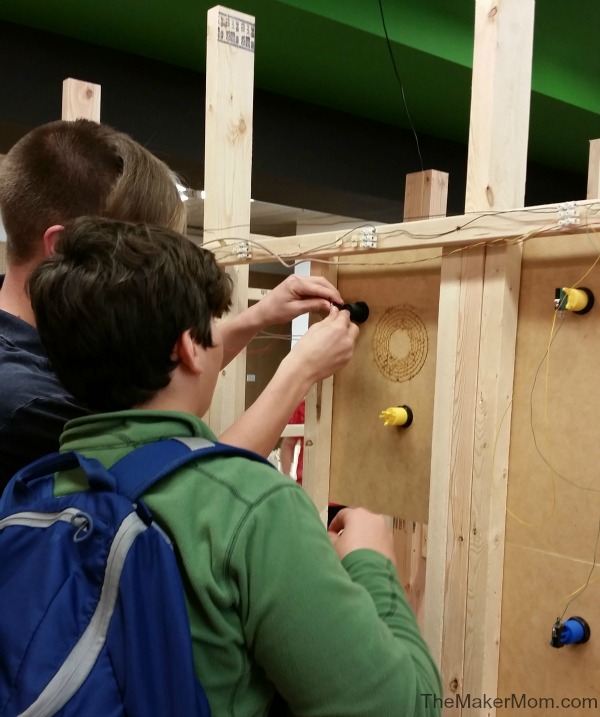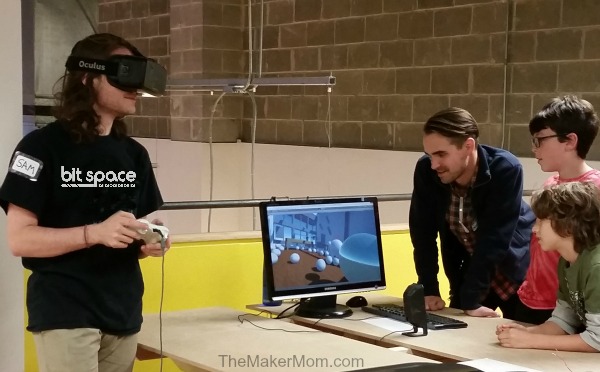 Then the real magic happened. That information being sent into the computer was for a game Sam (above) created.
The player donned an Ocolus Rift (3D simulator) headset and movedthrough a virtual model of Bit Space–you can see that on the screen. The player's goal was to collect five silver balls like the one in the bottom right corner of the screen. But while this was happening in the virtual world, kids inside the wooden, physical model of Bit Space were pressing the buttons described earlier and launching white balls into the virtual space with each touch, making the player's job more difficult.
Mind-blowing, right? Like I said, a good time was had by all.
If you stop into Bit Space for Open House or a workshop or class, be sure to let them know that The Maker Mom sent you!