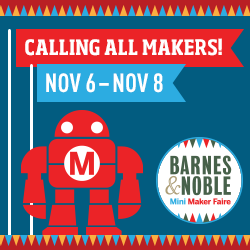 I was happy to play a role in Barnes and Noble's first nationwide Mini Maker Faire earlier this month, and I eagerly shared the news with The Maker Mom readers. I'm all about connecting people and resources and do my best to make good matches. Which is why I was really disappointed when one of my most responsive Facebook fans told me she'd experienced a Maker Fail at their local Barnes and Noble.
It turns out she and her eager Maker Kids planned on spending the better part of their day at their local store, but when they arrived, well, it was not quite what they had hoped for.
Curious, I reached out to other Makers and attendees to get a feel for their experiences. In the end, I talked to about eight folks covering nearly a dozen stores in three states.
Everyone seemed to understand the enormity of the challenge of holding simultaneous cross-country faires in retail locations around the United States. With that in mind, the consensus was that it was a decent first-year effort, despite a few bumps.
A retail chain makes its name by providing a consistent experience across locations. In this case, each Barnes and Noble MMF was supposed to feature certain products (also known as sponsor products) throughout the day. Only due to space and staffing issues, this didn't always play out consistently. Or at all.
Some B&N locations have a staffer in the role of business development or community outreach. These are people who are in touch with the community and likely have time to plan a big in-store event like the MMF. In my case, Cathy Athans of one of the Skokie locations reached out to me weeks ahead of the event, inviting me to participate and setting the schedule. In other cases, local Makers reached out to B&N stores as close in as 10 days prior to the event, and those locations didn't have a plan in place. In some cases, the stores connected with a local makerspace and basically left it up to them to schedule Makers, a process that included road bumps of its own.
Another staffing issue was that the B&N crew didn't always have a good feel for the product they were scheduled to demonstrate. The disappointed Maker Mom fan mentioned above told me that in the end, her kids essentially took over the role of demonstrating littleBits and Sphero, even making a couple of sales in the process. (Her family is itching for a littleBits Space Kit, so if you want to thank her, I'll put you in touch.)
In at least one store, there was no one to demonstrate the Raspberry Pi, so that element slid off the schedule.
And of course, most stores have a unique design, so there wasn't a master layout for the MMF.  Some stores compensated for their awkward MMF layouts by making frequent announcements about the visiting Makers as well as posting great signage to draw crowds in. Other locations, not so much.
Based on my unscientific sampling, I get the sense that B&N needs to put more resources behind this to make it work on their end.
Unlike a large retail chain, part of the appeal of a Maker Faire is its local flavor, the fact that varies in delightful and unexpected ways from location to location. I sense this happened to some degree, but the setting obviously placed some limits on this.
And then there's the whole element of being in a retail location. I'm not sure if local Makers were allowed to sell their wares, as they might at other MMFs. I talked to some folks who don't have products to sell but simply like to display their projects at MMF. We discussed the awkwardness of volunteering time at an event inside a store as opposed to a typically MMF or, say, at a scouting event. I mean, it can't be ignored that B&N is increasingly dependent of toys, games, and nonliterary cool stuff to boost its bottom line.
This nationwide celebration can be spun many ways and still be considered a win for B&N, but I think the Make folks risk watering down their brand. What kind of message is the average person getting if a given store's MMF is really just a celebration of products, very cool and cutting edge, but pricey products?
At best, if they continue, the B&N MMFs presents an unparalleled opportunity to introduce the masses to the Maker Movement while building community. At worst, the MMFs will be just another holiday sales gimmick, and that would be a true Maker Fail.