Mr. Ton, Mr. Herbst, Ms. Murphy, these are just a few of the many science teachers who helped me develop an appreciation for science. My dad played an important role, too. Do you remember the teacher or mentor who lit that spark for you?
During the October #STEMchat, we'll be looking back to remember those special people, as well as what science looked like in the days before Google, iPads and high technology.
Thanks to our sponsor, Bayer, we'll also have the opportunity to pay it forward. Bayer is celebrating the 20th anniversary of its Making Science Make Sense program, building a legacy of elevating science literacy across the U.S. Each year, hundreds of Bayer employees foster science literacy and engage student interest in science by volunteering in schools, at science fairs, science centers, zoos and museums.
Now through November, Bayer is encouraging people of all ages to share a "thank you" message at SayTkU.com or via social with #SayTKU, acknowledging someone who inspired you. Maybe it was a teacher, a relative, a TV show, or even a place. For each #SayTKU shared, Bayer will provide free admission to a Science, Technology, Engineering and Math (STEM) venue for a child (up to 25,000) through a new partnership with Tickets for Kids® Charities.
Living just a short drive away from a world-class aquarium, a planetarium, museums and zoos, I appreciate how visits to those places inspired a sense of wonder and excitement about science. With just a tweet we can make this possible for kids who might not have such opportunities. Of course, you'll be given a chance to #SayTKU during our chat, but you don't have to wait until then to share your gratitude.
STEMchat will take place on Thursday, October 15, 2015 from 9-10 pm Eastern.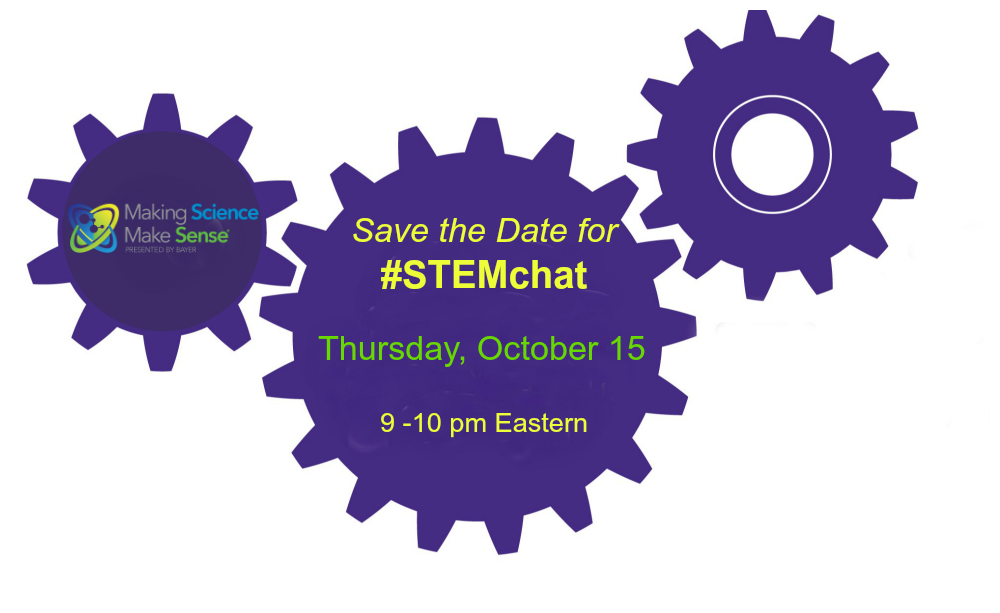 I'm grateful for another rock star panel this month! Follow these inspiring STEM role models:
@BayerUS – Life Science company dedicated to advancing science literacy.
@DavidJLockett – STEM educator and lifelong learner.
@ScienceGoddess –  Joanne Manaster, Read Science host, STEM advocate, biology lecturer, and former international model.
@ThePurplePage – Stephani Page, is a mom, former science fair winner, PhD candidate in biophysics and biochemistry,  and initiator of #BLACKandSTEM.
And me, @KimMoldofsky, also known as The Maker Mom and founder of #STEMchat. Occasionally tweeting from @TheMakerMom and @STEMchat.
Spread the news to your STEM-loving friends and colleagues. Share the #STEMchat joy with these sample tweets!
*Join me for #STEMchat on Twitter 10/15 at 9 PM Eastern to talk #SayTKU with @BayerUS http://tinyurl.com/SayTKUSTEMchat
*Join me for #STEMchat with @KimMoldofsky, @BayerUS on Twitter 10/15 at 9 PM Eastern! http://tinyurl.com/SayTKUSTEMchat
*Who is your science mentor? Join us on 10/15 for #STEMChat from 9-10 pm EST and #SayTKU http://tinyurl.com/SayTKUSTEMchat
Sign up here to receive a free email reminder about #STEMchat the day before our chats, as well as news from The Maker Mom.