Looking for a Halloween group activity for that's easy, inexpensive and fun? Granted, making electroactive slime mostly fits the bill, but can can get a bit messy. Having each child mix up a batch of regular old simple, stretchy Borax-free slime is also an easy crowd-pleaser, but keeping that neat involves some prep on your end yet. But this dancing ghost? It's so easy and won't leave you with any goopy messes to clean up.
The Static Dancing Ghost
The dancing ghost is powered by the same thing that brings electroactive slime to life, static electricity. Pretty much all you really need for this activity (shhh, it's a science demo) is a small piece of tissue paper and a balloon. It doesn't get much easier than this, people.
The end result will look something like this:
Supplies
Tissue paper cut into 5-inch x 5-inch squares (it's okay to recycle from those old gift bags)
Balloons, one per child if you're brave (If time is tight, you may wish to have these blown and tied before you distribute them)
Scissors
Markers
Steps
Give each child a square of tissue paper and have them cut out a ghost shape. No template is needed because the shape can vary from child to child, but you may wish to share an example or two ahead of time.
Have the kids decorate their ghosts to give them some personality. When they're done, each student should place her ghost down flat on the desk or table when finished.
Pass out balloons.
Have students generate a static charge by rubbing the balloon against their clothes or hair.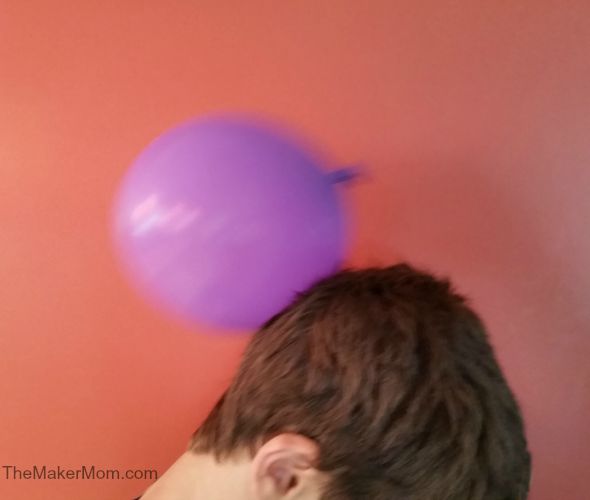 Then lower the balloon to the tissue paper ghost. As it approaches, the tissue paper will be attracted by the balloon's charge and will appear to come to life.
Eventually the ghost will likely affix itself to the balloon.
More Science
You can learn more about the science behind the seemingly magical attraction here. To turn this from a mere demonstration to an actual experiment, think about what variables can be changed to change. For example, does it matter if you use a different color balloon? (Hint: no, it shouldn't, but helps a child understand what a variable is.) What about changing the type of paper or size of your ghost? As time allows, encourage kids to make different ghosts and see what they learn.