Earlier this month we had a great chat on Looking Back and Paying it Forward thanks to our sponsor, Bayer. As participants reflected on our own early STEM experiences, we also had the chance to #SayTKU to our STEM mentors. Each time we used the hashtag in a Tweet to say "thank you," we fueled Bayer's campaign to provide science experiences for kids in need. Even if you didn't make the chat, through the end of November, you can still #SayTKU via your favorite social platform (Facebook, Instagram, etc.) and make the same impact!
And now for the recap. Please note this post includes affiliate links.
What was science class like when you were growing up?
Hands-on lesson make the biggest impression. Panelist Stephani Page still recalls her sense of wonder when her class sprouted seeds. Another chatter said that she always engaged in science class because she always thought of herself as a "science person" (and thankfully no one in a position of authority caused her to question that).
Who inspired your interest in science?
The list included family members, teachers, scout leaders and even the late Gene Roddenberry for creating Star Trek's Mr. Spock.
Bayer is running the #SayTKU campaign through the end of November. You can get involved even if you didn't participate in #STEMchat. Thank your STEMspirations through your favorite social media platform using the tag #SayTKU and Bayer (@BayerUS on Twitter) Bayer will provide a hands-on science experience for an in-need and at-risk child through Tickets for Kids Charities.

What is your favorite hands-on science experience or memory from your childhood?
Watching animals grow or hatch
Anything with fire
Building things with motors, circuits, erector sets,
Designing experiments
Chemistry sets and baking soda explosions
My first microscope
Dissections
Catching fireflies, star gazing with my father
Science Fairs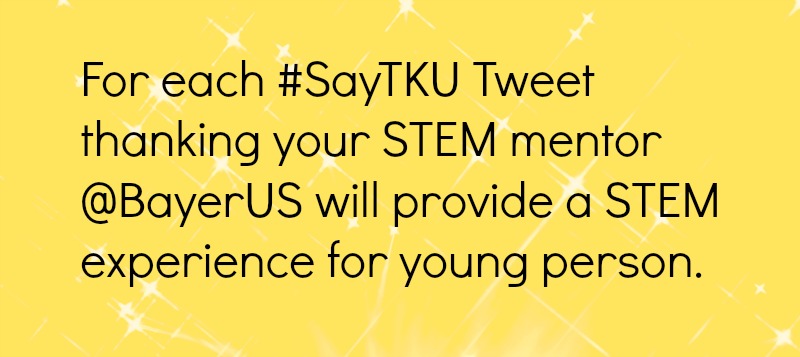 What are you doing to make a difference in the lives of others when it comes to STEM?
Not surprisingly, STEMchat attracts people who love to share their passion for science. Chatters make a difference through:
Mentoring
Working (in real life or virtually through Skype or Google Hangouts) with libraries, schools, camps, museums and after school clubs hosting programs, answering questions and doing demonstrations
Reaching out to underrepresented populations
Creating fun on-line content like blogs and videos for students to watch
Supporting teachers and, most importantly encouraging my own children
Panelist Joanne Manaster shares her love of reading popular science books by interviewing science book authors on Read Science! Google hangouts. She also has whimsical science videos (like the Blood Cell Bakery or Gummy Bear Science or Cats in Sinks).
Mentoring is critical for #STEM. What else is needed when it comes to encouraging #STEM?
Hands-on learning opportunities
Including and reaching out to underrepresented populations
Showing how science is a part of every day living
Increasing the awareness of community STEM/STEAM programs & clubs in schools that don't provide the
Opportunity! You can't thrive in a field you know nothing about! Make sure students have the resources to explore and create
Equality in upward mobility
Panelist Stephani Page, noted "I think it's important that people in my position make the path a little easier for others. It's imperative for people from marginalized groups to offer guidance and help in leveling the playing field."
What do you think is a key component in any #STEM-related program?
Hands-on learning
Giving students projects that are meaningful to them that allow for some self-guided learning
Allowing students to do things they can feel proud of
Show students your passion
Removing the stigma around math and science being uncool
Don't just seek to attract kids to STEM; seek to positively change the way that they view themselves
Allowing students to be creative and discover new applications for concepts they are learning
It's important to help make science make sense. How can parents encourage science literacy at home?
Demonstrate curiosity
Have materials available
Find activities in the community you can participate with your child in
Use resources like google, library, etc
Take time out to experience science with your kids
Include science topics in dinner table discussions, reading and bedtime stories

Here are the most popular STEM resources mentioned during the chat.
Code Academy – a free website that teaches computer programming
Craic Design – an astronomy app for iOS
Fun Science Demos – a YouTube channel full of lots of fun science experiments
Google Hangout Physics and Astronomy Seminars – list of seminars organized by Dr. William Slaton that are open to anyone to watch
Khan Academy – free lessons and practice in a variety of subjects
Lightbot – a puzzle solving game that uses programming logic
Making Science Make Sense – a website sponsored by Bayer to bring science information and knowledge to educators
Merlin Bird ID App – an app to help you identify the birds you see
MIT App Inventor – from MIT, a website to help you start building you own app
MIT OpenCourseWare – Free access to MIT course materials for anyone to access
NASA Viz – NASA Visualization Explorer is an app to get stories about how NASA is exploring our solar system
#SciStuChat – A Q&A twitter discussion for high school students and scientists
Touch Develop – a free app development tool from Microsoft

Books and Blogs
Bayer: Science for a Better Life – Bayer pledges hands-on science learning
Dewey Mac Maker Mysteries – book series about a young boy who solves mysteries while making gadgets
How to Encourage Girls in Technology – an interview with Abril Vela on MomStart.com (read The Maker Mom's STEM Girl Friday interview with Abril here)
Joanne Loves Science by panelist Joanne Manaster TheMakerMom STEM Girls Friday – articles on The Maker Mom that highlight women in STEM
The Maker Mom blog and Facebook page

Organizations
The Driskill Foundation – A nonprofit organization to bring hand-on and interactive learning experiences to children
Project WET – Located in Montana, Project WET provides educational resources for water management
Events and Places to Visit
Morehead Planetarium & Science Center – located in Chapel Hill, North Carolina; they  host the NC Science Festival– look for the next one in April 2016
STEAM Carnival – located (to date) in California, this is an entertainment show that highlights the art withing STEM
The Marine Mammal Center – located in Sausalito California, their core mission is to rescue and rehabilitate sick and injured marine mammals.
Camps and Competitions
campSTEM – directed by panelist David Lockett, this Tenessee, this progam introduces kids to STEM and keeps up the learning when school is on break
The Maker Mom provides a comprehensive list of STEM camps in the Chicago area
US First – Competitions and education to show students that STEM and problem solving are fun and rewarding