I wasn't able to attend the World Maker Faire in New York City, but at I did get to try one of the hot products that debuted there, Marbleocity. The folks at Tinkineer reached out the me to review their Mini Coaster (currently selling for $30 on Kickstarter). They had me at DIY marble roller coaster. My boys are teens now, but they when they were young, my little engineers loved making marble roller coasters and watching them in action.
Marbleocity by Tinkineer
Tinkeer's American-made wooden kits are designed to teach engineering and physics concepts to kids from age 10 and up. Each kit comes with a mini-comic book that teaches an engineering or physics concept. These graphic novellas, as the brand likes to call them, feature a cast of kids known as the Tinkineers.
In the Mini Coaster kit, the accompanying lesson focuses on kinetic and potential energy. I would have also liked to see something about gears or gear ratios, given that gears are also a crucial part of this project. But maybe they've got something better in the works. They plan to use the Kickstarter funds to develop other modules.
Because coaster is made of laser-cut wood, Marbleocity provides an interesting unexpected sensory element- the scent a slightly burnt wood. It's a noticeable, but not unpleasant, smell. Though no doubt unfamiliar to many of today's high-tech kids, the scent brought me back to my childhood, a time when my mom made wooden objects, like lap desks, and one of my parents cold often be found in our basement workshop.
The Build
Overall, it was a fun and, at moments, challenging build. I didn't time it, but I suspect we can close to the hour suggested by the brand. It was the kind of challenge, though, that makes the end result feel more valuable. It was earned, you know?
Did you know that those boxed cake and cookie mixes could easily be made so that bakers only need to add water and not eggs? Yes, but the eggs make people feel like they are baking. Along those lines, the little bit of troubleshooting we did made us feel like makers and not assemblers, so it's all good.
When we unpacked the kit, we were concerned that a couple of pieces, like the one below (the worst of the bunch) might case a problem, but they all did their job. Given the precision of laser cutting, we were surprised that a few pieces didn't seem to fit well, but again, in the end it all worked out.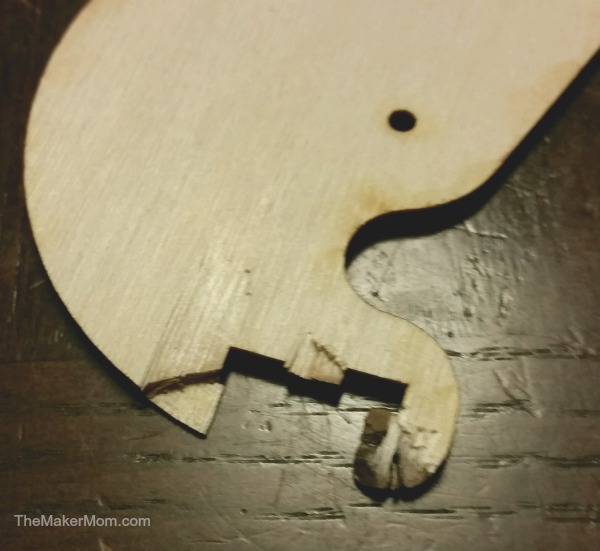 The illustrated guide did a good job of leading us through the build, though I had a moment of frustration when it noted that a certain part should be carefully aligned without an accompanying image of what that was supposed to look like. Oh, and there was a mention of using a sheet of wax paper in the instructions, but that wasn't mentioned in list of extra materials needed. (Of course, if I followed my own best practice  and read the instructions before building, it wouldn't have been a surprise.)
I wish the guide included a parts list. Making sure all parts are present in the right quantity is the kind of step my kids like to skip, but it's an important piece of being an organized maker. Also, for $30 I would like to see a small bottle of glue and a brush for applying it in tiny spaces included.
As long as I' sharing a wish list, I would love to see this scaled up to accommodate typical (and prettier) glass marbles rather than the smaller metal bearings it currently uses.
In the end, we had a cool marble coaster that doubles, as the Tinkineer team likes to say, as kinetic art. Functional and instructive kinetic art at that! Marbleocity, the Mini Coaster at least, makes for a nice weekend or rainy day parent-child project. Click below to see it in action; cool, right?
Do you have a young gear head? Be sure to check out these DIY kits from Marbles, the Brain Store and Thinkfun's gear kit.