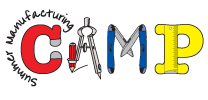 My office isn't the only thing I'm cleaning this summer. I'm also digging into a virtual pile of old half-written blog posts saved in my "drafts" file. Let's just say there might have been more unpublished posts than there are bones in my body. There's no need to provide a heads-up on an interesting STEM event that took place two years ago, but I did find a few diamonds in the rough, like this bit on Fabricator's and Manufacturers Association Manufacturing Engineering Camp. I wish I'd uncovered it in time to share at the recent #STEMchat on STEM in Manufacturing.
As with the items referenced above, it's too late to be a part of one of these camps this year, but there's always next summer. As you'll see in the video below, the camp looks fun and informative.
From their site, "Nuts, Bolts & Thingamajigs, the foundation of the FMA awards grants annually to trade schools and community or technical colleges capable of hosting a summer camp program for girls and/or boys ages 12-16."
Each host site has its own spin on the program, but they all teach skills, provides hands-on experiences and give kids a solid understanding of a modern manufacturing environment.
In 2015, there were 34 summer manufacturing camps in 25 locations across the US. Click to find a camp near you.