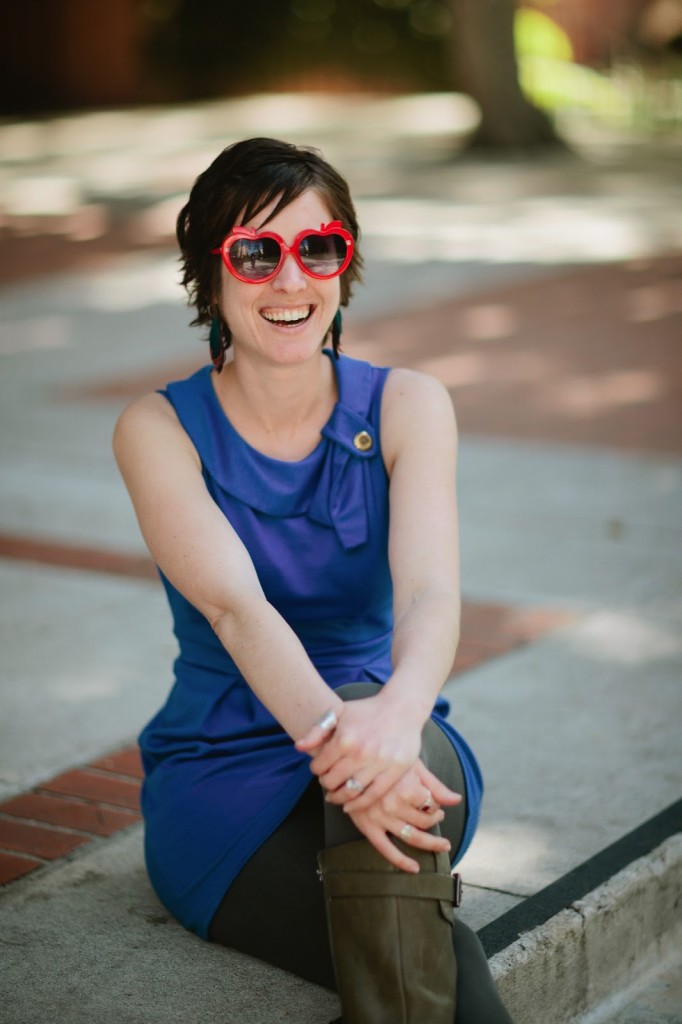 Katie McKissick, also known as Beatrice the Biologist, is a former high school biology teacher turned science writer and cartoonist based in Los Angeles, CA. Be sure to check out her informative and fun books (affiliate link)and cool stuff.
I was pleased to meet you recently on Twitter, Beatrice. Wait, your name is Katie? What's the deal?
Righteo! My name is Katie McKissick, and I have a science webcomic called Beatrice the Biologist. I've always liked the name Beatrice, and at the time I named my website, I also had a plan to write a children's book about a little girl named Beatrice who likes being outside and looking at bugs and leaves and whatnot. I was going to have this big moment at the end of the book where she declares, "I'm Beatrice! I'm a biologist!"
Having a pen name has come in very handy as a way to switch modes and do "Beatrice things." Even my close friends will refer to me as Beatrice when they ask a science question.
What inspired your love of science?
It definitely didn't start early. In middle school I thought science was a bore, and I was one of those students that said (not to my teacher, but to my classmates), "Why do we need to know this stuff?" But that was mostly because middle school science was essentially just a memorization class. Math, on the other hand, I loved. I thought algebra was just wonderful—how you could move numbers and symbols back and forth over the equals sign to find an answer. And get this—there was one correct answer! Oh, how I loved finding the right answer.
In high school I started to appreciate science the same way. There were questions—some of them BIG questions—and we could find the answers. How magnificent! I took all the science classes I could, and when I went to college, I majored in biology.
How long did you teach high school biology and why did you move on from that?
When I graduated with my degree in biology, I really didn't know what I wanted to do with it. Most of my cohorts were on the pre-med track, and while I knew I didn't want to be a doctor, I wasn't sure what my other options were. I bought books with titles like "100 Jobs for Biology Majors" and pored through them hoping to find something that sounded like a fit.
I decided that I wanted to share my love of science with as many people as possible, so teaching sounded like a great fit. I got my master's in education and went into the classroom. I loved my students, I loved lesson planning, and I loved that my students were learning and appreciating science. But, as an introvert and generally low energy person, I just plain ran out of steam. It was too much to be in the trenches of the public school system every day. I decided that what I really wanted to do was create content that students and teachers could use. So I started a blog called Beatrice the Biologist.
I'm glad that the rest of us can benefit from your knowledge, skills, and passion now. Tell me about your work with NASA.
At NASA I create content for Space Place, Climate Kids, and SciJinks for young students. It's a great fit for me, and it's fun to write about subjects outside my life science area. I love the challenge of explaining a concept like the Big Bang so anyone can understand it while not oversimplifying the science. It's really a dream job for me!
What advice do you have for aspiring STEM girls?
Follow your interests and see where they take you. While it's great if you already know what you want to do, don't worry if you don't. It can take time to find your niche in the world of science (or science communication), but if you love your subject, you'll find a fit.
Anything you want to add?
Don't be afraid to reach out to people whose work you admire.