When I received an offer to interview Andy Weir, author of The Martian (affiliate link), I knew enough to say yes even though I hadn't read the book. I only had a handful of hours between that offer and the interview, so when I saw my friend, science fiction lover and author Karen Smith, mention the book in a Facebook post, I offered her the opportunity and she eagerly accepted. I'm currently reading the book in preparation for this week's premiere of The Martian movie.

Andy Weir: Author, Nerd, STEM advocate
Andy Weir's book The Martian first came out in 2011 in free bits and pieces he released on his website. At the request of fans, he created an ebook version which sold like martian hotcakes. Then with faster-than-light speed, at least in terms of the publishing industry, Andy sold print and audiobook rights and the book was optioned for film. The movie The Martian, staring Matt Damon as the book's protagonist Mark Watney, debuts in theaters this Friday, October 2, 2015 and is directed by Sci-Fi filmmaker extraordinaire Ridley Scott.
I spoke with Andy Weir about his book and about growing up interested in space and math and all flavors of geekery. The son of a particle physicist and an electrical engineer, Andy has maker and geek cred that runs deep. Following is an edited transcript.
What was your childhood exposure to STEM and STEM-related fields like?
For my dad, his work was really a passion. He loves physics. Anytime I had any questions about science, my dad was more than happy to talk it out with me. His infectious interest in it was probably a big reason why I had so much interest in it. I had access to a physicist and electrical engineer to answer any questions.
What was life like for you as a child, interested in SF and geekery? Any tips to kids on following their interests and ignoring the naysayers or bullies?
Well first off, that culture has changed a lot since we were kids. The notion that smart kids were social rejects and intelligence is reviled has softened a lot since we were kids. There's the whole concept of geek chic, cool nerds.
I grew up when it sucked to be a nerd. When you'd be intensely unpopular. The only people who liked you were other hard-core nerds. You'd have this bottom rung of the social ladder and everybody would mess with you. Now, it's all, "You're a nerd, you're probably going to be successful in life!"
Despite my cynical way of putting it, there is a positive development in society. Society is now valuing intellect and intelligence more. Kids who could go either way – I could go into a STEM field or this liberal arts field, more are going to lean toward STEM because the social stigma is gone. I think people in STEM are the people who really advance society.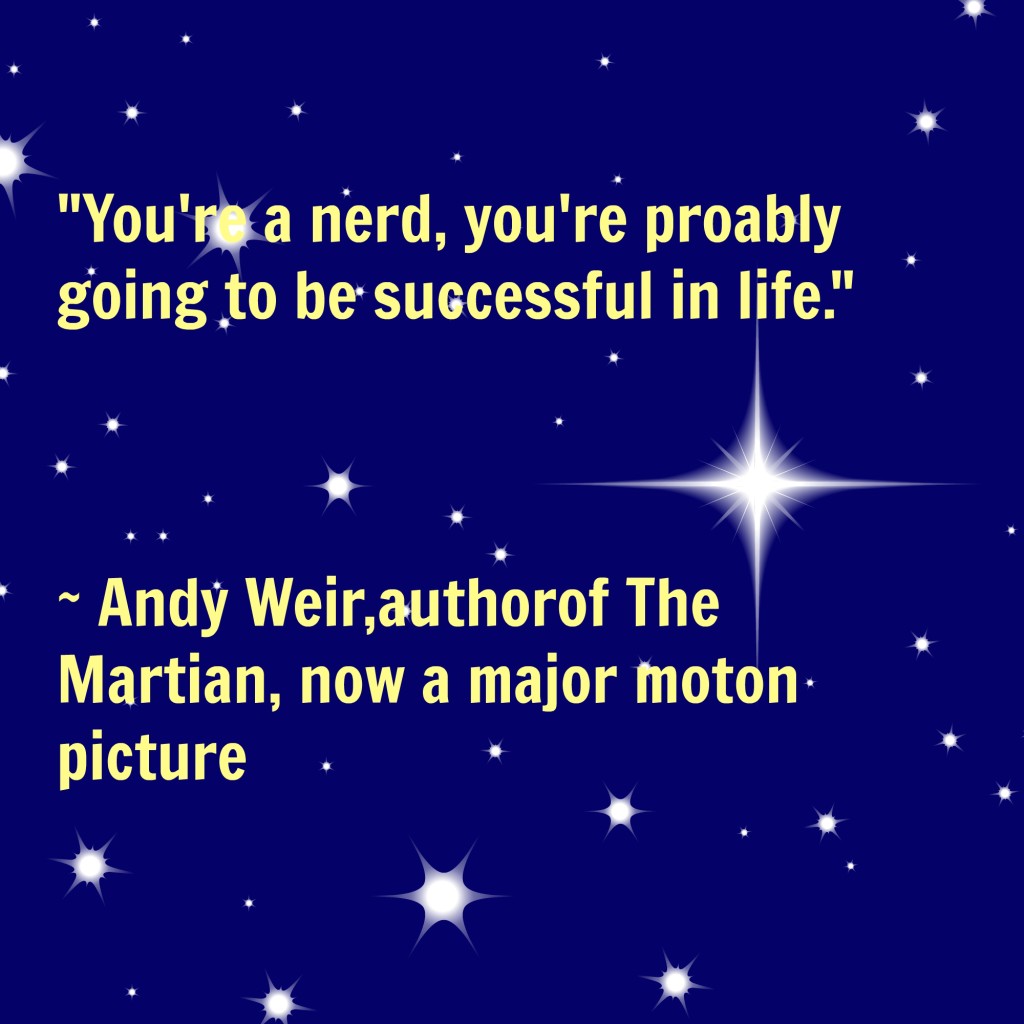 Do you remember the first time you touched a computer?
Yes – I do. My dad brought one home from the lab that he worked at. A suitcase-sized thing that you opened and plugged into a TV. It had a tape memory drive and it could basically play tic tac toe. That was the first computer I ever saw.
Do you remember what the first computer program you wrote did?
The first program I ever wrote was before the days that "Hello world" was the standard. Instead I wrote in BASIC*:
10 PRINT "Andy" ;
20 GOTO 10
But the first program I ever wrote had a bug. Because I put a semicolon in there or something, which made it not put the text on a newline so it just did AndyAndyAndyAndy. I wanted it to say:
Andy
Andy
Andy
*Important technical note: Neither Andy nor this interviewer could really remember how it worked in BASIC. Hey, what can we say, this was nigh on 30 years ago! We guessed.
You use a fair amount of … emphasis in your book in the form of certain four letter words, to great comedic effect. Do you have any thoughts for parents who might be considering sharing their copies of The Martian with their kids?
Um, so, the thing is I wasn't writing the book with an eye toward education or even an eye toward kids. I was writing toward hard core science geeks. There's a lot of swearing in it. Random house considered a YA version of it but they decided against it for now.
As far as assisting in education for HS kids – I assure you, they've heard these words before. This is nothing new, and in fact this is extremely soft and delicate compared to the stuff they see online every day.
I've gotten a lot of emails and stuff form HS teachers who use it as part of their curriculum. But I wouldn't recommend it as a teaching aid for say 5th graders. So there's a line there somewhere.
What was the coolest tech thing you got to see or got exposed to in the process of turning the book into a movie?
It's not technical thing at all, its artistry – the most exciting thing about watching the movie. In a book – you can only describe the scenery so much. Mountains are there. It's red. It's flat. You can't really describe landscape too well in a book. If you spend a lot of time, the reader will toss the book, bored.
But in a visual medium you can have these beautiful sweeping vistas. Just gorgeous.
What classes should I take in school if I want to go to Mars?
That is a really complex and interesting question. The people they send to Mars are going to be a medley of different disciplines. Astronauts whose primary job is operating space craft and life support. Then there's going to be scientists. One thing that you can pretty much guarantee will be sent to Mars on the first manned mission is a geologist. I guarantee there will be a medical doctor on the crew. Other than that, Astrodynamics, Astronomy. Atmospheric Sciences. Planetary Sciences.
There's been a big shift since the 50s when astronauts were test pilots. Now most astronauts have a PhD in something. You can't get a PhD in something unless you are really passionate about it. Find something that you like. If you have a science that you're passionate about, then just know that if you get a PhD in it you are much more likely to be selected as an astronaut.
There's a strong sense of optimism throughout The Martian, even when Mark Watney is facing serious life-or-death challenges. Can you talk about what you find optimistic about science and technology fields? Where does this sense of optimism come from?
My real world view is optimistic. Ask yourself this: where would you rather live? Right now or any previous century? Because life just keeps getting better from century to century. The quality of life for humankind just continually gets better over time. It's partially because of social movements. But the main reason why it gets better for everybody over time is technology. My optimism is based on observation.
This interview was conducted by Karen T. Smith, friend of The Maker Mom
Karen T. Smith is a writer of science fiction for young adults and middle-grade readers and a voracious reader of speculative fiction for all ages. She makes her physical home in the Midwest suburbs and her digital home at www.karentsmith.com. Follow her on twitter: @karentsmith
Buy a copy of The Martian and support this site.