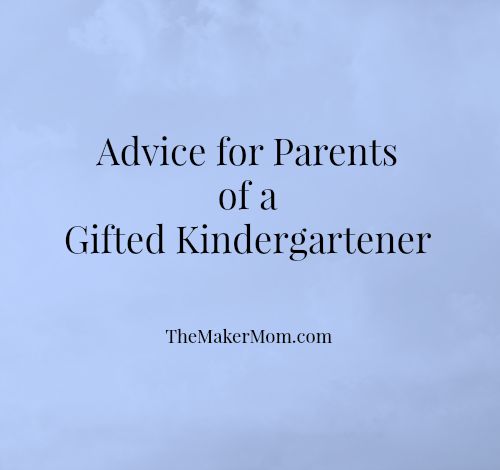 Here's what happens when someone asks me to share advice about her gifted kindergartner, a child who is not quite fitting in with his classmates. I can't just share five great tips, even though that would be a lot more friendly to search traffic. I carry so much educational baggage that I have a long, rambling response. Here goes.
Advice for parents of a gifted kindergartener
With my oldest in his senior year of high school, I've been doing a lot of reflection on our educational journey. I say our because it really is a family journey. I thought it would go something like this: we buy a home in an established socially and economically diverse suburban neighborhood and set down roots, our elderly neighbors move out and young families move in, our boys attend the public school- it's not perfect, but over time we form a community there and work with other families to better the school and, of course, raise funds for it. Maybe we renovate our starter house, maybe we move within the district as the boys get bigger or maybe we simply tolerate the cramped space because our house will be paid off by the time the boys hit college.
We bought the house in that neighborhood, but none of the rest of that happened.
As I reflect on the K-8 portion of my boys' educations, and I do this a lot–more than is healthy– because even though high school has been good, I still feel blindsided by the K-8 experience, even now, I wonder where it all went wrong. I think of the opening lines of the Poi Dog Pondering song, Thanksgiving. "Somehow I find myself far out of line from the ones I had drawn."
In a word, I'd describe our K-8 journey as frustrating. But there are more words: unexpected, disappointing. Heartbreaking, even.
So when a Maker Mom fan reached out to for advice, it was jarring in that, as I mentioned, I often contemplate what I'd advise my past self in order to avoid the mess and confusion we muddled through. Here I am near the end and there she is right at the beginning.
Like I said, rather than five nicely packaged tips for parents of gifted kids, I've got this advice presented in no particular order.
Every choice you make for your child is also a choice for your family.
If your local school isn't meeting your child's needs, the remaining choices–move to a new school district, homeschool, or send the kid(s) to private school– will impact your family's lifestyle and income. This doesn't mean there's a right or wrong way to go, it just means that you need to think through the pros and cons beyond the child or children in question.
There is no edutopia
Your child might have a great year followed by a lean year. Your child doesn't need the best education, but in the words of Dr. Wendy Mogel, your child does need one that is Good Enough.
So back to that reader question- she lives in a rural area in Illinois, my home state. A state that is broke. She was wondering if she could get an IEP, an individual education plan, for her gifted child, a kindergarten student who is capable of doing work several grades ahead of his classmates.
No, she can't. Or maybe she can at the discretion of the school leadership team, but there's no legal mandate for it. In Illinois, there are no protections or laws that require the school to meet the unique needs of gifted students. This is especially troublesome in the case of highly or profoundly gifted students because they tend not to thrive in a typical classroom environment. If the school fails to meet her son's educational needs, well, so what? She has no legal recourse. She cannot sue the school to provide such an education or to pay for a private school that can. Her lawsuit would have no legal standing.
Does your state offer GIEPs (gifted IEPs)?
This map from the Davidson Institute for Talent Development provides a wonderful guide to state-by-state gifted policies.
The first day of kindergarten with a gifted child
On my son's first day of kindergarten, an admittedly hectic and emotional day for all involved, I mentioned to the teacher before I made my exit, "I think my son is kind of smart." She gave me a kindly smile and then rued the day she met me. Just kidding. In the end, we had an okay relationship.
But teachers don't really care if a mom thinks her kid is smart. What they pay attention to, ah, might pay attention to, is data. So it might be worthwhile to pursue testing with an educational psychologist. I'm not sure of the going rates these days, but I'm figuring something in the area of at least $700 -$1,000 for a full intake, a day of testing including IQ and achievement tests, and a detailed report that includes educational recommendations in addition to test scores.
Wait a minute, doesn't the school district already have a school psychologist on staff?
Probably. But if there's a long list of students in need of assessment, the one who already reads and does math will probably come last in line. That is, is the school will even agree to provide the testing.
In one of the bright moments of our K-8 experience, and for reasons that can only be explained as divine intervention, my son's school actually offered us the opportunity to test him. We hemmed and hawed because we weren't sure if he was really that far ahead or if his classmates were simply a bit behind, but we ultimately gave our okay. That said, we later pursued private testing. While I don't think the end scores were much different, the process with the private psychologist was more comprehensive and helpful.
Should you give a five-year-old an IQ test?
In general, I'm not a fan of testing young kids, and indeed, doing IQ testing on kids under about age 7 is somewhat controversial, but if you need data to present to teachers and school administrators, that's the way to go.
Testing is one of those areas where I look back and wonder how things might have turned out differently if we didn't have "a number" attached to my kids, especially my oldest son. Were we too hard on him, our expectations too high because of his scores? On the other hand, would he have been diagnosed with ADD or deemed a troublemaker if we didn't have the scores?
I'm making this all about me again. Let's get back to this mom's bigger questions:
How do I get my gifted child the education he deserves?
Well, how do you feel about homeschooling? Or moving?
I don't mean to sound cheeky. But looking back over 12 mucky years- those are likely her best options. But really homeschooling comes out on top in my mind.
Here's the thing. As nuts as people get over socialization concerns related to homeschooling, they don't understand that kids who are in a different intellectual zone from their peers tend not to socialize really well with their age-mates.
I've known adults who experienced "radical acceleration" as children. That is they skipped up two or more grades. Several say they struggled socially and would not recommend that choice. But as someone with a child who had the intellectual chops to make such a leap, but did not, I can say that staying in the age-grade doesn't do much for peer relations either.
On the other hand, for a few years, my boys attended a private school for gifted kids and the biggest benefit was not the instruction, but a peer group that normalized them.
Which brings me to the benefit of weekend and summer enrichment programs. My kids enjoyed what they learned, but again, the biggest benefit was generally being with kids who thought like them.
Can your public school meet the needs of your gifted child?
I don't mean to suggest that a parent shouldn't attempt to work with their local schools, and current teachers and administrators. I'm just saying that in my experience (and all too many parents of highly gifted kids) the school is unlikely to do much.
But before you take any kind of leap, you need to check in with your child. Is he happy going to school? Does he have friends?
When my oldest was in kindergarten and first grade, he'd ask when "real school" would start and when they'd do "real science." I kinda laughed these off and cute, quirky questions at the time (though at his request I did start a "potion club" where did science-y stuff). It's easy enough to "afterschool" or provide at-home enrichment for kids in the early grades if they are happy at school. If they are showing signs of anxiety and depression or don't have friends at school, you need to seriously consider alternatives where your child can thrive academically and emotionally.
There are organizations like the Davidson Young Scholars that offer support to qualifying children and their families. Honestly, the biggest thing that group did for me was to affirm that I wasn't simply being that mom with an over-inflated sense of her child and outrageous demands. The DYS advisors are happy to educate teachers and administrators, but do you know the Zen story about not being able to fill a cup when it's already overflowing? Again, your mileage may vary, but most of the educators we worked with had no interest in being schooled. Though there was one teacher who eagerly took advantage of the DYS resources.
One.
And it was my younger son's teacher.
What else can parents of gifted kids do?
Speak up. Advocate for gifted kids outside of your child's classroom. Speak with school administrators and the school board. Call your legislators to advocate for mandates and funding for gifted education and training for teachers. That one teacher who eagerly received the information from Davidson? Last I heard she was pursuing a certificate in gifted ed. That makes my heart sing, especially given that there's no real job market for it (see the part about no legal mandate for gifted services in my state), but such a need.
School systems are bureaucracies and may take years to change. The harsh reality is that change may not happen in time for your child, but you'll be helping families that come after you.
Speak up for gifted kids and gifted education at state budget hearings. You will feel like it's a waste of time, especially when an adorable blind child advocates for assistive devices and he ends his talk with "when it's time to vote on the budget, ask them to think of me," and the entire audience is in tears. Tears. But it's important that decision-makers at the state level hear from parents of gifted students. Otherwise, it's easy to ignore or deny that there's a problem.
Resources for Parents of Gifted Children
Parents can also seek support through Gifted Homeschoolers Forum. I don't know if they like me to say this, but GHF has great resources for non-homeschool families, too.
Hoagie's Gifted was my go-to source back in the day.
My friend Jen has a blend of informative/entertaining posts on her blog, Laughing at Chaos, about raising a 2e kid.
Oh, yeah. I've got a whole mess of archived gifted education posts.
So that was my useful advice neatly packaged in my gifted baggage. Buckle your seatbelts, parents; you're in for a bumpy ride.
Edited 9/15 to add
A week or two before I posted this, another query landed in my inbox about a book for gifted kindergarteners. I ignored it because I typically don't talk about that age group on this blog. Given that I did, though, it seemed fitting to add a link to this book, Little Zebra is Gifted (affiliate link). It's pretty much the story you'd expect from the title. It's a simple picture book, recently translated into English from its original French, about a gifted kindergartner.
Honestly, my first thought was that the book was simple and a bit silly, but my second thought quickly followed: I wish I had had this book 12 years ago. We liked to introduce my boys to new experiences through books and I don't think there's really anything out that helps start a conversation about going for IQ testing! I like the way this book packages it. I also like the fact that (spoiler alert) Little Zebra continues meeting with the psychologist to learn how to manage his intensities after the IQ testing portion is complete.