A few years ago the Young Maker Teen happened upon Nootropic Design's defusable clock and asked to get the kit. In our post-Columbine, post-9/11/01 era, I was wary of a clock that looks like a bomb. I warned him that even if I did buy the kit, he'd never be able to take the completed fake clock bomb out of the house for fear of it being mistaken for a dangerous device. I always suck the fun out of things. In the end, he did not pursue the purchase. Flash forward to just after 9/11/15 and the internet is abuzz over high school freshman Ahmed Mohammed, a boy who brought a home-made clock to school that was mistaken for a bomb. His project earned him a suspension and he was escorted to the police station in handcuffs. However, the resulting backlash over the treatment of the inventive boy resulted in an invitation to The White House and Facebook HQ, a scholarship to Space Camp, and more.
Ahmed's situation was mishandled on many levels, in part no doubt because of his dark skin and Muslim religion (however consciously or unconsciously). It's easy to play Monday morning quarterback and parse out the wrong moves, but I'll leave that to others. I'd prefer to bring my voice to another conversation spurred by Ahmed's situation, something along the lines of, "I'll have what he's having."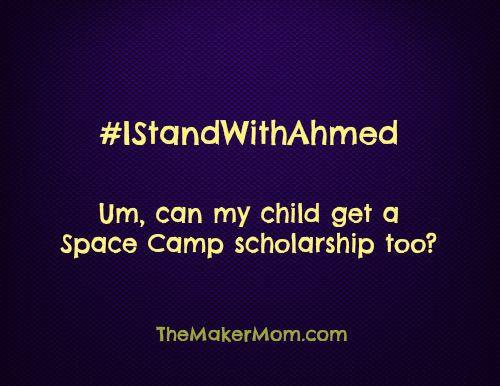 There are boys and girls like Ahmed around the country; geeky kids who like to make and dabble with electronics or explore science. Kids who, at most public schools, tend to be social and intellectual outliers, who tend to get teased for their interests or technical know-how.
How do we channel the groundswell of attention around Ahmed to bring support to all Maker Kids?
I started When Geeks Grow Up, my short-lived series (that I'd love to revive with the help of a sponsor), as sort of an "It Gets Better" series for geeky kids. Kind of a, "Hey, that person was a bullied outcast as a kid, but now look what they've done!" Exhibit A is none other than Tesla Motors' and SpaceX's Elon Musk. I'm including one of my favorite interviews below, with Makey-Makey inventor Jay Silver, because his closing comment about the importance of creative confidence says it all. And don't miss the time I grabbed Mike Senese, current executive editor of MAKE Magazine, to learn about his geeky childhood.
It's important for any kid who's a bit different to see a light at the end of a tunnel. I realize that junior high or middle school isn't kind to most kids, but let's be honest, it's especially cruel to outliers of any sort. (Related note: why is it socially acceptable to dress as a nerd for Halloween? Schools will not tolerate students playing up stereotypes of overweight people, gay people. Nor will they allow costumers that make fun of religious or race. Why is it okay to make fun of stereotypical nerds?)
A few months ago, I started working on a new blog feature highlighting Maker Kids. It's been sitting in the queue for weeks and I'd scheduled the launch 9/21 launch prior to Ahmed's story making national news. I hope the series will shine a light on some kids who are doing cool things, even if they're not getting invited to the White House for their efforts.
Sure, there's Super Awesome Sylvia and Quin Etnyre better know as QTechKnow, and Joey Hudy. But for each one of those better known kids, there are thousands more toiling away in obscurity. I'd like to shine the spotlight on some of the cool things your kids are making, exploring, and inventing.
But Maker Kids aren't the only one having a tough time; their parents are, too. Some of the challenges I hear from parents include:
Helping a child confront or cope with bullying
Finding real-life social settings where their kids fit in and develop positive relationships
Paying for materials and classes to help their child build skills
Locating mentors to their guide child
What would you add to this list?
On the bullying front, I don't have much advice, or at least not much useful advice. Bullying can take many forms and come from many sources (even teachers). Children (and their parents) react differently based on their own temperaments and life experiences. I don't know of a one size fits all answer to confronting or managing bullies.
On the social level, I've mentioned before that the biggest benefit of my boys' time in a private school for gifted students was the peer group. In addition, geek camps, weekend or afterschool programming tied to your child's passion is such a boon when it comes to growing relationships as well as technical skills. Meet-ups or gatherings, even if they only occur on an annual basis (though hopefully more often), are key to helping your child find his or her people. Joining STEM competitions can be useful, too.
It's not just a tech thing, though. Regardless of what they geek out about helping your children connect with like-minded people is key in affirming who they are. Or, in Jay's terms, giving them creative confidence, which some refer to as a maker mindset. Oh, and keep in mind that these people are not necessary other kids or age-peers, though it's nice if they are.
If the right group for your child doesn't exist in your area, it's up to you to create one. Your local school, library, or park district may be willing to provide space and promotional support to help you get going. Back in the day I started a science club for early elementary school kids. And, hey, if I started a robotics team, you can too! (Despite how I come across on this blog, I assure you I am a technospaz.)
The money one is tough. Be prepared to stretch your budget. Many programs and schools offer reduced rates or scholarships, but a middle class family may not qualify. Get creative, host a fundraiser to send your kid to Space Camp, sweeten up to the grandparents or find a patron. There's no reason the child in question can be a part of the fundraising efforts or chip in birthday or holiday money to achieve a lifelong goal.
Be resourceful; scrappiness can pay off. If your child is truly motivated and comes off as so (as opposed to you looking like a pushy parent), you might be surprised at the doors that will open to him or her. My older boy once raised about $20,000 to name a room at his private school after our family. (That's a story for another day and it's such ancient history, I think he forgot to put in on his college applications.)
As far as mentors, the same advice applies. There are many working and retired professionals who welcome the chance to work with a motivated and curious child. Search online for local professional groups that might have a volunteer corps. Snoop around your local local makerspace for a partner. Don't put geographical limits on your search. These days, I know many kids who have a virtual mentoring relationship where the pair connects via Skype or Google hangout.
But don't despair just because you (think you) lack the skills to mentor your child or the money to hire one. Just buying the supplies, directing your kids to books or online resources, creating time and space to make, and delighting in what they produce can go a long way. A child and his passion are not easily disconnected.
Please share your tips for or challenges of raising Maker Kids in the comments or drop me a note on Facebook or via email to themakermom at hotmail dot com.