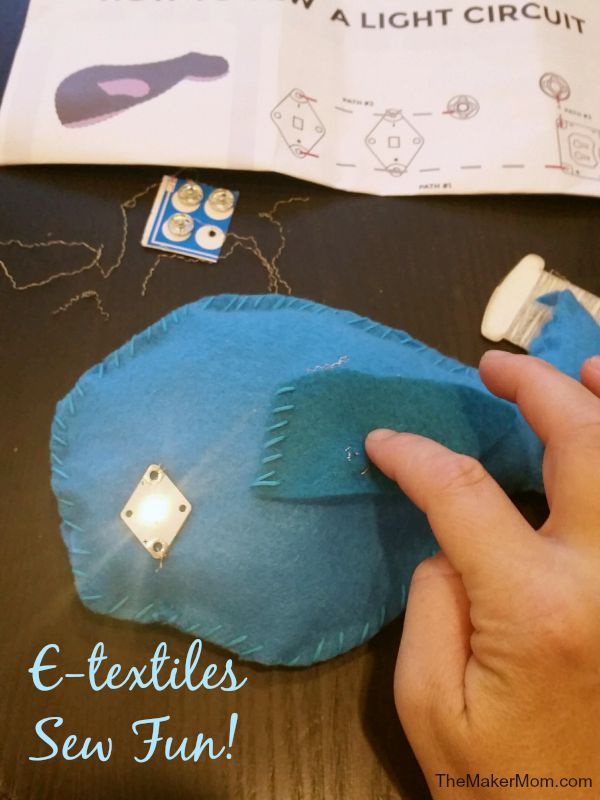 I'd been itching to dabble in e-textiles, or electronic textiles, when I was offered a review kit from Teknikio early this year. They've since rebranded ans switched things up a bit so this is sort of two reviews in one. Teknikio is a new small business helping kids (of all ages) expand their ability to design and engineer amazing things.
I think kits are great for exploring new hobbies and the $15 Fabtronic Sewing Set is no exception.
Electronic Textiles
Textile circuits follow the same rules as any other basic circuit, getting electricity to flow in a given direction in order to harness its power.
In this case, the electricity flows from a coincell battery and conductive thread allows it to flow to the LED light and back to the battery–as long as you get all the connections right. I did, as you can in the photo. See the Instagram video below to get a clearer view of the circuitry in my design (click on it to start the video).
The original kit I received is no longer available, which is a bummer, because it allowed for a lot of electronic exploration. For example, you can see the switch I made in the other Instagram video below (remember to click on it).
The newer kit has its own appeal, though. This one comes with written instructions and a template with instructions to create a whale or dolphin (from your own scrap fabric and stuffing).
I had trouble enlarging the whale pattern on my copier, so I just riffed on the whale, turning into more of a fish, freehand. If you're new to electronics, it might take a bit of thought to wrap you mind around the circuit path, but the set includes more than enough conductive thread to allow for a few mistakes. Plus, unless the thread is knotted up, you can pull it out and reuse it.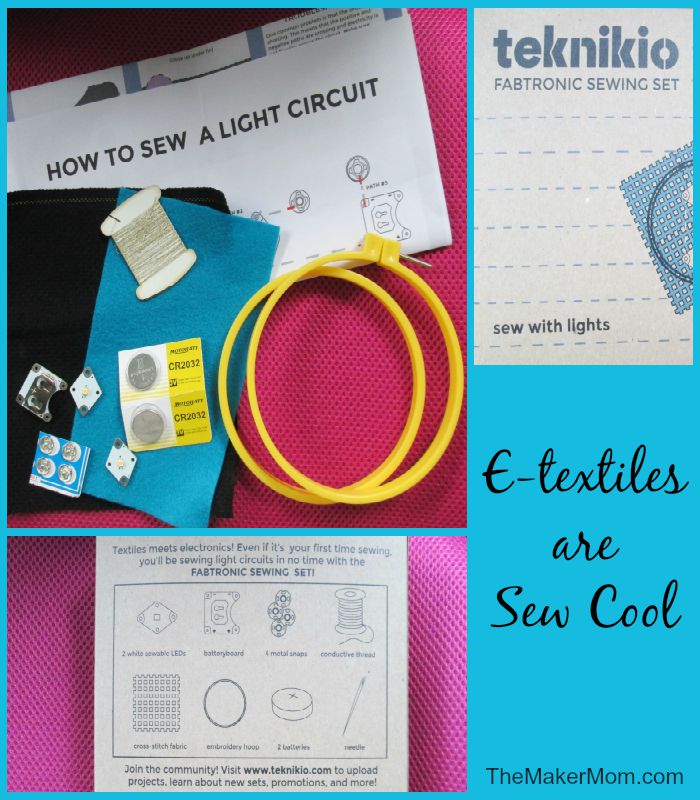 Teknikio's Fabtronic Sewing Set also includes enough fabric to try out your skills, but as I mentioned, you'll need a few scraps of your own to make a small stuffy of your own. The kit also includes 2  sewable LEDs (white), a battery holder, 4 metal snaps, conductive thread, an embroidery hoop, 2 coincell batteries and one needle. The LEDs and the battery are marked so you can tell the positive side from the negative one, which is crucial to establishing the proper flow of electricity.
It might be helpful if the kit included a basic sewing tutorial, or linked to one. I'm not sure how many kids have that skill these days. Also, because I got to try to different kits, I think some combo of the two might be nice at a price point of $20-$25. If a child is hooked after making a light shine, it would be nice to be able to try a few other circuits without having to place another order and wait for it to arrive.