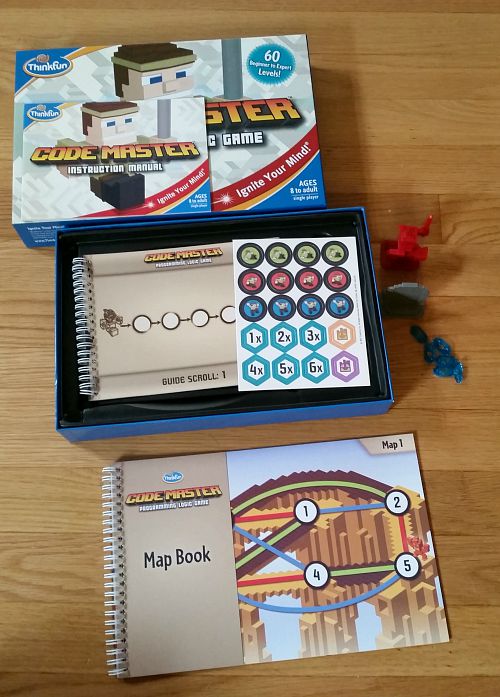 The Young Maker Teen and I recently tried our hands at yet another new offering from ThinkFun that was sent to us for review, Code Master. The programming logic game gets players thinking like coders, but it does not teach a specific programming language.
When it comes to teaching programming logic, no doubt there's an app for that, but as Robot Turtles inventor Dan Shapiro says, "It's not like you need to give kids a reason to stare at a screen." (Okay, I'm paraphrasing.)
My kids spend way too much time in front of screens (maybe yours do, too?), so I'm a fan of games and puzzles that require manipulation of real world items.
ThinkFun's Code Master
The game can be played alone or with a group and is designed for ages 8 and up. Youngsters may need some help getting started from their parents. Conversely older adults may need some help from their teens to get started (ahem). Which is to say, it might take a thoughtful minute to get going. Once you understand the basics, though, you've got 60 logic puzzles to solve at your leisure. The challenges range from beginner to expert with higher-level challenges employing programming techniques like loops and conditional statements.
Code Master includes a game board, a map book, a scroll guide, an instruction manual/answer book and a handful of pieces and tokens as you can see in the photos.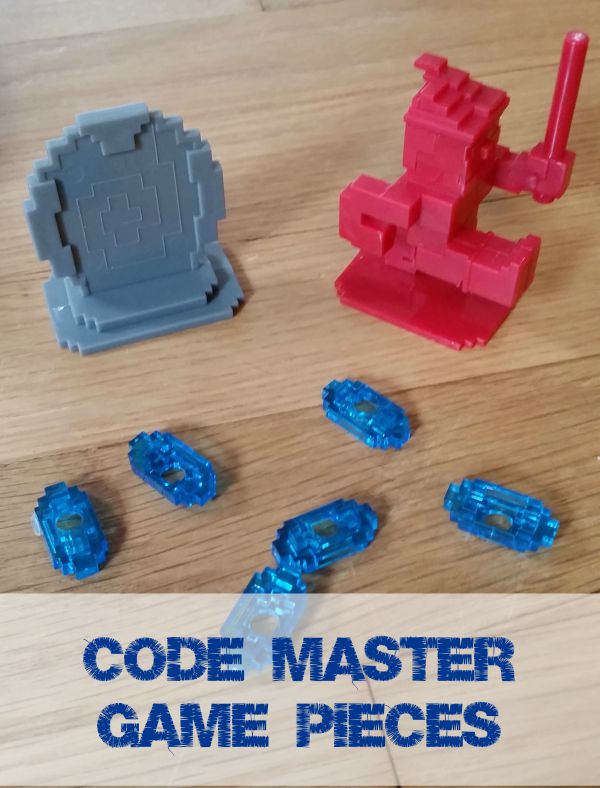 Playing Code Master
Goal of Code Master is to use the avatar (the red piece) to harvest power crystals (blue pieces) and continue to the destination portal (gray piece) to a new challenge. Players select a map and choose the difficulty level. They then set the game pieces accordingly and find the related scroll guide. Next they build a program on the scroll using the action tokens which you can see below the map in this photo.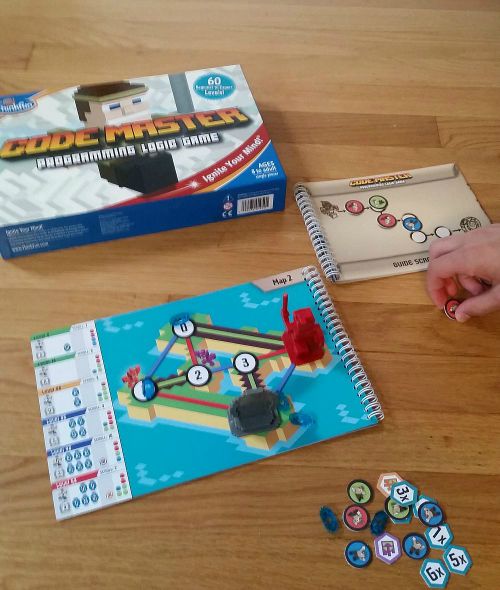 After the program is built, a player runs the program, "debugging it" or making corrections if necessary. Like I mentioned, it might sound complicated at first, but once the concept clicks, you're good to go. In fact, a few weeks and a big vaccation fell between when I first received the game and when I wrote the review, so I decided to freshen my memory by taking on a challenge for two. I got so absorbed in it that I was late picking my husband up fromt he train (see also: bad wife).
Code Master is available exclusively at Target.
If your young child is not quite ready for Code Masters, consider ThinkFun's Robot Turtles. It's like the little brother of this game that just happened to be hatched first.