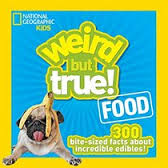 I'm glad to have Jessica back for another review. Everyone knows the National Geographic Kids magazine, but did you know they have a new book of a super weird food facts, too?
The book, Weird but True Food, (affiliate link) the latest in their Weird but True series, provides readers with over 300 weird food facts. Some of them are kind of gross, but others are really cool. For example, did you know that your taste buds only last 10 days and then you grow new ones?Good to know that after burning your taste buds with hot pizza, at least they'll grow back!
One of the more unusual facts is about a dish they serve in Korea called Sannakji. Octopus is cut into several pieces and served so fresh that the tentacles are still moving. I'm a pretty brave eater but even that made my stomach turn.
One fact that my kids thought was really cool was that sliced grapes catch fire when cooked in the microwave. Of course, we had to try it! Not sure what we did wrong but it didn't work. We tried to hypothesize why it didn't work and my 8 year old said he thought the grape had too much juice/water in it.
We also learned some interesting vocabulary words from the book. Do you know what the definition is of engastration? It means to cook one food inside another. An example of engastration is gooducken (that's a chicken inside a duck inside a goose). Of course, if your kids have alektorophobia (the fear of chicken) you might want to avoid making that for dinner.
The one fact that my kids thought was the most interesting was that the Mystery Flavored Dum Dum Lollipops are actually two flavors mixed together. The make it when one flavor ends on the production line and the next begins. Who doesn't love a good Dum Dum??
We enjoyed the book and thought it would be fun as a coffee table book for kids and adults. My 4-year-old and 8-year -old both thought it was pretty cool and super gross at the same time.
Weird but True Food retails for $7.99. We received a copy from review through Kim's involvement in the National Geographic Insiders program.