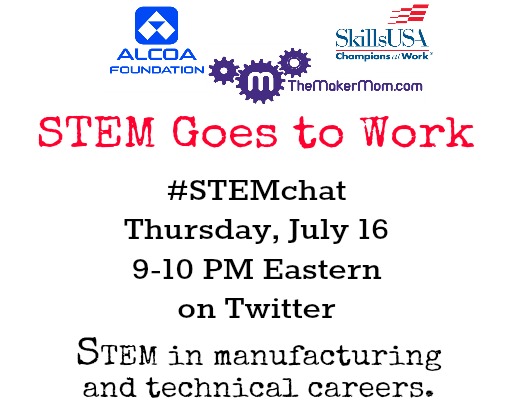 On #STEMchat, we often tackle topics like how to raise kids who love math or engineering, but what happens when those kids grow up? What happens when STEM goes to work? That's our topic for the July STEMchat!
STEMchat will take place Thursday evening, July 16 from 9-10 PM Eastern Time.
Along with sponsors SkillsUSA and #TeamUSAWorldSkills presenting sponsor, Alcoa Foundation we'll be discussing When STEM Goes to Work: the Role of STEM in Manufacturing and Technical Careers. We'll be talking about a variety of STEM jobs and the routes to them. We'll be taking a look at Career and Technical Education (CTE) or what us older folks might recall as "vocational education." If you didn't catch it when it was posted, take a peek at my post about CTE based on my experience at the recent SkillsUSA National Leadership and Skills Conference.
Not only has vocational ed changed into CTE, today's manufacturing environment is quite different than the one your grandparent might have worked in. Math skills, technology skills, engineering skills all play important roles for the modern manufacturing professional.  But of course, it takes more than that to succeed.
Join in to share your thoughts and what your school or community is doing to support STEM and CTE.
Here's a peek at SkillsUSA and a chance to meet welder Erica Heckman, one the Manufacturing Team Challenge participants.
#STEMchat will take place on Thursday, 7/16, from 9 – 10 PM Eastern Time.
Meet our rockstar panelists:
@AlcoaFoundation, presenting sponsor of #TeamUSAWorldSkills and the Manufacturing Team Challenge. Ryan Kish, Program Manager, will be the person behind the account during our chat. Committed to repairing the talent pipeline, Ryan is a partner to those who promote the education and skills that make our economy strong.
@SkillsUSA, a partnership of students, teachers and industry working together to ensure America has a skilled work force. SkillsUSA helps each student excel. Craig Moore, Web & Technology Manager, will be representing SkillsUSA. Craig is the online voice of SkillsUSA, designing, maintaining and writing for its website and social channels.
@EVGearhart, will be joining in as another @SkillsUSA representative. A longtime SkillsUSA member, Eric is committed to preparing and presenting the 18-student WorldTeam representing the U.S. at the 2015 WorldSkills competition.
@AShawwal, Ahmad Shawwal, the 2014-2015 SkillsUSA National High School President. A recent graduate of Spotsylvania Career & Technical Center in Fredericksburg, VA, he's heading to the University of Virginia this fall to continue studying robotics. (With a nice stopover at The White House!)
@LaughingAtChaos, Jen Merrill is a writer and blogger who homeschools her 14-year-old tech fanatic while sending his 11 year old tech-partner brother off to middle school.
@GerriKimble, Gerri Kimble, is a high school CTE/Business Technology educator who believes that exposure to STEM should start early and at home. She enjoys building things with her six-year-old daughter.
@ChiILMama, Bonnie Kenaz-Mara is a Chicago-based writer/photographer and mom to two STEAM loving kids, a 14-year-old son in the honors track at Lane Tech High School and a 12 year old daughter in the IB track at Taft.
Stay tuned for details on are other panelists.
And me, @KimMoldofsky, also known as The Maker Mom and founder of #STEMchat. Occasionally tweeting from @TheMakerMom and @STEMchat.
Spread the news to your STEM-loving friends and colleagues. Share the #STEMchat joy with these sample tweets!
*Join me for #STEMchat on Twitter 7/16 at 9 PM Eastern to talk #Manufacturing with @SkillsUSA and @AlcoaFoundation LINK
*Join me for #STEMchat with @KimMoldofsky, @SkillsUSA and @AlcoaFoundation on Twitter 7/16 at 9 PM Eastern! LINK
Sign up here to receive a free email reminder about #STEMchat the day before our chats, as well as news from The Maker Mom.