Last month I had the chance to attend the SkillsUSA National Leadership and Skills Conference (NLSC). I was there of behalf of #TeamUSAWorldSkills sponsor, Alcoa Foundation. Alcoa Foundation is also sponsoring this post, and the July STEMchat, which will be on the topic of STEM in Manufacturing on Thursday, July 16.
One of my nieces competed in a CAD drafting competitions through a SkillsUSA program and I know my sons' school has a team, so I was vaguely familiar with it, but my understanding was just a tiny speck on the tip of the iceberg that is SkillsUSA and NLSC. To say I was practically rendered speechless by the national gathering, well, as a writer, that's just not helpful. But it's a challenge to describe an event that brings together more than 8,000 students and 2,000 educators to host 100 career and technical competitions in a 1-million square-foot exhibit space—that's about the size of 20 football fields.
Hello, SkillsUSA!
It's even more challenging to describe why so many know so little about SkillsUSA. I mean, a program that involves 293,000 students and 17,000 educators nationwide is hardly small potatoes.
What kind of skills are honed and tested through SkillsUSA? All of them. Pretty much the skills needed to make the world run or at the very least, allow a person like me to sit at a computer and do her job. In formal terms, the organization strives "to meet the technical needs of industry."
The 100 contests at the NLSC represent 130 occupational titles. Competitions range from aviation repair to welding, with skills like cosmetology, masonry, cabinet making, baking, offset printing, screen printing, computer programming, extemporaneous speaking, car repair, motorcycle repair, HVAC and appliance repair, robotics, crime scene investigation and CNC milling in between. Every time I thought I'd seen all the competition had to offer I'd turn a corner and find yet another unexpected event.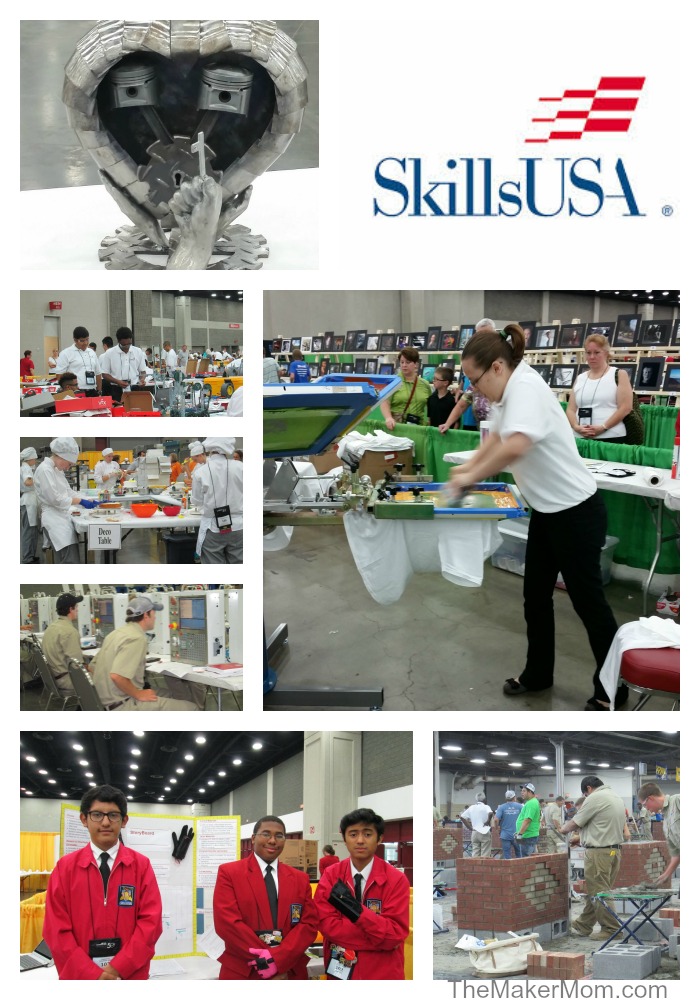 The students at the NLSC – about 90% from high school and 10% from post-secondary schools – represent some of our nation's top talent. Indeed, event judges and parents weren't the only ones roaming the exhibit floor; it was also heavy with industry recruiters.
SkillsUSA 2015 competitors ranged in age from 12 (there were a few middle school engineering competitors) to 73 (a decorative welding contestant who's a returning community college student, and a woman, by the way).
SkillsUSA shines on a spotlight on vocational craft and technical education. At a time when only 59% students graduate from four-year institutions in six years, some with crushing debt, it's clear that despite the trend to push a university education as the cure to what ails us as a nation, it's not the right path for everyone. As a country, and as parents, we need to be more open to alternate paths to fulfilling careers, ones that more directly connect education and careers.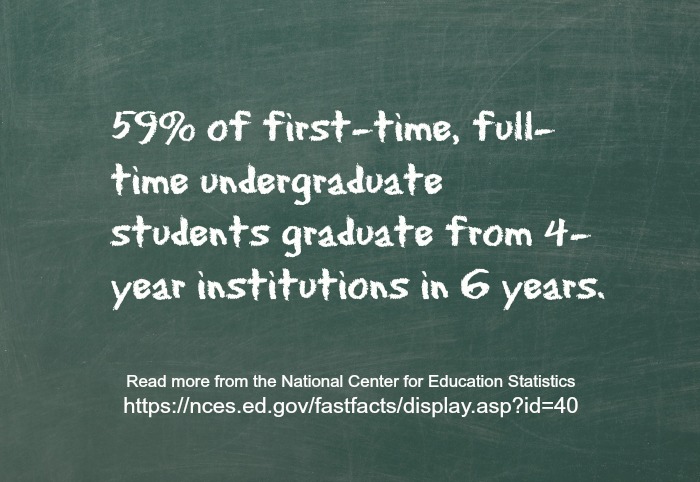 Career and Technical Education
In the last couple of decades, vocational education has fallen out of such favor that the term isn't even used anymore. Even so, its replacement, Career and Technical Education, or CTE, is still often considered to be a less-desired track by many, at least from what I gather here in the Chicago metro area.
But there is an odd overlap that is especially apparent when it comes to engineering. Our local high school has a high-tech science lab of the caliber one would expect to find on a college campus. It also has a high-tech engineering/manufacturing space. When an administrator mentioned the "STEM lab" in a recent discussion, I had to ask him to clarify which space he was referring to. It was the science lab, but the manufacturing lab is also full of Science, Technology, Engineering, and Math.
CTE tends to attract students with a desire to "see it, feel it, touch it, do it" rather than bury themselves in textbooks, explains Eric Gearhart, SkillsUSA Special Projects Consultant. Though CTE may have a reputation for attracting the less academically inclined, involvement in CTE often helps students connect the dots between graduation and a getting a good job, thereby improving academic performance.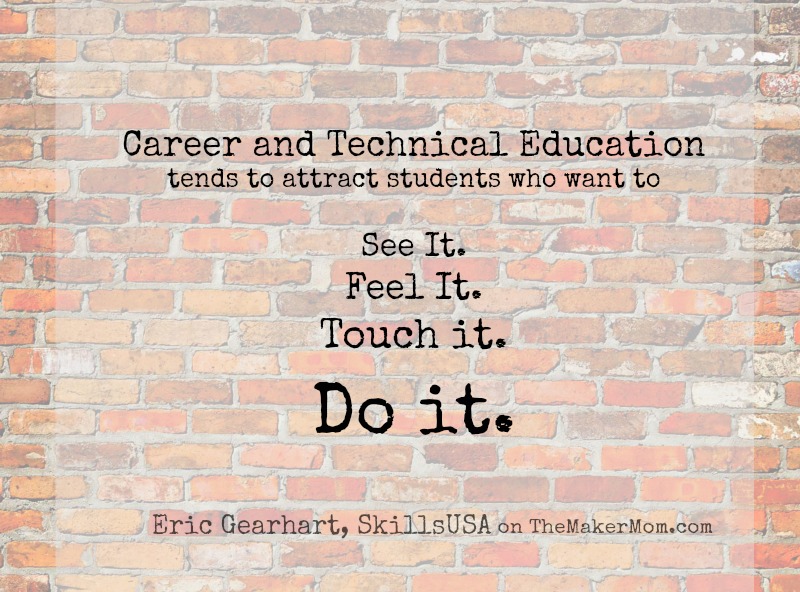 Many remain unaware of the rewarding careers that are out there. Not sure about those rewards? Beyond the pride of making or fixing something, there are financial rewards. Google around for salaries of welding inspectors, or hire a plumber after hours to fix an emergency flood and you'll see what I'm talkin' about.
#TeamUSAWorldSkills
In addition to being wowed by the overall spirit and complexity of the NLSC, I had the honor of meeting #TeamUSAWorldSkills, an impressive group of 19 students all under the age of 23. With the support of Alcoa Foundation, they will be headed to the WorldSkills competition to represent the United States this August in São Paulo, Brazil. There, they will compete with more than 70 other countries in a variety of specific skills-based challenges.
Though specifically sponsoring the three students in the Manufacturing Team Challenge (MTC) competition, Alcoa Foundation's $250,000 grant will support roughly 40% of all Team USA costs related to the international event, earning them the title of Team USA's presenting sponsor. Between access to materials, testing, and mentors, not to mention shipping necessary supplies to Brazil, it costs roughly $35,000 per team member.
MTC Team USA consists of two students from the Tennessee College of Applied Technology. They are Daniel Dossett of Friendsville, TN (top) and Erica Heckman of Oak Ridge, TN (bottom). I'll be telling a bit more of their stories in upcoming posts. For now, here's their challenge for WorldSkills:
The team consists of a welder, machinist/engineer who must design, manufacture, assemble and test a small vehicle that must be able to carry a 120-pound load. The team members will need to use skills including computer-aided design, programming, machining, welding, and electronics, not to mention interpersonal skills like communication, in order to succeed.
Stay tuned for more stories as these students prepare for WorldSkills. And look for details of the July 16 STEMchat on STEM in Manufacturing.