My work with Alcoa Foundation and SkillsUSA has been eye-opening. If you've seen me IRL recently, there's a good chance we've had a talk about CTE, Career and Technical Education (formerly known as vocational ed). Not only did my experience at the SkillsUSA National Leadership and Skills Conference challenge some of my previous assumptions, but as you'll see in the infographic below, I'm not alone in my thinking.
A New Look at Manufacturing Careers
In addition, in speaking with members of #TeamUSAWorldSkills, it became clear there are good jobs—and careers—to be had in manufacturing.
In particular, I had an in-depth conversation with Daniel Dossett of Friendsville, TN, who will be competing in the 2015 WorldSkills Manufacturing Team Challenge (MTC) August 11-16 in São Paulo, Brazil. Just as Alcoa Foundation is sponsoring the team, they are also sponsoring this post.
This is the first time that students from the U.S. will be participating in the WorldSkills MTC. Manufacturing Team Challenge students Daniel Dossett and Erica Heckman hope to bring home the gold as they design, manufacture, wire and test a small forklift in just 22 hours. And I don't mean building from a kit. They are designing and fabricating the components. Erica will weld them; Daniel will machine and wire them. You'll have a chance to meet Erica in an upcoming blog post as well.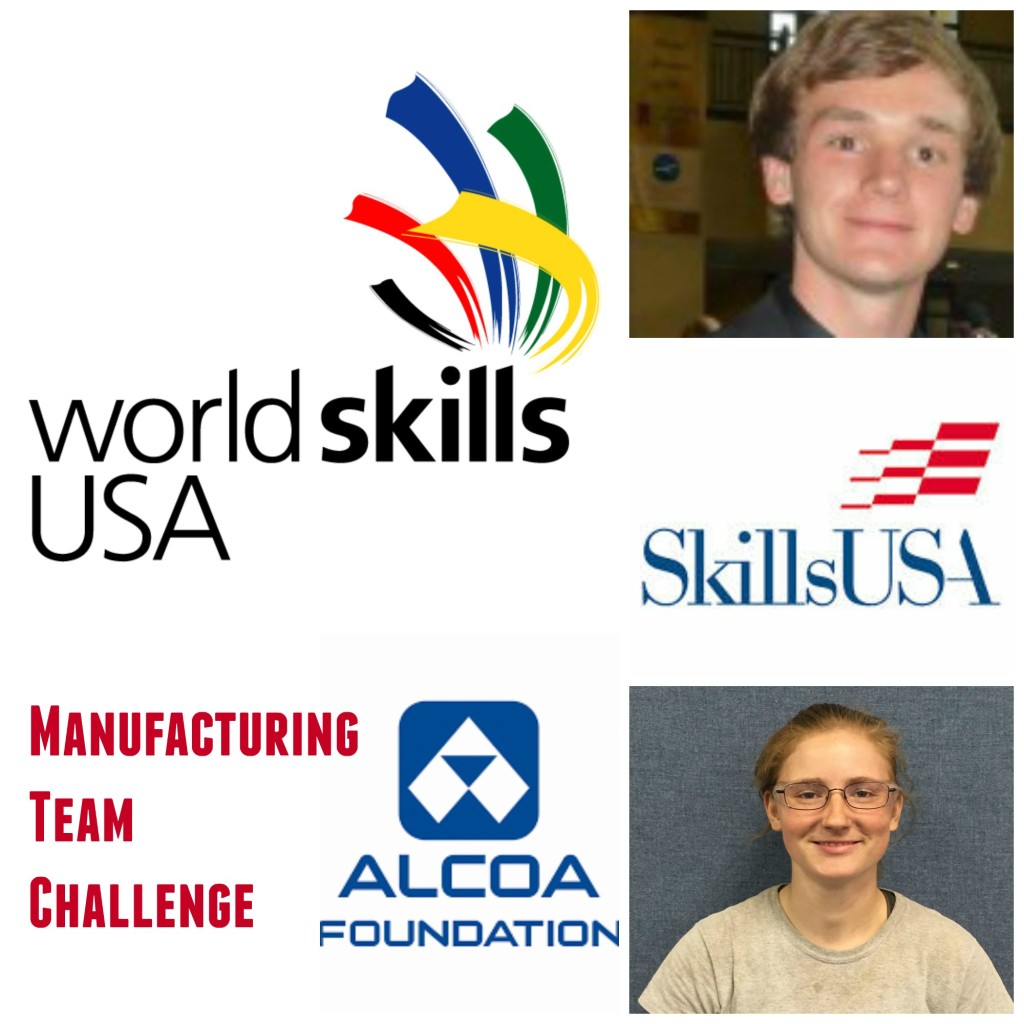 Meet Daniel Dossett, MTC #TeamUSAWorldSkills
Daniel is currently studying to be a machinist at Tennessee College of Applied Technology (TCAT) in Knoxville, TN. He was selected for the team because of his skills, his fine craftsmanship, and his perseverance. "I don't give up and I work hard to produce things of high quality," he told me.
Daniel assured me that the competition and his intense training regimen are doing a lot to boost his skills. He happily added that his involvement also strengthens his job prospects, assuring me that, "Employers like to see SkillsUSA on resumes."
After high school Daniel started on an academic track at a community college, but he realized he wanted to make things and use his hands, not sit in class and write reports. "I feel proud when I make something—useful things—from nothing," he said.
"Plus," he continued, "there's a good job outlook for machinists. They can go on to work at big manufacturing firms as well as smaller job shops or fabricators." The market is good right now for qualified machinists, especially in his area of Tennessee.
Daniel's instincts are on-target. According to an Alcoa Foundation survey, more than 50% of manufacturers believe there's a severe shortage of production workers today and 2/3 believe the shortage will exist in 2020. The average hourly wage for someone employed in manufacturing is $34/hour.
Like many of the #TeamUSAWorldSkills students I met in Louisville, Daniel views the international competition as more of a beginning than an end. He hopes to get a job as a machinist, ideally at Alcoa, after he graduates in 2016. That said, after working for a few years, he plans to continue his education earning additional certifications and moving up in his field. Manufacturing is not a dead-end job.
Perseverance and Perfection
Most of us can envision someone training for a sporting event or even a chess tournament, but how about a world-class manufacturing event? It takes the same rigor.
Daniel reported that since the SkillsUSA Leadership and Skills Conference (NLSC) in mid-June he and Erica have been working and training, from 8:00 a.m. – 5:30 p.m. five days a week. They design, they wire, they fabricate. And then they troubleshoot and rework their process to improve the finished product, a working forklift. This schedule continues right up until they leave for Brazil in mid-August.
Daniel told me he's fortunate to have so many mentors to support the team. Many people from Alcoa, even retirees, are mentoring and helping provide assistance to the WorldSkills Team. He's also grateful for team mentor Montez King, who's provided him with both inspiration and technical insights.
Despite the fact that only 22% of parents associate manufacturing or trade jobs with innovative, intellectually stimulating careers (according to recent Alcoa Foundation research) it's clear that Daniel and Erica are doing a lot of mental gymnastics as they plan and build new iterations of their forklift.
That struck me at the SkillsUSA NLSC event as well. Though the students were competing in various hands-on events, successful outcomes required a lot of thought, planning, and a deep understanding of the materials involved (whether we're talking baking ingredients or welding supplies) as well as a whole lot of math.
Join me in wishing Daniel and #TeamUSAWorldSkills the best in Brazil.
Want a better look? Click here to download the infographic.