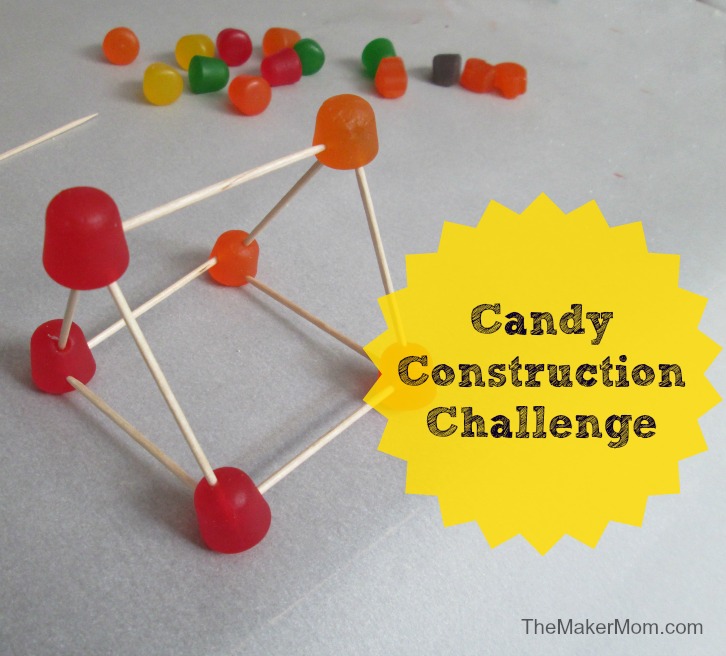 The Candy Construction Challenge is what one of my friends refers to as a snacktivity. Snacktivities combine the best of all worlds: playing, learning, and eating. The Candy Construction Challenge is super easy and provides many ways to learn and play. And it's a fun way to prevent the summer slide. The idea is to have kids explore math and engineering concepts with toothpicks and candy. I'll share a few of my favorite ways to play.
This is the third post in a series through by relationship with GOJO, the makers of PURELL® Advanced Hand Sanitizer. GOJO and I believe in the power of creative experiences that put hands first. PURELL® Hand Sanitizing Wipes help wipe out the germs, keeping hands clean, which can help to unleash the full potential of a snacktivity– eating the supplies as you go along.
So far I've shared how to make seed balls to green your neighborhood and help monarch butterflies, and a tutorial for colorful Suncatchers to brighten up your home and help protect birds. The Candy Construction Challenge is more ephemeral, but it's filled with STEM lessons that can be adapted to children and different learning levels. If you're concerned about the summer slide, put your workbooks aside, turn off the screens, and break out these simple supplies.
The Candy Construction Challenge
Supplies
• A plate, cookie sheet or piece of aluminum foil or wax paper to provide a work surface.
• A box of no-frills toothpicks.
• A soft, gel candy, like gum drops or Dots.
• A foam tray or piece of cardboard, optional.
Steps
Set up a work space and wipe those hands clean with PURELL Hand Sanitizing Wipes. By definition, a snacktivity involves snacking, so be sure to clean and sanitize hands before starting.
Dump out your bag(s) or box(es) of candy. We added a bit of scientific exploration to the process by starting with a few different types of candies, partly because I had a hard time finding gum drops, believe it or not.
Math Exploration
Sorting and grouping is a great math challenge for young ones, so ask them to create some order from the chaos of your candy dump. They can sort by color or shape, or, in the spirit of a snacktivity, maybe even taste.
Little ones may also enjoy counting out the candies in the various groups.
Aspiring mathematicians may enjoy exploring fractions. Out of all the Dots, how many are yellow? (1/9)
Ask older kids questions like, what percentage of these candies are green? (In case you're out of practice, count the green candies and divide that number by the total number of candies and multiply the result by 100. Based on the photo below 2/23 x 100= 8.7% of the candies are green.)
Big kids might enjoy exploring ratios. How many purple candies are there for every yellow candy? (1:1) What about orange? (1:7)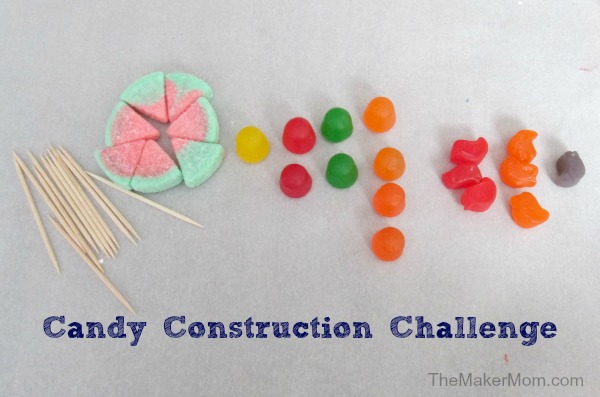 More Math Exploration
By now, your candy supplies might be dwindling and the ratios may be changing. For every piece of candy remaining on the table, how many have you eaten?
Move on to creating shapes. Your kids can explore two-dimensional (2D), flat shapes, or they might start to experiment with three-dimensional (3D) shapes that have height in addition to width and depth.
Engineering Exploration
Encourage your kids to explore the relative strengths of these shapes. With enough play, they'll discover that triangles are the strongest shape. Squares and cubes collapse easily, but triangles can support a good deal of weight.
As they build and test structures and their relative strength and stability, your kids are exploring engineering. Now they are ready for a Candy Construction Challenge.
My son made these two trusses, connected elements that form triangular units that handle both tension and compression well.
He placed a foam tray atop the trusses to form a bridge. How strong was it? As you can see in the photo, his candy bridge supported an apple.
What can your child's structure support? Experiment with items from around the kitchen or house. We tried loose change, our unused candy, and then finally a book, an item that led to our bridge's demise.
The great thing about a broken candy bridge is that it's easy to rebuild. And because you'll want to rebuild with fresh supplies, you can snack on the sweet remains of your original structure.

Reach for the Sky
What does it take to build the world's tallest freestanding candy tower? Issue the challenge to your kids and see what they create as well as what they learn in the process.
You can add to the challenge by limiting supplies. For example, use only a maximum of 20 candies and 10 toothpicks, or restrict their building time. Or, in the spirit of reality TV, toss in a surprise building supply, like marshmallows, or a physical challenge, like wearing a blindfold, that needs to be incorporated as they build.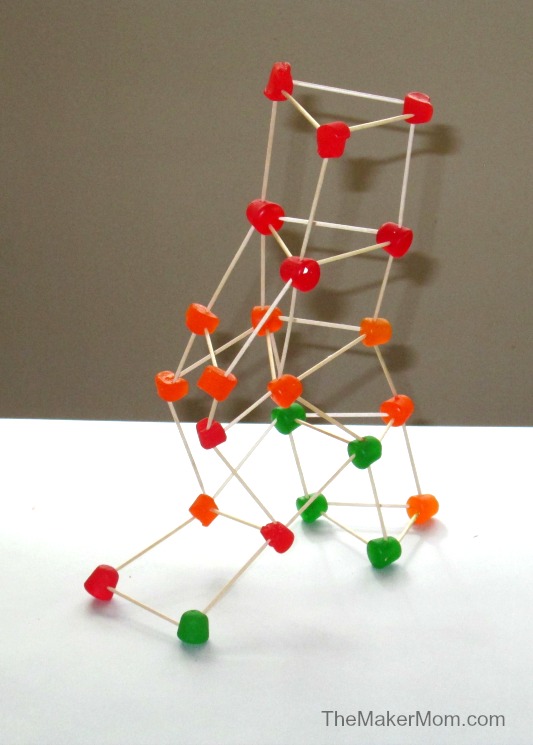 The Candy Construction Challenge is a great way to build math and engineering skills and keep minds sharp over the summer or simply have fun any time of year.