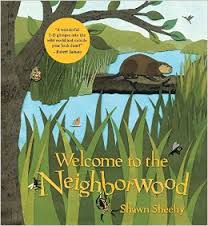 Every once in a while, I write a 90% of a post, only to have it linger in my drafts until it's buried. So anyhoo, here are a few noteworthy new somewhat recent titles that have been sitting on my desk that are on my bookshelf. These books were sent to me for review; this post contains affiliate links.
Newish Books for Kids
Just in time for Earth Day (when I started writing this post) Welcome to the Neighborwood, is a new book from Candlewick press by author/illustrator Shawn Sheehy. It's a beautifully engineered pop-up book. The Neighborwood introduces readers to a handful of nature's creatures and the homes they build. It skews a bit young for The Maker Mom crowd, best suited for kids up through early elementary, but even older readers will marvel at the complex pop-ups.
Mesmerized: How Ben Franklin Solved a Mystery that Baffled All of France  Mara Rockliff (Author), Iacopo Bruno (Illustrator). That Ben Franklin is always up to something. The title pretty much says it all, but it leaves out how he solved the mystery. According to this telling, Ben relied on the scientific method to separate truth from hysteria.
Ruff Ruffman's 44 Favorite Science Activities for Home or School a project of the WGBH Educational Foundation. This bright, playful book of science fun stars Fetch's main critter. The book targets 8-12 year-olds. Chapters include silly titles, "What to make when I'm out of Chinese food," (Candy Crystals, Hold the Mold, and Ice-Cream Shake) and "Beyond the Toilet Bowl" (activities related to water, in case you were wondering).
The Future Architect's Handbook by Barbara Beck. A bit on the dry side with black and white illustrations, this books is best suited for an advanced elementary student with a thirst for the topic.
Teacher at Sea: Mr. Tanenbaum Explores Atlantic Fisheries on the NOAA Ship Henry B. Bigelow. by Diane Marie Stanitski and John J Adler, illustrated by Bruce David Cowden. This is the fourth in a series of books from the National Oceanic and Atmospheric Administration (NOAA). Although a picture book, there is a lot of dense text. I imagine this is a book that might be read and discussed with a young or middle elementary students. Teachers, maybe you want to apply to the NOAA Teacher at Sea program.