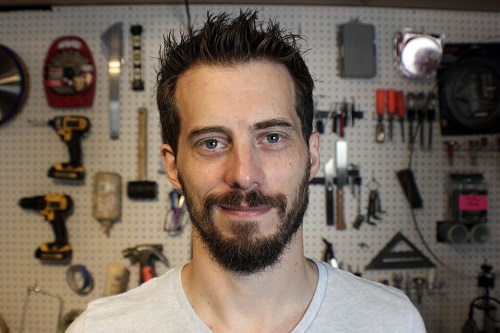 I thought it would be fun to balance out my STEM Girl posts with a feature on a Maker Dad. You know, just in time for Father's Day and all. Earlier this year, I met Bob Clagett, father of 4, Maker, blogger at I Like to Make Stuff, vlogger and podcaster. I thought you'd enjoy getting to know his as well.
Meet the Maker: Bob Clagett
It doesn't matter what the material is, or what it's for… Bob loves making stuff. He loves showing other people how he works on I Like to Make Stuff with the hope of inspiring and empowering them to make whatever it is that they're passionate about.
Were you a born maker or were you shaped into one? How did your parents influence your current path?
Both. I was born into a family of hands-on type people, both artists and engineers, who were never afraid of trying things that they didn't know how to do. My parents were a huge part of me developing my skills and interests by giving me the freedom to try, fail, learn, try again. They had an interesting way of giving me limitations and freedom at the same time. That leads to some cool problem solving when you're a kid. For example, I wanted to make a climbing wall in my basement. They let me do it, but wouldn't buy the materials. I learned to pick from the dumpsters and built my own climbing wall (which later became a stage and a skateboard ramp).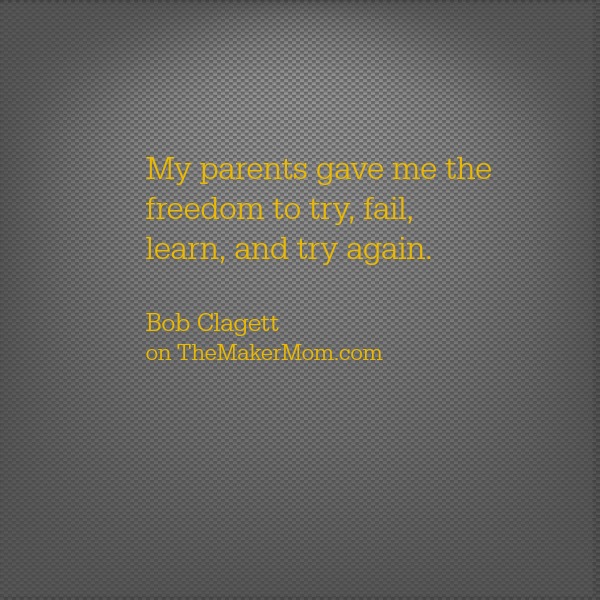 Your kids are still pretty young (and super cute!). What kind of projects do you include them in? Any thoughts about what they can do or tools they can be introduced to at certain ages?
They are young but even at that age, I think you can find things that THEY want to make, then enable them to make it. For example, my oldest (now 7) played with a pile of wood off cuts and ended up making a fish shape. So, we got out the glue and some nails and he made a wooden fish, then got to paint it. That was ALL his idea, but it gave me an opportunity to show him a couple of basic skills.
Another big thing that can be great for young kids to realizing that in the right circumstance, it's okay to break stuff.  If you've got an old VCR or other useless electronics, give your kids a screw driver and tell them to take it apart.  They'll probably respond like, "But what if I break it?"  Then you get to say, "You WILL break it, and that's perfectly fine!" My son's eyes lit up big time when I did that! It's great when they get to explore the inside of something they don't understand, with no risk of getting in trouble for it!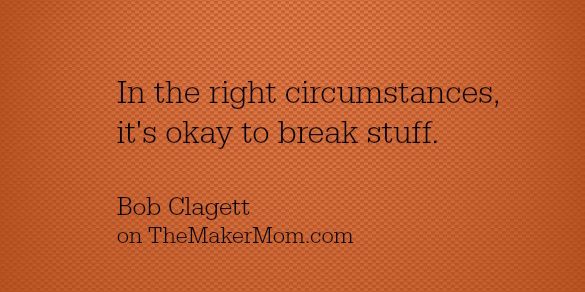 What advice do you have for people who didn't grow up building or tinkering, or maybe even using tools, but want to get started doing that with their kids?
Personally, I think the best way to learn anything is to find a thing that you want to do, then figure out how to do it. General tool use knowledge and skill comes with practice, but having an end goal in mind will give you the motivation to get there. With kids, it's great to sit them down and get them brainstorming. Once you've settled on an idea that's realistic, then together you can figure out how to actually accomplish it. Learn those things together!
What are a few of your favorite resources wannabe maker dads?
Make magazine is fantastic, and although a lot of the projects may seem initially out of reach, they include lots of kid focused projects as well. A lot of local makerspaces actually have kid workshops too, and that's a great way to learn along with your kids.
How do you continue to build your skills? What projects can we look forward to seeing on your blog later this year?
I do my best to try to find interesting projects, not interesting ways to use my skills. The difference there is that once I find a project that is cool, then I figure out what I need to know to accomplish it. I usually only learn the bare minimum to finish the project, but it gives me a baseline knowledge that I can expand later on. So, I guess…always just looks for a cool thing to do next.
For the rest of the year, the big thing for me is going to be my full size arcade machine build, which my wife is graciously allowing to live in our living room. That should be starting soon and will be a multi part project
Anything else?
No matter where you are at with skills, experience, ideas… don't be afraid to just get started! You can always improve, retry or pivot, but you have to just get the ball rolling and be sure to bring your kids along for the ride. Learning to learn is one of the most valuable skills that you can teach your kids.
——————-
If you're looking for maker projects for dad and his progeny, check out Maker Dad, Tinkerlab, or chapter books like the Nick and Tesla series that encourages you to build as you read. Making purchases through these affiliate links helps support this blog–thanks!